Real Couples on When They Decided to Make It Monogamous
There's no right way (or timeline or feed post) to make it official.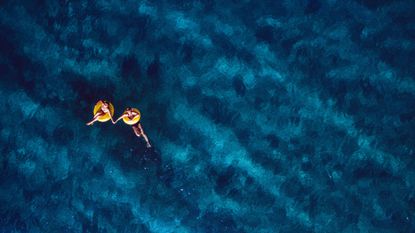 (Image credit: AleksandarNakic)
The only consistently shared factor between couples' defining-the-relationship convos? The fact that, at some point, it needed to happen. As the examples below show, there's no right or wrong way to go about it.
"We shut down our dating apps"
Couple: Lauren, 33 and John, 31
Relationship status: Married
Lauren: I met John on Bumble, and after two weeks, I closed my account. The next day he admitted to me that he had done the same, but without me prompting to ask about it.
John: On our second date we got kicked out of the restaurant and decided to head to a bar for drinks. On our way into the bar I grabbed her hand and she said to me, "This just feels right." I knew then and there I needed to lock her down. I let her know one or two weeks later that I had decided to delete my Bumble and Match accounts. I kind of knew she would feel the same way because we had such a great connection from the first few dates. After our third date we both sort of knew and had already discussed a dating life together.
"We weren't sleeping with other people—but we hadn't committed, either"
Couple: Kate, 34 and Brandon, 33
Relationship status: Married
Kate: We had discussed not sleeping with other people, but it was still like we were on a month-to-month lease. He had said he wasn't looking for anything serious, and I was considering taking a job in Argentina.
We started dating in January, and we didn't have another discussion about us until June, five months in—and it was Brandon again who brought it up. He said, "I have...a feeling" and then paused. I said, "A good feeling or a bad feeling?!" That led to a conversation about making it officially official and taking it more seriously—a more permanent lease, if you will.
Brandon: I knew I wanted it to be official when I found I was consistently looking forward to seeing her. We dated for several months before it became official, so there was a lot of time spent testing the waters.
Not rushing into anything helped [me know when it was right]. Once when she got back from a week away, I told her I missed her. Whether I knew it or not, that took us to the next level. Having some time apart let us reflect on how we regarded each other. There was a mutual understanding that we wanted to keep things going without having to say much.
"After one date, he surprised me across the world"
Couple: Nora, 33 and Ziad, 32
Relationship status: Dating for two years
Nora: I wanted to make it official on our first date at McDonald's over french fries and ice cream, but I pumped the brakes and held back.
Ziad: I wanted to make it official on the weekend I came to surprise her in Dubai.
Nora: After our first date, I had a work trip to Dubai that sprung up out of nowhere for the next week. I knew he'd made plans to go to London and Ibiza for the summer, so I thought that there'd be no hope for this to develop into something and kind of pulled back. I came to find out that he cancelled his trips and decided to surprise me in Dubai on the weekend while I was there.
After a long day at the beach club before we were about to leave, I sat on his lap and asked him, "Are we exclusive?" He smiled and said yes so I fished for clarification: "So that means we're boyfriend and girlfriend, right?" Nearly two years later, we're on our way to making it exclusive permanently.
"We sealed the deal over Snapchat"
Couple: Kelly, 25, and Bert, 34
Relationship Status: Dating for two years, cat parents
Kelly: We met on OkCupid, so our first few months of dating were definitely non-exclusive. We wouldn't call it casual—we definitely really liked each other right away and felt a lot of romantic connection—but it was still a more ambiguous, open relationship. We were both still seeing other people while getting to know each other.
Bert: Kelly was actually still sort of dating her ex-boyfriend at the time, which added a layer of complication. We were super open with each other about the whole thing and transparent about all the other people involved.
Kelly: As our feelings for each other progressed, we were having a lot of drama, jealousy, and chaotic emotions. Somewhat in a bid for a little more stability, we decided breaking off all the other relationships might help us simplify things so we could just focus on building a solid foundation for a relationship together. So we did it. We went exclusive and cut everyone else out of the picture. We [thought] we might open up our relationship in the future, but two years in, we're still riding the monogamy train.
Bert: As far as how it all went down, we took a walk and hashed out all the details and mutually decided going exclusive made the most sense for us with how we were feeling—connected but in dire need of stability. This was maybe five months into our relationship. A few months later, I randomly sent Kelly a Snapchat message (yes, really) that read "Luv yr eyeballs. Are we boyfriend and girlfriend?" After laughing her ass off, Kelly goes, "Sure why not."
Marie Claire email subscribers get intel on fashion and beauty trends, hot-off-the-press celebrity news, and more. Sign up here.