News + Skin = Judgment...and Ratings
If you're a woman in the public eye and appearing on news programs, the level of sexiness you project is just as important as the words that come out of your mouth.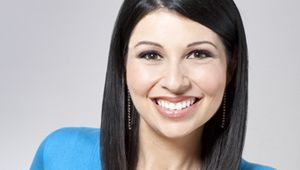 (Image credit: Archives)
If you're a woman in the public eye who appears on news programs it's incredibly difficult to figure out what level of sexiness to project. In theory you're appearing on the shows for reasons outside of your looks, and yet it doesn't take a genius to realize all programming is, at base, entertainment, and people are captivated by beauty. In other words: Sex sells. I tend to dress somewhat conservatively, yet I've felt the ire coming from both directions. I've been told, via Twitter, that I should be banned from appearing on TV until I "slap on a skirt." I've also been told that it's impossible to hear what I'm saying because I "dress like a whore." I've been told to tone down my makeup, to ramp up my makeup, that I look great in black, that I should never wear black. Of late I'm hearing I should lighten my hair. But back to sex: I suspect producers rarely suggest their talent wear longer skirts (there are unsavory websites dedicated to capturing news anchors' "upskirts") and yet the public is so quick to judge a woman appearing on TV whom they deem too scantily clad. I think they want it both ways: to have their news delivered with a side of flesh and then to act shocked and pass judgment. If you're the one appearing on the programs it's a no-win situation. A double bind. And something zero men have to deal with.
Journalist and TV/internet personality Alison Rosen (opens in new tab) is host of Alison Rosen Is Your New Best Friend (opens in new tab) and makes regular appearances on Fox, E!, NBC, CBS, CW11, A&E Bio, and TV Guide Channel, among others. She was recently dubbed "the future of TV (opens in new tab)" by former AOL chairman/CEO Barry Schuler. She's pretty sure she doesn't dress like a whore.