Will the Sexual Charges Against Mr. WikiLeaks Stick?
The details of the case against Julian Assange.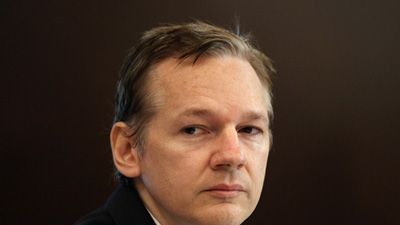 (Image credit: Dan Kitwood/Getty Images)
If you've been following the WikiLeaks case, then you probably know that founder Julian Assange — a.k.a. Persona Non Grata #1 for the White House — turned himself in to the London police yesterday, after Interpol put out a notice that he was wanted for questioning about alleged sexual offenses in Sweden.
Swedish authorities want to question Assange about experiences he had with two different Swedish women during which the sex may have been or may have become nonconsensual.
In Sweden, there are three categories of rape. In the most severe kind, the perpetrator commits a high degree of violence. In the second type, the perp commits some violence, and in the third type, there might not have been any violence involved, but a woman was nonetheless forced to have sex against her will. (In an instance like that, it seems, a man might use his body to hold a woman down.) The allegations against Assange apparently fall into the last category.
The details about the incidents in question are — not surprisingly, I guess — hazy. According to a report published yesterday by Reuters, people in Assange's inner circle imply that the charges arose out of a case of STD paranoia. Reuters' sources say that while Assange was visiting Stockholm, he started crashing with — and sleeping with — a woman who is being referred to as Miss A, and that one night their condom split. A few days later, he had sex twice with another woman, Miss W. — and the second time, they did it without a condom. After the fact, Miss W. became worried that she might have gotten an STD from Assange. She tried to track him down, but he wasn't reachable by phone. One thing led to another and, as she attempted to locate people who might help her get a message to Assange, she encountered Miss A. They traded stories and, worried they might have gotten a disease from the guy, went to the police together.
News reports filed yesterday by English papers like The Guardian, however, made me wonder what really happened on the nights in question. A spokesperson for Swedish authorities told the court that Assange was wanted in connection with four allegations:
1. That the first complainant, Miss A, was the victim of "unlawful coercion" on the night of August 14, and that he used his body weight to hold her down in a sexual manner.
2. That Assange "sexually molested" Miss A by having sex with her without a condom when it was her wish to use one.
3. That Assange "deliberately molested" Miss A on August 18 "in a way designed to violate her sexual integrity."
4. That Assange had sex with Miss W on August 17 without using a condom while she was asleep.
Assange has said that he never had sex that did not involve mutual consent in Sweden or anywhere else, and in August, rape and molestation charges against him stemming from the same incidents were dropped, only to be more recently reinstated.
I'm guessing that you guys might have an interesting take on this. What do you think of the whole thing?
And what do you think about the Swedish law?