Should This Woman Get Off for Murdering Her Husband?
She admits she did it — but only in self-defense after nearly two decades of living in fear of his terrifying, violent rages.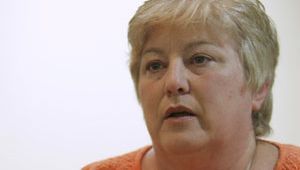 (Image credit: New York Daily News)
Can you imagine being married to a man who would regularly beat you, getting into such violent rages that he breaks your nose in the car ride back from visiting your son at college? Who kept one gun strapped to his ankle and another around his waist — and would do everything from watching TV or eating breakfast that way? Who'd once broken down your daughter's door and thrown her to the floor? Who would regularly remind you that, as a former police sergeant, he had worked in a crime scene unit and could dispose of your body without leaving any incriminating evidence? A man who, when you went to get that broken nose treated in an emergency room, waited for you in the parking lot, saying that if he saw the police coming, he would kill you and go down in a blaze of glory?
That's what Barbara Sheehan and her lawyers say her life was like, according to The New York Times. Her children, relatives, and medical records back her up. On one February morning in 2008, the day after Raymond Sheehan broke his wife's nose, livid over her refusal to accompany him on a Florida vacation, he pointed his Glock at her. But she grabbed his revolver and shot him five times with it — and then, using his Glock, shot him six more times. When the police showed up, she was waiting for them on her front steps.
I'd never heard about this case until last night, when I read a piece by The New York Times writer Jim Dwyer. Dwyer writes: "Both the son and daughter said that their father's death was the best possible outcome, and that their lives were infinitely better: the long shadow of their mother's being murdered had lifted and they felt liberated. They did not go to his funeral, but they went to his wake. 'I just wanted to see for myself,' said Jennifer Joyce [the Sheehan's daughter], 'that he was dead.'"
Elsewhere, Joyce has said that she and her brother lived in constant fear of their father, and that she'd seen her father sit on her mother as he pummeled her, and that she'd also seen him pour a pot of hot tomato sauce over her mother's head before telling her to clean up the mess and make him something better than pasta.
During a 2009 appearance on Oprah, Barbara said she'd contacted a domestic hotline. "After giving them all the specifics of the incident, they told me that the only way out of the type of relationship I was in was to actually disappear, because he would find me no matter where I was," she said. "He worked in the crime scene unit in the New York Police Department, and he had access to all kinds of forensic work ... [that would enable him] to find me if I was to go anywhere." She added that she tried several times to leave her husband. "I packed my children up and got in the car. He promised that he would find us, and he promised that he would take care of me and my children and no one would ever know it. He'd go after my family, my brother, my sister, my parents. And I knew that he would. There was no doubt in my mind that he would."
She also told viewers of the show that people need to get out of relationships at the first sign of violence, or the first indicator that someone is very controlling. "If you can't take your children to the park without him driving by to make sure that's where you are, that's the time to get out," as she put it, noting that her husband didn't start beating her until about seven or eight years into their 24-year marriage. But he was excessively controlling from the start. "I couldn't go to the store without showing him cash register receipts, so he saw what time I went to the store, what time I checked out," she told Oprah. "My spirit was just shot."
I feel such empathy for this woman and her children — and frankly, from what I've heard, my feeling is that justice will be served if she gets off on the second-degree murder charges she's facing. What's your reaction to this horrifying case?