Do Nearly Half of Us Suffer Female Sexual Dysfunction?
The documentary "Orgasm Inc." will get you riled up about the people trying to cash in on an "epidemic" that isn't.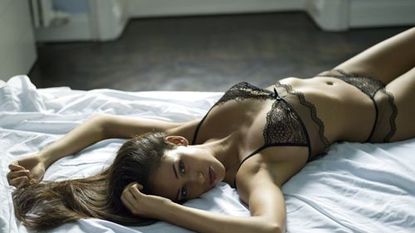 (Image credit: Tony Anderson/Taxi)
Marie Claire Newsletter
Celebrity news, beauty, fashion advice, and fascinating features, delivered straight to your inbox!
Thank you for signing up to Marie Claire. You will receive a verification email shortly.
There was a problem. Please refresh the page and try again.
A respected documentary filmmaker named Liz Canner recently made a documentary, available on DVD June 21, called Orgasm Inc. — about the companies and entrepreneurs who are trying to convince women that it's a physiological problem if they don't climax every time they have sex, one that can be "fixed" with pills or creams. Canner asks the questions: Is "female sexual dysfunction" really a disorder or a genius marketing stroke? And could the products that are being developed do more harm than good? Find out her answers...
Is there really a widespread epidemic of female sexual dysfunction?
All over the media you hear that a shocking 43 percent of women suffer from female sexual dysfunction. I first heard this statistic when I was working for the pharmaceutical industry in the early 2000s, and it surprised me. If so many women had female sexual dysfunction, why weren't my friends talking about it? In fact, I hadn't even heard of the disease until I took a job with a drug company that was developing an orgasm cream for women.
In Orgasm Inc., I investigate the 43-percent statistic. It turns out that it was taken from a sociology survey that was conducted in the early '90s to find out what people's sex lives were like. It was never meant to measure the number of women with a disease. Using exaggerated statistics manipulates women. It also says to Wall Street that there is a large market for this drug.
How might pharmaceutical companies benefit from propagating the idea that there is such prevalent female sexual dysfunction?
The media talks about female sexual dysfunction as if it always existed — when in fact it was a term that came about in the late '90s. When Viagra was released it was such a blockbuster drug for men that companies like Pfizer began to think that there was also a big market for Viagra for women. The problem was, in order to develop and test a pharmaceutical drug, the FDA requires that there be a clearly defined disease. Pfizer and a number of other drug companies sponsored the first meetings on FSD. In the end, 18 of the 19 authors of the definition of the disease had ties to 22 drug companies. This definition was extremely broad: Almost any sexual complaint you have, whatever causes it, will fall into this disease category.
It's a bizarre disorder because you have to self-diagnose and you have to be distressed by it. So in other words, if you never felt an iota of sexual desire in your life but it didn't bother you, you don't have the disease. If you never had an orgasm, but it didn't bother you, you don't have the disease. Now, real physiological conditions, like hysterectomies and diabetes, can cause sexual problems We can't ignore that. But for the most part, the majority of women's sexual problems are caused by socio-cultural conditions like past sexual abuse, relationship problems, poor sex education, and stress.
The thing about sexual experience is that our sense of satisfaction comes from our expectations. In other words, if the pharmaceutical industry, through their savvy marketing, can convince women that they should be having an orgasm every time they have intercourse, then a lot of women are going to believe they have female sexual dysfunction. If women think they should have the same libido at 60 as they had at 20, a lot of women are going to think they have a disorder.
Right now, there is a cultural shift going on, but this is not a new phenomenon. In our grandmother's time, women with low desire were said to suffer from frigidity. During the feminist movement of the '60s and '70s, terms such as "nymphomania" and "frigidity" were no longer used. Recently, the clocks have been turned back. Low desire is now classified as a disorder, and there are quite a number of drug companies racing to find a nose spray, pill, cream, or patch to "cure" it.
What are the female orgasm drugs being developed?
In Orgasm Inc., I followed the pharmaceutical industry over a period of nine years as they raced to develop a female Viagra. They kept claiming they were developing a magic bullet, but most of the products did not work much better than a placebo. In fact, when I filmed the hearing for Procter and Gamble's testosterone patch Intrinsa, one of the doctors on the FDA panel suggested to P&G that they should consider developing a placebo for women instead. He said that it worked almost as well and there were no awful side effects. Unfortunately, many of the drugs under development have potentially horrific side effects including breast cancer and cardiovascular problems.
If women are having problems with orgasm, what are some non-drug alternatives that might help them?
First of all, it is important to know that 70 percent of women need direct clitoral stimulation in order to have an orgasm during sex.
This speaks to the importance of using things like vibrators to enhance sexual experience. If women feel uncomfortable with sex toys, there are sex coaches like Betty Dodson and sexperts like Kim Airs who can help them. Also, sex therapists such as Dr. Leonore Tiefer in New York City have helped women overcome trauma from past sexual abuse and given them tools to communicate better with their partners. There are lots of good books that provide valuable information about sex, like Our Bodies, Ourselves. The key is to take the time to find out what makes you feel good. Sexual experience is very individual. There is no "normal."
"Men have their Viagra, women want theirs, too" — or so some advertisements would have you believe. Do you think that's true?
I'd love to know which PR firm came up with this slogan because it's very effective. The question is what do women need Viagra for? As I've mentioned, most of women's sexual problems are not caused by a physical medical condition but are the result of socio-cultural issues. So, I think the only way that most woman will be satisfied with their sex lives will be if they can take a product that makes them feel comfortable about their bodies, that ends sexual abuse towards women, that creates equality in the workplace, and that gives women good sex education so they can fully know about the clitoris and about how their bodies function.
More from Marie Claire:
9 Female Orgasm Facts You Need to Know
The 20+ Best Sex Positions for Couples
22 Hot Sex Stories and Female Erotica
Celebrity news, beauty, fashion advice, and fascinating features, delivered straight to your inbox!