A DIY Wedding Doesn't Have to be a Nightmare
Some people might be missing the point when it comes to DIY weddings.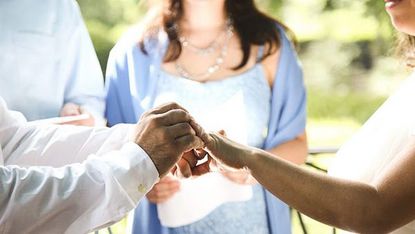 (Image credit: Courtesy of Amy Klein)
The night before our wedding, Solomon decided he wanted to build a huppah.
"But the park already has a natural trellis of greens," I protested, more concerned with getting a good night's sleep before our outdoor picnic wedding. I went to bed early, and he headed to the hardware store to buy four poles and colorful material to hang on it, and built it himself.
We had never planned on having a Do-It-Yourself Wedding. In fact, I'm not sure that when we got engaged three years ago, there even was a DIY nuptials trend that's all the rage these days, according to a recent New York Times article, which talks about couples who made food themselves, handcrafted the centerpieces and had guests contribute intricate artwork.
The DIY weddings trending today not only take eons to plan—they're super expensive. Our wedding was exactly the opposite.
First and foremost, ours was more a PIY (Pay-It-Yourself) than DIY. We wanted to spend our money on our future, not on one day. Besides, neither of us identified with the traditional formal affair. Solomon felt strangled by a tie and jacket, and I'd given up high heels years before following a marathon injury. We just wanted to be outdoors with friends. And we had three months to plan it.
"How about a picnic in the park?" I suggested, after my beach idea fell through since the beach was too far. (Another ethos: we would not inconvenience our guests by making them travel or by giving them tasks.)
I called the New York City Parks Department. All parks were available for weddings – who knew? We'd just need to apply for a permit for the desired day. They recommended the Conservatory Gardens, six stunning acres of flowering grounds I'd never seen. Cost? $400.
Each aspect of our wedding was determined by its location. The park permit only allowed for 100 guests and two hours for the ceremony. We had to get another permit for the picnic site two minutes walk away ($25), but alcohol, amplified music, chairs, and tables that would damage the grass were prohibited. That was fine with us, since liquor and a band can be the most expensive items in an affair (and flowers, which we wouldn't need, since we were getting married in a garden.)
The "only" thing left was food. Without tables, we couldn't have a buffet, so I proposed boxed lunches – it seemed easy and doable by a corporate caterer. But Solomon was really into the picnic idea. "Let's do individualized baskets," he suggested.
We interviewed one caterer who didn't understand our vision (that took three weeks of our time) but found a simple sandwich shop, one that would fill each basket with one sandwich, one salad, a bag of chips and four mini-desserts (I insisted on napoleons and éclairs, which symbolized "wedding" to me).
The rest was in the details: We needed to order baskets ($425) cellophane and ribbon to wrap them ($134.69), bamboo mats for guests to sit on ($118.80); find red and white cloth picnic napkins ($50); Our invitations were sent by "fancy" email ($50 Paperless Post), our humorous cake topper – of a bride chasing the groom – bought on Amazon ($35). We even hired a photographer from Craigslist ($300). We put together a wedding website with FAQ for guests ($0, as Solomon is a web designer), and sent out a survey for sandwich choices (salmon, Portobello mushroom, hummus or hearts of palm).
Today's DIY bride and groom seem to pay attention to a million details – screenprinting place cards, hand-crafting cake-toppers – I think they might be missing the point.
When you plan your own wedding, it's often because you're dissatisfied with the existing wedding options offered. It's because you want to create something beautiful and special and uniquely you—as a couple, for your new life. Ours was easy to plan and it cost less than $7,000.
Did everything go on without a hitch? Not exactly. We were worried about rain (it didn't). Solomon's Vibraphone-player friend was late to the ceremony. The photographer wasn't great at corralling family for the pictures. The Beatles tribute band I'd hired at the last minute as a surprise for my husband weren't loud enough, since they could not use any amplifiers.
But after the ceremony, as we surveyed our happy guests sitting out on bamboo mats eating their sandwiches, we looked at each other and smiled: It was only one day of our lives, but it was a good one. And we did it all ourselves.
Amy Klein is a New York-based writer. Her website is www.KleinsLines.com. Follow her on Twitter @amydklein.

Photos courtesy of Amy Klein
Celebrity news, beauty, fashion advice, and fascinating features, delivered straight to your inbox!