She Was a 20-Year-Old Intern, He Was 50 Years Her Senior
If you think this was a match made in tabloid heaven, you don't know Heather Randall.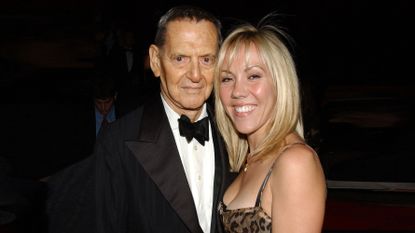 (Image credit: Archives)
Heather Randall, 36, the widow of legendary actor Tony Randall, who died in 2004 at the age of 84, has heard it all before. It gets her a little steamed. "You know, I could say a million things about the hypocrisy of the people who comment on my marriage," she says, stabbing at her Cobb salad at B. Bar in Manhattan. "The first thing I'd say is, 'You weren't there!' The second thing is, to all the women who have been used, abused, dicked over, dumped, cheated on, and stolen from: 'Who wouldn't want a successful, smart, wonderful man who worshipped the ground you walked on?'"
After Randall's death, there was a year of profound mourning, then another year of struggling with her identity. If she was no longer Mrs. Tony Randall, who was she? She wasn't being asked anymore to, say, sit with the queen in the royal box during a polo match. But as Heather cheerfully puts it, "I never wanted to be a professional widow."
Since her husband's death, Heather has been using Randall's money and clout to support various theater institutions. For the past year, she has been president of the board of the New York Theatre Workshop, the renowned downtown space where the musical Rent was born and works by the likes of Tony Kushner got their start.
But beyond learning about her ability to charm money out of people's pockets, we're here to discuss her infamous marriage to a man who, when Rudy Giuliani married them in 1995, was three times her age. (Bonus points: At the time, Randall was starring in The School for Scandal, a play about an older man's rocky marriage to a young woman. Heather was an understudy.)
Heather has been asked many times to discuss her marriage in the press, but, save for one interview on Larry King, she always demurred. But she's grown tired of seeing her own May/December relationship lumped in with that of Anna Nicole Smith and J. Howard Marshall. To all those doubters out there, Heather says, consider this: What if a huge age gap does not mean you have daddy issues? What if it means that you're just more open to love, wherever you find it?
Heather Harlan and Tony Randall met when she was an intern at the National Actors Theatre in New York, which Randall founded. (After a comfortable upbringing in Boca Raton, FL, she moved to the city to study acting at NYU.) At first she disliked Randall, since many members of the company found him intimidating. She told him so, and he was charmed that this tiny blonde, animated as an exclamation point, would stand up to him. Two years passed before they got together; Randall's wife of many decades had died, and he was very much alone. There would have been something touching about their courtship...had they been anywhere near the same age.
Everyone had an opinion. "Did his friends think I was a gold digger at first? Well, I remember one or two women telling him he was an old fool...and I'm sure people said and continue to say things behind my back," Heather laughs. "But I don't hear most of it." As for his real friends — Garry Marshall, Jack Klugman, Eli Wallach — "I don't think anything like that ever occurred to them." Heather is still very close to these Hollywood legends. "If they thought I was a jerk, I would think they would have dropped me like a hot potato." Once, she read a blog that said something like, "[Heather Randall] inherited his fortune when he died — which was her aim." "That kinda stung," she adds. As for her friends, one initially tried to convince her that she was making a mistake, but a few years later, "she thought I made a great choice."
Not to say their age difference didn't cause problems. Heather, who is very athletic, was not going to be mountain climbing with him, after all. Randall was an opera aficionado; Heather loved pop. "He was mortally offended by stupidity and, of course, most of our pop culture is that. He would have hated Britney Spears now with all his heart," she says. "He hated rock and was completely clueless. One day he came home and said, 'Do you know somebody named Billy Joel? He approached me on the street and said he was a big fan. He acted like I should know him.' And I'm like, 'You idiot!'"
And, of course, there was the question everyone wanted to ask but didn't.
"This is all too funny," Heather says, when I finally work up the courage to ask it. "I always imagine what it would be like to go on Howard Stern, because I know the first thing he would ask is, 'What is it like to give an 80-year-old a blow job?' I know this is hard for people to grasp, but sex was not a problem. We had frequent sex until he went into the hospital. It was just a normal part of our married life, and it was happy, and we took care of each other that way until the end."
And what about the gay rumors?
"Um...I don't think he knew people thought that," Heather says. "It just wouldn't have occurred to him. He was very secure in his masculinity, which is why he wasn't afraid to play effeminate roles. He was the first person on TV to play a lead character who was gay, in the series Love, Sydney, and then there was Felix Unger" — from The Odd Couple — "who was, you know, a woman," Heather says. Still, Tony Randall was apparently the only person on earth who didn't suspect Tony Randall was gay. The only time Randall had any inkling the world did not think him a stud was when a tabloid ran a story saying Heather had to go to a fertility clinic to conceive their children (Julia, 10, and Jefferson, 9, whom Randall sired when he was pushing 80). "His masculinity was called into question!" Heather laughs. "He actually called his lawyer about demanding a retraction, something he'd never bothered to do before." And this is perhaps what shocked people more than anything else — not just that Heather married someone half a century older and had honest-to-God sex with him, but that she decided to reproduce with him. How selfish! What was she thinking?
"It's horrible for a child to lose a parent at an early age, but our life is not a tragedy because Tony died. He was a loving husband. And since he couldn't have kids with his first wife, he desperately wanted them — so he was an incredibly loving father. And a great provider — his children have everything they will ever need." Yes, there are the proceeds from the antique-filled Manhattan apartment, the vacation apartment in Key Biscayne the Randalls bought a year before he died. But there is also their daughter's abiding love of opera, their son's burning desire to tread the boards. "His presence," Heather says quietly, "is very, very strong in our lives."
The most pressing problem of the May/December marriage? At age 33, Heather Randall became a widow, dealing with issues most women don't face until they are in their 70s — and certainly don't face while their children are still 6 and 7 years old. It's hard not to wonder: Would she do it again?
"Yes, yes, yes," she says. The moral of their story, Heather believes, is that life is such a crapshoot that even when a relationship doesn't make sense on paper — and even when it's fairly easy to predict that not everything will be ideal — having love for whatever length of time is always better than not having it at all.
Of course, today, Heather would rather keep the age difference within the realm of 10 to 20 years, if possible. Most recently she broke up with a man she'd been seeing for two years who was in his 50s. Age, she says, had nothing to do with it.
And what about a younger man? Has she begun to look in that direction?
"He would have to be extraordinary. I mean, he would be dealing with a woman who has two fatherless kids and has had some abnormal life experiences. He'd have to have an amazing sense of self.... It probably won't happen unless it's Derek Jeter." She ponders for a moment. "I hope I don't become a cougar anytime soon," she adds with a laugh. "I threw out all my animal-print dresses recently out of fear of exactly that!"
Heather Randall is a woman destined for great loves, because she deserves them and she's open to the possibilities. For those women who think that Anna Nicole Smith and J. Howard Marshall are what all May/December couples are about, consider this: What if they're about a meeting of like minds? Or — and this one's a shocker — what if they're about love?
Celebrity news, beauty, fashion advice, and fascinating features, delivered straight to your inbox!