10 Ways to Flirt with a Nerd
The dude who runs Nerd Nite Speed-Dating gives us some insights on how to win over hot geeks.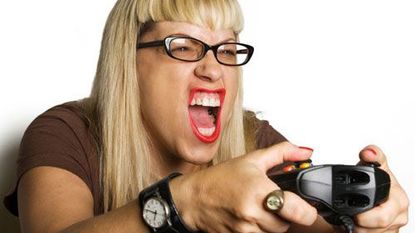 (Image credit: Clint Hild)
From Maura Kelly's A Year of Living Flirtatiously blog.
What a full weekend I had. There were boys everywhere. Including at a friend's birthday party, on Friday night, where I was too chicken to flirt with some hot über-politico nerd-dude.
Today... let's discuss how to flirt with nerds, shall we?
After an exceptionally fun evening of speed-dating with the nerds, I decided to get in touch with the man who organized and MC-ed the whole event, one Matt Wasowski, a.k.a. "The Boss of Nerd Nite" (as well as the author of the very nerdy book It's Okay to Like Sports: How Women, Artists and Intellectuals Can Find Cultural Value in Athletics.)
Anyway, I asked Matt if he had any special advice about how to flirt with the nerds.... Here's how our conversation went.
HOW TO IDENTIFY A NERD

MAURA: Let's get serious now — very serious.... What's your definition of a nerd?
MATT: As the Boss of Nerd Nite, I've always maintained a very broad — and thus, very inclusive — definition of nerd. The word applies to anyone who is both passionate and knowledgeable about one particular thing. The title isn't exclusively reserved for scientists and Trekkies. For instance, take the world's sexiest rock-star drummer, like a Tommy Lee. If he's able to spend 45 minutes explaining the different ways to tune a snare drum, then he's a nerd, too, on top of being a rock star
NERDS ARE JUST LIKE THE REST OF US (OR WE'RE ALL LIKE THEM)

MATT: Truth be told, I think we're all nerds — nearly every single one of us. In some way. Somehow. We all have oodles of insecurities about our strange quirks, and we're all dying to find that special someone who will find those quirks interesting.
MAURA: Hmm! Maybe. I can certainly be somewhat nerdy about books and movies and indie rock — I guess. In fact, I was once dating a nerd, and he asked me whether I was cool or nerdy in high school. The fact that he was having a hard time figuring it out was, in its own weird way, a compliment. I made him guess — and finally, he went with "nerd." And again, strangely, I was flattered.
HOW TO MAKE THE FIRST MOVE ON A NERD



MAURA: I've had dudes tell me: "Guys love it when women make the first move." But in my own experience, things never seem to work out that well when I take the initiative. What's best when you're trying to woo a nerd?
MATT: I've never met any male who didn't like being sought out by a lass. Fellas are so accustomed to making first move after first move, that it's both refreshing and flattering to be sought. As long as the woman isn't too aggressive, she is gonna get a date 9 times out of 10.
HOW TO HANDLE IT IF A NERD MAKES A MOVE ON YOU



MAURA: Are nerds more or less likely to make the first move?
MATT: A male nerd is just as likely to make a first move as any other dude. The key difference, however, when it comes to nerds, is that you may not recognize what he's doing as making a move. For example, if a hunger policy expert comes over and, out of the blue, starts telling you about food insecurity issues in rural Texas, he's probably hitting on you — but just doing it very poorly.
MAURA: If a nerd does make the first move on you, should you be extra-careful about how you respond — so as not to scare him away, set off some kind of dork-tastic panic attack, etc.?
MATT: Nah, don't be shy. Be calm and confident.
HOW TO WIN OVER A NERD
MAURA: What's a good way to win a nerd over?
MATT: Simply express interest in his nerdy interests. A true nerd wants someone to be interested in his area of expertise. He will talk about it ad nauseam if presented with a willing and enthusiastic audience — particularly a female one.
MAURA: Speaking from experience, I can back you up on that. And of course, I think all of us are suckers for a good listener. We all want to think we're captivating. It's a winning flirtation technique any way you cut it.
NERDS ARE MUCH MORE SELECTIVE!
MAURA: In what ways are nerds different from other guys when it comes to dating?
MATT: Nerds are MUCH choosier. If a nerd goes out with a coiffed, perfectly tan Barbie doll, he'll probably become bored (albeit extremely horny) within a few minutes. He might even sabotage the date to find more engrossing company — whereas other guys will patiently listen to her stories of nail polish and shopping in the hopes of getting into her pants. The nerd will end the date and simply take matters into his own hands, an act with which he's comfortable and familiar.
MAURA: Ha!
HOW TO SNAP A NERD OUT OF IT
MAURA: If a nerd comes over to flirt with you, and the conversation just feels alarmingly nerdy — like, he's talking about the table of elements, or about a comic book convention he recently went to, or something — is there a way to help snap him out of it?
MATT: Just tell him you're a nerd too and share a story about how you were a smart little kid or can name 65 different handbag designers. He'll be instantly sidetracked from his own tales of nerdom and attracted to your own dorky pursuits.
DO NOT ATTEMPT TO CURE HIM OF HIS NERDINESS!
MATT: On a side note, however, if you ever want to "cure" him of his nerdery, that's a bad sign. Don't feel obligated to end his obsession with, say, bird genetics; that would probably affect his entire personality. You have to love a nerd for who he is, if you're gonna love him at all.
TOPICS OF CONVERSATION THAT WILL TURN A NERD'S HEAD
MAURA: If you want to attract a nerd, are there certain topics of conversation that will make his ears perk up?
MATT: Just tell him you have nerdy tendencies too. It's amazing how many guys will snap to attention if you share your own nerdy obsessions. Few things are more endearing.
A SURE SIGN THAT A NERD IS FALLING FOR YOU
MAURA: What's a pretty good sign a nerd is falling for you?
MATT: He actually notices he's rambling on about the neurology behind toxoplasmosis, for instance, and stops himself, saying, "But enough about zombies. Would you like another glass of wine?"
Maura Kelly blogs daily about her dating life at marieclaire.com/flirt.
Celebrity news, beauty, fashion advice, and fascinating features, delivered straight to your inbox!