Female Strip Clubs Are All the Rage
Smart, successful women in the U.K. are dropping hundreds of dollars nightly at strip clubs created exclusively for them. And you thought you knew how to have fun.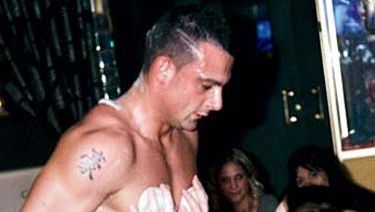 (Image credit: Richard S.)
Under flashing red and purple lights, a dancer named Adrenalin, a slightly chunkier version of a 30-something Sting, is thrusting and grinding to a pounding disco beat at Tricky Dickys nightclub in Birmingham, England. A crowd of young women dressed in Friday-night gear — slip dresses, jeans, gauzy tops — sits on white leatherette chairs in a semicircle surrounding the stage. They whoop and clap, snap pictures with their cell phones, and sip free champagne or cocktails with names like Easy Lay and Citron My Face. Swaggering into the audience, Adrenalin grabs the hand of a bouncy brunette in jeans and a tank top, escorts her onto the stage, blindfolds her, then sticks a dildo down the front of his G-string. While the crowd roars, he sits on her lap, guides her hands to the rod, gyrates lustily, then squeezes the dildo so it squirts lotion into the air — a faux climax. The audience shrieks.
Adrenalin gets another woman to kneel down on all fours onstage. Crouching behind her, he simulates doggy-style intercourse, miming exhaustion. Two minutes later, he kisses the giggling volunteer on the cheek and dispatches her back to her seat.
"I always get dragged onstage at shows," she says to the woman next to her. "When I went to see Sesame Street Live, I had to go up and dance with Big Bird."
She's a long way from Sesame Street. Though lap-dancing clubs first came to Britain in the mid-1990s and now number around 300, Tricky Dickys is the first one to focus on a female clientele.
The club targets a growing breed: free-spending, big-drinking women who like to party in ways that used to be strictly for guys. "I saw a business opportunity," says owner Lizzie Lucas, a blonde 37-year-old mother of three, who launched Tricky Dickys in March 2007. "Women are coming into their own. They want fun, they want laughs, and they want to be entertained."
To that end, the club encourages indulgence in everything: smoking, drinking, eating, spending, and sex — at least, the simulation thereof. "We're giving ladies what men have had for ages," says club manager Martin Weaver. "Except it's designed to be chic. On TV, it's the gangster who always owns the strip club. They're dark, seedy places." In contrast, the marble, mirrors, chandeliers, and cowhide stools of Tricky Dickys borrow more from Carmela Soprano's guest room than, say, the Bada Bing.
The growing enthusiasm for explicit sexual entertainment is just part of Britain's new bad-girl lifestyle. Heavy drinking is another. By some estimates, U.K. women's alcohol consumption has doubled over the past decade. As binge drinkers, they hover near the top of the charts among women in Europe — itself the world's booziest continent. Says Moira Plant, a professor of alcohol studies and the coauthor of Binge Britain, "Young women are drinking more on each occasion, and over the past five years or so, it's become acceptable for them to behave in a way we'd only seen in young men."
Indeed, the British tabloids bang on about the rise of the "ladette," while ladette culture has been blamed for everything from spiking crime rates to child neglect. But educational researcher Carolyn Jackson, author of Lads and Ladettes in School, sees it another way. "There are aspects of ladette behaviors that should be celebrated," she says, "like women and girls' increased assertiveness and confidence. They aren't afraid to challenge gender stereotypes."
Leading the ladette charge in mainstream pop culture are hard-partying celebrities like Kate Moss and Lily Allen, the 22-year-old British pop phenomenon who admits to having done drugs, and getting drunk before shows. British soul diva Amy Winehouse conquered the charts singing about female orgasms and dodging rehab. At one awards ceremony, she heckled pop's own Mandela figure, U2's Bono: "Shut up, I don't give a fuck!"
Such ladette loutishness peaks during hen nights — the British equivalent of bachelorette parties. In the hen-night aisle at any Ann Summers store — the British chain of sex shops aimed at women that has increased tenfold over the past decade — you can buy chocolate cocks, willy tiaras, and Chat Up Stickers with slogans like, "Wanna feed my beaver some wood?"
On a recent Saturday night at Madame Jo Jo's, a small, dark club in London's seedy-chic Soho, the space is packed with 10 separate hen parties. To get a seat, each guest must pay an $80 cover charge. The "Barbettes" — transvestites dressed in slinky silver cocktail dresses — serve drinks to the all-female audience. The show opens with a Liza Minnelli impersonator and moves on to an ABBA medley sung by a trio of Barbettes in blue-gauze minidresses.
"We've got money, we have great careers, and we're having a bit of fun along the way," says Rachel, a bride-to-be sporting a bright-pink Afro and sipping a Jack Daniels and Diet Coke. Rachel is in publishing; her friends have jobs in finance and real estate. "Ten years ago, it was unacceptable for women to go out and get absolutely hammered," says a striking, sleek-haired brunette. "But now you've got to be able to keep up with your male peers." Just the other week, she joined the guys in her office at Stringfellows, London's best-known strip club for men. After putting up with "the boys" for the evening, she's happy to be at Madame Jo Jo's.
Others venture further afield for their hen nights. Companies with names like Last Night of Freedom offer to transport hard-partying women to such far-flung destinations as Prague and New York for a weekend of decadence. The women at Jo Jo's agree it would be worth it.
Perhaps not surprisingly, only 22 percent of Brits prefer their hen parties to be "discreet and harmless," according to a U.K. study. The rest would rather their fiestas be loud, drunken, and risqué.
Tricky Dickys is all three. The show's opening act is hosted by a transvestite named Miss Penny Tration — "we all like a bit of Penny Tration now and then, don't we?" — who stalks the stage in stilettos and a black-and-white sequined dress. "Are we here to see cock?" she bellows. "Who's here to see cock?" The crowd cheers.
Eventually, the male flesh appears, thrusting and flexing to bouncy tunes — Prince's "Kiss," The Clash's "Should I Stay or Should I Go?" The uniforms are, well, uniforms. Police. Sailors. Firemen. ("Are you doing the fireman?" one flustered stripper asks another in the changing room, as a scrum of bare-chested hunks gets ready. "But I thought I was doing the fireman tonight!")
Adrenalin says he makes up to $1,000 a night. But the job has its hazards. "Some women are addicts, following you around to different clubs," he says. "This is their life — they're like roadies." The dancers wear heavy boots to protect their feet, since women have been known to throw broken glass on the stage. (Boots, not shoes, says Adrenalin, because boots make you "look good when you've got nothing on.")
Other hazards? Women like to grab at his crotch, he says. "They think it's tied on. You always get a woman who wants to yank it off, proving to her friend that it's fake. You really have to be careful." When groups are particularly rowdy, the stripper calls the female bouncers — all of whom are trained in martial arts — to stand guard.
More often, though, the evening dissolves into laughter. "When women go to see men, it's more for a giggle," shouts Lisa Scott, a curvaceous, platinum-blonde 22-year-old, over the throb of "Hot Stuff." Lisa, along with her equally platinum sister Sonya, a policewoman, and her friend Alison, are an appreciative audience, whistling and catcalling. Sonya even climbs onstage and pretends to whip one of the strippers. The stage acts, of course, are teasers, meant to encourage you to buy the real deal: A $20 chip gets you a private dance down to a G-string; $40 — a pink chip — entitles you to, as Penny tells the crowd, "a cock in your face, basically."
Outside a booth in the back of the club, Lisa, Sonya, and Alison team up for a naked lap dance by a man dressed like Clint Eastwood in The Good, the Bad, and the Ugly. To them, a Friday-night lap dance is one small step for womankind. "There's lots of girl power out there," Sonya grins. "This is about equality. Men go out and have a good time. Why can't it be the same for women?" Laughing, the three disappear into the booth for a private display of writhing male nakedness. Female empowerment indeed.
Celebrity news, beauty, fashion advice, and fascinating features, delivered straight to your inbox!