I Married a Total Stranger
Despite the fact that she was college-educated and he was a successful banker, she saw her husband exactly three times before they took their vows. But how would their arranged marriage play in America?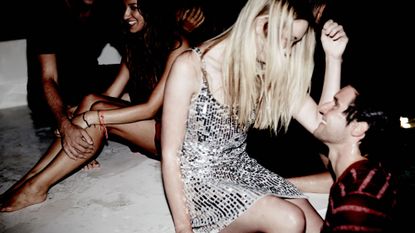 (Image credit: Getty Images)
Most Americans have sex on the third date. I married my husband after meeting him for the third time. I'm Indian, and having an arranged marriage is something that my ancient culture still thinks is a great idea.
Since the day I was born, my parents had been planning this occasion. When I was 20, they presented me with my first proposal. I found him overbearing, and I desperately hoped there would be more suitors. There were. But I passed on every Raj, Arun, and Sanjay — too fat, too boring, too short.
By age 26, after attending more than 150 weddings, I was fast approaching my "expiration date." So my parents put pressure on our community — not to mention my relatives — to find The One. They urged me to be more flexible, and I had no reason to argue. Being a spinster in Indian society is considered an embarrassment, a burden on the family. I was raised to think a smiling groom, approved and blessed by my parents, was the ultimate achievement. While Western teenagers spent summers working the cash register at the mall, I spent mine learning to sew and cook so that I could someday be a successful wife.
After endless auditions of eligible bachelors, my family short-listed a Wall Street banker — an Indian living in New York, who happened to be in town on his annual 10-day visit to see his family. My cousin had arranged for a casual encounter between our two families during high tea at her home. He was tall, dark, and 29. Sporting funky eyeglasses and a sharp blazer in Mumbai's 100-degree heat, he spoke with an American accent that I found knee-knockingly sexy. The second time I saw him was at a dinner orchestrated by both families, where our parents decided on the spot that this was my guy. There was something about his demeanor, his soft, lilting voice, and the pleasing way he interacted with my family — frankly, we all fell for him.
My parents were ecstatic, and truthfully, I was pleased to be the reason for their joy. One week later, his mother called my mother, and by the end of the phone call, we were engaged. Shouts and hugs were exchanged throughout the neighborhood — you'd have thought I'd won an Olympic gold medal.
A wedding date was set for six months later, the venue picked, and a guest list of a thousand finalized. As the preparations began and wedding invitations were hand-delivered, I visited with friends and said my good-byes. Of course, I was anxious about being shipped halfway across the world to the U.S. I was giving up my cultural identity and lifestyle: Indian monsoons; colorful saris; conversations in my mother tongue; the inquisitive neighbors, cousins, and aunts; and most of all, the food.
But on the other hand, it was nice to finally be engaged. And the very fact that I was getting hitched to an Indian living in America made me royalty.
Traditionally in India, the bride's father pays for the weeklong ceremony. He also provides a "dowry" — cash that accompanies the bride from her old home to her new one and serves as her financial security — sort of an ancient prenup. In today's urban India, it's couched in a package of fabulous parties, elegant saris, and, of course, heirloom jewels that mothers have cleverly been amassing since their daughters were born. My future in-laws, however, insisted on sharing the financial burden, setting the stage for an equitable and very modern marriage.
For months, my 16 aunts slaved away, putting together a trousseau of the wildest, boldest silks. My mother became the conductor of this grand orchestra, giving orders and coordinating schedules. The days when the preparations felt overwhelming were actually the ones when I was least afraid of my future. In America, I wouldn't be governed by in-laws, nosy neighbors, or relatives checking on whether I was following tradition. I imagined freedom. Relief. Independence.
The wedding was preceded by six days of partying, each one centering on a small religious ceremony, plus a social gathering featuring fireworks, feasting, music, and Bollywood-style dancing. Each day required a different outfit, jewelry, hairdo, and makeup. Rather than the bachelorette parties I'd later learn about in the States — where someone might end up with a "Chuck Forever" tattoo — at home in Mumbai, my girlfriends and I partook in a henna hand-painting ritual to beautify me for my future husband.
After the henna ceremony, two of my cousins took me aside and gave me the CliffsNotes on the birds and bees. Combine an Indian upbringing with a Catholic-school education, and my knowledge of sex was limited to "It is a sin." Despite blushing profusely and begging them to stop, I completed the crash course, and we all laughed.
On the wedding day, my groom, dressed in a brocade coat, arrived in a flower-decked Mercedes — a modern-day maharaja. Together, we circled the holy fire seven times (a tradition called Saat Pheras); then, under a canopy of frangipanis and orchids, we were wedded for seven lifetimes. The Pheras are the most important part of the wedding ceremony. In Hinduism, the fire is considered the sustainer of life, and it is only after the Saat Pheras are completed that a couple is declared man and wife. Each Phera is taken to invoke the blessings of specific gods and goddesses, who then grant the seven blessings: financial stability, health, faith, trust and love, progeny, togetherness, and loyalty and unity forever.
On my wedding night, a sense of calm finally washed over me, as I made my leap from bride to wife (armed with the Kama Sutra, which my cousins had downloaded onto my PDA as a gift).
After our 10-day honeymoon, we were ceremoniously dispatched to Manhattan. My life was packed into six bursting suitcases. When my husband had described our apartment, I'd pictured a life-size dollhouse with separate dining and living rooms, bedrooms, balconies — a tall building with a green garden. Instead, my new home turned out to be smaller than my bedroom in India. The trade-off: From the 40th floor the view was unsurpassable. My husband's American friends called, asking about the wedding and curious to see if I had a nose ring. I was just as eager to meet them.
The next day, my banker husband went to work, and I was home alone for the first time. I eyed his walk-in closet, courageously moving his suits into a smaller armoire. Judging from what remained, I had married an avid golfer, skier, and board-game player. That evening, he moved his clothes back into the walk-in, offering to share it. Still, it seemed I had too many things for the space. My neighbor suggested unplugging the refrigerator to maximize storage (a trick she had used). It seemed extreme, but by the second week, I was considering it. After all, I discovered that New York delivers coffee and anything else, even in a blizzard.
While I craved privacy in India, the lack of neighbors and family dropping in left a shocking void every day as I ate breakfast and lunch alone. My husband worked late most evenings, and I sat in front of the TV, unable to call home because it would be 2 a.m. there.
Being away from India gave us the chance to get to know each other. The first few weekends we spent like tourists — a trip around Manhattan on the Circle Line, a romantic view from the top of the Empire State Building. My husband bought me fashionable, sometimes sexy clothes, and we tested each others' boundaries. We talked incessantly about our childhoods, schools, friends, mistakes, hopes, dreams, and desires. It was just like dating, only we were already married.
After a few weeks, I learned that I'd married a "jetrosexual." He had an exhausting travel schedule (four cities in four days). I joined the ranks of corporate wives who saw every show, opera, and ballet in town, just to fill the hours.
To make friends, I joined a gym, went to the library, and took Italian classes. I discovered that having an arranged marriage was a great icebreaker, and my social circle mushroomed each time I retold my story.
As peers in India opted for motherhood and worked on post-baby waistlines, I took Spinning and pole dancing at the gym to work off exotic dinners of sweetbreads, foie gras, chocolate mousse. After reading about America's obsession with Venti decaf skim mochas, I went to try one — but came back instead with a spiced chai latte. Amazingly, Starbucks was providing my childhood drink on every corner.
Marriage, I soon learned, wasn't easy — especially to a modern man. My husband had acquired a mistress, and her name was BlackBerry. She had the power to stop discussions midsentence, her red signal lighting up his face in the way I only dreamed of doing.
With his work schedule and my burgeoning social calendar, our love story unfolded on fluorescent Post-its stuck to the fridge: "Water plants." "Out of toothpaste." "Make baby tonight." Nothing, it seemed, was left to chance.
Slowly, I was getting to know my husband, even starting to fall in love with him. Though we were from the same ethnic background and had a similar upbringing, he had spent his impressionable years in America. He liked baseball, oatmeal, tofu, and bran muffins. I followed cricket and thought of oats and bran as the stuff we fed horses. I had no idea how to do laundry in machines. On my first attempt, I shrank his favorite Burberry sweater. Luckily, he didn't expect me to conform to the traditional roles within a marriage. Even so, he had always wanted an arranged marriage because he felt it would be easier for him to share a life with someone who understood his upbringing and culture.
But I could not escape tradition entirely. In a matter of months, our home became an extension of the Air India terminal, as uncles, sisters, brothers, and distant cousins settled in on the pull-out couch. (I'd forgotten that an Indian woman marries a family, not just a man.) For three months, I endured gigantic suitcases in the middle of the living room, curry wafting into the hallway, and prayer bells at 6 a.m. sharp. I envied my friend Anna, whose Swedish parents stayed in a hotel, treated her to brunch at Serafina, and busied themselves at Bloomie's.
To escape the houseguests, I found a job as a financial consultant. The New York Times in one hand, coffee in the other, I realized that my saris of bright pink, violet, and salmon were not exactly subway wear. Quickly, I succumbed to Levi's and Ralph Lauren.
My officemates were intrigued when they heard about my arranged marriage. "It's nice to have a spiritual and family connection with your husband, rather than one that begins in a bar and ends with sex," sighed leggy Victoria from Brooklyn, who frequented eHarmony and match.com.
That's when I started to realize that I just might have the best of both worlds. I marinated my Indian marriage in the flavors of Manhattan. I kept the sari and bought the Jimmy Choos. I made fabulous curries, seasoned with spices from Dean & Deluca. And after months of enjoying decidedly non-Indian experiences of seders, Saks, and sake, I felt confident enough to direct Indian guests to a hotel, occasionally throwing in a MetroCard.
As Indian women gain financial independence, it is inevitable that we will see fewer arranged marriages — and maybe that's too bad. I firmly believe that our marriage works because it is blessed and supported by our families. The strength we get from their advice (solicited and unsolicited) helps us overcome difficult times. Had I found my own mate, I'm sure my parents would have come around, but I'd have to live knowing that they wouldn't be truly emotionally invested in the success of the marriage.
I've come to believe it's not so much how you get hitched but what you do with your relationship that matters. Although my husband doesn't always agree with his opinionated and selectively liberated wife, he openly expresses his love. Back home, couples don't even hold hands on the street. Here, well, couples do a lot more than that. India may have found me a husband, but America showed me how much fun it is to be his wife. Power to my parents for arranging this union.
Celebrity news, beauty, fashion advice, and fascinating features, delivered straight to your inbox!