Meet the 'Male Carrie Bradshaw'
The book every brave, ballsy, literary girl should read to learn about love, sex, sexuality, and relationships from the single most cutting edge editor on the topic.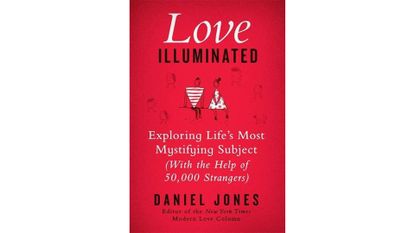 (Image credit: William Morrow)
"I'm the least likely person to edit a column about relationships," admits Daniel Jones, The New York Times Modern Love editor. "I'm shy and hate to talk about my feelings."
He's not kidding. Over coffee in Greenwich Village the lanky, unassuming 51 year-old fellow behind the infamous feature discusses feelings that permeate his new book Love Illuminated: Exploring Life's Most Mystifying Subject (With the Help of 50,000 Strangers)—though most of the emotion isn't his. Instead, the scribe called "the male Carrie Bradshaw" muses on the meaning of love, loyalty and infidelity through studies, stats, quizzes, and with analyzing the essays he's published that scrutinize every angle of intimacy.
In his forthcoming book, Jones does cough up a few pages about his own romantic life. The Pittsburgh-native was a late bloomer who didn't get his first real girlfriend until senior year of college. He met his pretty, petite "control-freak" wife, Cathi Hanauer, while getting his MFA at The University of Arizona. She was in town to check out the program. They were both 27 year-old Libras, born 10 days apart. He gave her some of his work; she wrote him a letter in response. "She said she'd read my story in her bathtub and loved it. Later, she would tell me her bathtub reading experience was when she first began falling for me," writes Jones. "I would confess that imagining her in a bathtub enjoying my writing was when I first began falling for her." Eighteen months after meeting, Hanauer proposed—though Jones insists he was about to.
They married in 1992 and had two babies, then two books, playing out their relationship angst in their work. Her novel My Sister's Bones centered on a dysfunctional suburban family. His novel After Lucy chronicled a slacker with two kids mourning his wife's death. Feeling claustrophobic in a small Upper West Side apartment, in 1999 they moved to a Victorian house in Northampton, Massachusetts. Yet she resented having to carry more of the domestic load and said so clearly, in the 2002 bestselling anthology The Bitch in the House . She then suggested Jones pitch a rebuttal, which led to The Bastard on the Couch. The Modern Love column was also not Jones' idea. It was spawned when the dueling husband/wife essay collections– dedicated to each other - caught the attention of then-Styles editor Trip Gabriel. He offered them the new incarnation of the Times Magazines' defunct Hers and About Men columns. Working together did not make Jones and Hanauer closer and Jones eventually took on the column solo.
After the Modern Love launch in 2004, the tall, bald, charmingly self-deprecating Jones was surprised to stumble into the Zeitgeist, becoming an object of obsession himself. A female writer sent him an MP3 audio file of her on mandolin playing David Bowie's "Modern Love," coincidentally where Jones stole his title. Another woman stalked Jones at the New York Times office—where he doesn't work—leaving a note that she was visiting and felt destined to meet him so he'd publish her. (He didn't.) An ex-girlfriend submitted a piece, but it wasn't about him (or taken).
The column boasts 1.5 million Times Style readers and at least 37 books spawned from the 465 essays that have run so far. Jones, who reads every piece, is the rare editor open to unpublished, unknown authors, though a few celebrities won him over. Actress Maria Bello used the platform to come out about her female lover (opens in new tab). Dennis Leary's wife, novelist Ann Leary, aired their marital problems (opens in new tab). Larry Smith's
chronicle of dating then-fiancée Piper Kerman in jail got a cameo in Orange is the New Black (opens in new tab). College classes now put Modern Love on their curriculum.
The Times recently added accompanying video animation on their website, next to an interview about the column everyone loves or loves to hate. While a Modern Love TV series didn't get picked up on Lifetime, their Facebook page has 42,000 fans. On it, Jones lists statistics: He's accepted one piece from writers (aged 17 to 84) for every hundred rejected. Seventy-five percent of the 50,000 submissions are by straight women, 20 percent straight men, 5 percent are homosexual (more lesbians than gay men.) Half of his fans are in the U.S., followed by India, Egypt and Brazil. One author tried unsuccessfully twenty times. (Full disclosure—this reporter had luck—on her 12th attempt (opens in new tab).)
Men are more likely to react to rejection badly, Jones notes. One emailed, "No one reads your column anyway." A persistent chap responded to Jones' "no" by revising his piece unsolicited. When Jones declined again, that chap emailed back one word: "lame." Another unlucky guy warned: "Your choice is a foolish one. My successful career will further reveal that to you," then 8 months later sent Jones a different piece (also not accepted.) A female sent her rejection to her mother and then mistakenly forwarded mom's response to Jones: "Well, I really liked your piece. F--- the New York Times." It was signed "Love, Mom."
So what's the main lesson Jones has learned from nine years of editing true-life stories of other's passions?
"People often try so hard to avoid the mess and complications of relationships instead of embracing the complexity," he says, sounding like he's been on the couch while insisting, "I've never been in therapy."
Never? Really?
"Okay. We did three session in couples therapy. Then I was cured! Actually Modern Love is my therapy." He laughs. "Or maybe the steady income and success from the column is what saved my marriage."