Free Birth Control Under Fire
A Supreme Court case could limit a key benefit for women under the Affordable Care Act.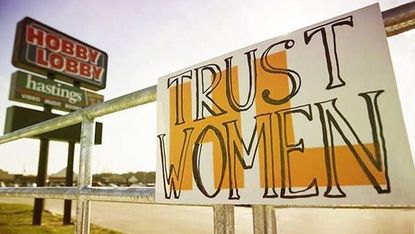 (Image credit: Kile Brewer/News Tribune)
Marie Claire Newsletter
Celebrity news, beauty, fashion advice, and fascinating features, delivered straight to your inbox!
Thank you for signing up to Marie Claire. You will receive a verification email shortly.
There was a problem. Please refresh the page and try again.
JENNIFER MOYER, 32, isn't in a rush to start a family with her husband of eight years, so she relies on birth control. Her prescription is supposed to be covered under her employer's health insurance plan—the Affordable Care Act (ACA) covers birth control as preventive care—but her employer, Conestoga Wood Specialties, in Pennsylvania, refuses to abide by the new law on the grounds it violates the owners' Christian faith, leaving Moyer to pay about $360 a year.
On March 25, Conestoga and Hobby Lobby, a crafts chain based in Oklahoma City, will argue before the Supreme Court that the government can't force private companies to cover all methods of birth control. If they win, some of the tens of millions of women who have birth-control coverage—about 47 million total when the ACA is fully implemented—could lose it, depending on what their bosses believe.
"Allowing a woman's boss to call the shots about her access to birth control [takes] us back to a place in history when women had no voice or choice," said Sen. Patty Murray, D-Wash., in a statement. The owners of Hobby Lobby, which has more than 10,000 full-time female employees, say that while they don't oppose their employees' personal decisions, they don't want to be forced to help pay for certain methods of birth control they find objectionable. Lori Windham, an attorney for Hobby Lobby, says requiring companies to pay huge fines—at least $100 per employee per day—for sticking to their beliefs is "a heavy burden on religious exercise."
But Cecile Richards, president of the Planned Parenthood Federation of America, says the coverage is "common sense," given a third of women in the U.S. struggle to pay for birth control at some point in their lives. Gretchen Borchelt, senior counsel at the National Women's Law Center, worries that a ruling in Hobby Lobby's favor could be used to justify all manner of discrimination: "A boss could use religion to refuse to provide maternity care, STD testing, vaccinations," she says. According to these advocates, bosses belong at the office, not in their employees' bedrooms.
RULINGS TO WATCH: Keep an eye on these decisions coming from the Supreme Court this spring.
MCCULLEN V. COAKLEY: Outcome will decide whether to maintain the 35-foot buffer zone that separates women who enter abortion clinics from protesters.
SCHUETTE V. COALITION TO DEFEND AFFIRMATIVE ACTION: Challenges whether gender or race can be considered in admission to public colleges.
Celebrity news, beauty, fashion advice, and fascinating features, delivered straight to your inbox!
Dana Liebelson is a writer in Wyoming. Her journalism has been published in Mother Jones, HuffPost, The Atlantic, Marie Claire and Insider.