Apparently All Women Want to Date Golfers?
At least according to Match.com.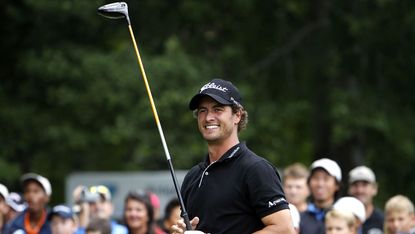 (Image credit: archive)
If you had to guess what term women search for the most when perusing the halls of internet dating, you would think it would be something kind of generic like "intelligent," "funny," or "socially progressive." But according to Match.com's analytics (opens in new tab), one of the words most commonly searched on the dating site by straight women is the term "golf," which gets an average of 7,000 hits a month. Not only that, but men who list "golf" as one of their interests are reportedly 33 percent more successful at finding dates on the site.
Now, if the word "golf" conjures up an image for you of a slightly pudgy, wheezing, middle-aged wealthy white guy, this revelation might be a source of confusion. But it makes sense when you consider that the game is traditionally associated with men who are well-bred, well-educated, and very genteel.
"Golf is the ultimate gentleman's game, and women crave a gentleman (opens in new tab)," Helen Fisher, Ph.D., Match's chief scientific adviser and biological anthropologist, said in a press releaseaccording to Glamour (opens in new tab). "Golf is also a social game [and] one rarely plays alone, so golfers tend to enjoy social situations and have 'people skills.' … Golfers can pull themselves away from the desk to relax; they have a passion; and they have enough money to enjoy their passion. Who wouldn't want a gracious, elegant, honorable and financially stable squire?"
So there you have it: golf is the key to love. Use that information wisely.
You should also check out:
Tinder's Got Some Competition: Meet the NEW New Dating Apps (opens in new tab)
I Lost 180 Pounds and Became a Man-Eater (opens in new tab)
10 Things Guys Think You Lie About on Your Dating Profile (opens in new tab)
My writing has regularly appeared in The New York Times, The Paris Review, Salon, VICE, Guernica, The New York Observer, BuzzFeed, Cosmopolitan, Seventeen, Esquire, Elle, Harper's Bazaar, and many more publications.

I was previously the Senior News Editor at Best Life Online and the Viral Content Editor in the Newsroom of Hearst Digital Media. My portfolio consists of a vast and diverse body of work that includes personal essays, lifestyle articles, breaking news posts, and viral content. My areas of expertise, however, are Russia, sex and relationships, and mental wellness.