The Right Time to Sleep with Someone, and 9 Other Lessons from a Modern Dating Class
Shocked I've ever managed to land a boyfriend without proper knee-crossing technique.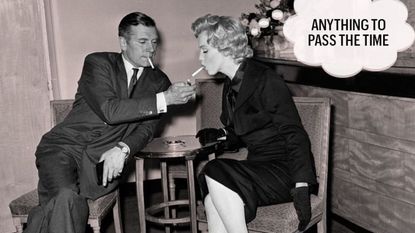 (Image credit: Betsy Farrell)
Marie Claire Newsletter
Celebrity news, beauty, fashion advice, and fascinating features, delivered straight to your inbox!
Thank you for signing up to Marie Claire. You will receive a verification email shortly.
There was a problem. Please refresh the page and try again.
Last week I had the pleasure of attending a dating etiquette class at The Plaza. I've always been intrigued by manners—an ex-boyfriend's dad said I had "1950s values" after I wrote him a thank-you note, which...IDK either—and by the social mores of courtship. As many 20somethings will attest, dating can be a very demoralizing experience, so a class boasting the *right* way to do it had my curiosity piqued.
Founded and directed by Myka Meier, Beaumont Etiquette bills itself as a contemporary finishing program "based on Western etiquette," though the courses are intended to "reflect today's global society." The two-hour Art of Dating class I signed up for promised to focus on date prep, dining etiquette, conversation tips, body language reading, confidence development, and more. Oh, also cocktails, so = sold.
Two hours and two experts later, I had learned a lot. But please, take the do's and don'ts below with a grain of salt, because a) can anyone truly be an expert at "dating" and b) inspired by the great Justin Trudeau, "It's 20157," and you can sleep with someone whenever you damn want.
Body Language Is the Key to Making a Good First Impression
If you're at a bar charity function and you're trying to meet people, make sure you stand with your chin parallel to the floor, your shoulders back, and with good posture. Don't play with your phone, but rather, maintain eye contact—a novel idea—and lean in if you're enjoying the conversation.
If you like someone, you'll naturally look into their left eye. If you switch eye contact and begin to stare into their right eye, it means you aren't enjoying the conversation.
Don't Cross Your Legs at Your Knees
Apparently the proper way to cross your legs is at your ankles. Your knees and your ankles should be pressed together at all times.
Oh and while you're at it, don't cross your arms. It's hostile. Meier suggests carrying a clutch so you can hold it on your lap or in front of you if you like to have something to do with your hands.
Being Late Sucks for Everyone
Here's something new I learned: A "gentleman" would never let you think that you are late to a date. If, hypothetically, you showed up 20 minutes after you were supposed to, a gentleman should say, "No, I made the reservation too early." I like this piece of etiquette.
However, if your date shows up fashionably late, you are technically not supposed to make a big deal about it—"for the sake of the date," says Meier. Boo.
Google Yourself
According to Meier, 45% of the lovelorn Google their potential mate before a date. Get ahead of the awkwardness that would occur when your would-be boo discovers your old Tumblr and just delete that sh*t.
Spend Time Curating Your Online Identity
If you're on the apps, you know that someone's picture is the first thing you see. Celebrity matchmaker Amy Laurent—our relationship expert of the evening—encourages you to select 4-6 photos ("you don't need a whole album!") that make a statement about who you are. We're talking energy and variety. Make sure one of photos shows you doing something you love. One selfie at most, because apparently guys don't like selfies. [See above for note re: "grain of salt"]
Next, Laurent wants you to focus on your tagline. Say something fun and unique in a light, interesting way. Instead of writing, "Based in Manhattan, looking for love, love to travel," say: "Living in NYC, looking for a partner-in-crime to hit every item on our travel bucket list."
Conversational No-No's
Avoid the weather. Compliment people. No politics, no religion, no sex, no vices, and don't talk about money. [Writer's note: THIS SOUNDS SO BORING, THOUGH]
There's a Special Place on Your Plate for Olive Pits
The more you know, eh? So here's where Meier's formal etiquette training really begins to shine. I'll just go through this stuff at lightning speed because it's interesting even though it has zero impact on whether you land the love of your life.
If someone asks you a question and you have to chew for 15 seconds before you're ready to answer, you've taken too big a bite. Oh, and you're only supposed to take four bites of food MAX before setting your cutlery down and "resting." And I would get into the way you're supposed to hold your fork and knife, but it's complicated so this lady can show you.
Sauces go on the bottom right corner of your plate; discards, such as olive pits or stems, in the top left.
If your date gets something stuck in his or her tooth, you're supposed to let them know right away, rather than have him or her discover it hours later in the bathroom. Awkwardness. Be. Damned.
What to Do with Your Wallet
If you invited the body across the table from you, traditional etiquette says the check is on you. If you were invited to the shindig, it's still polite to *offer* to split the bill. But what does "offer" mean exactly? Meier says you can simply "reach" for your wallet when the bill arrives, but you don't need to verbally suggest you go Dutch. You should never offer to split the check if you can't actually afford it.
Sex
Both Laurent and Meier agree that proper etiquette rules you should wait until you are exclusive with someone before you sleep with them. Laurent thinks it takes at least eight dates before you really know someone, and that sex shouldn't even be on the table during the first month of going out. Do what you want with that intel, Emily Post-aspirants, but I think that rule is outdated.
Your Goal Should Not Be "How Do I Get This Person to Like Me?"
I wanted to end on some advice that I really like and believe in. Lots of the aforementioned etiquette ideas make my feminist insides churn—more tips and tricks to make women think *they're* doing something wrong out there on the dating scene? No. Fuck that. Never forget that you—you—have just as much autonomy as your wine bar Tinder date. And while sure, being charming is a good and fun goal, your date carries half the responsibility for making sure your meet-cute isn't a total disaster.
Follow Marie Claire on Facebook for the latest celeb news, beauty tips, fascinating reads, livestream video, and more.
Celebrity news, beauty, fashion advice, and fascinating features, delivered straight to your inbox!
As Cosmopolitan's deputy editor, Rosa Heyman oversees a team of whip-smart editors and hilarious writers who bring you some of the best investigations on the internet, from dissecting the latest Kardashian drama to uncovering the link between white supremacy and misogyny. She currently manages the news and social teams and develops the strategy for how the brand best distributes content. You can usually find Rosa glued to her phone workshopping a cheeky caption for Cosmo's Instagram account.