I Survived a Digital Detox in the Catskills
I put my phone in a box and tried to light a campfire instead.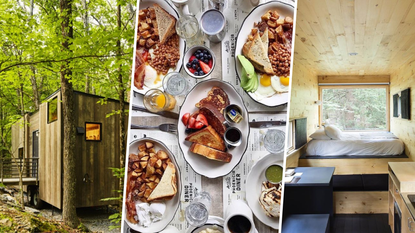 (Image credit: @GetawayHouse/@PhoeniciaDiner)
The Getaway ExperienceHow to Entertain Yourself Since Mindlessly Scrolling Instagram Isn't an OptionMost Importantly: FoodHelpful Tips
My name is Rosa and I'm an iPhone addict. (Go ahead, play along: "Hiii, Rosa.") It's partially my job's fault—you can find me under "social media editor" on the Marie Claire masthead—and partly because I'm a millennial living in 2017. Everyone's an iPhone addict.
So when my boyfriend suggested we book a Getaway outside New York City where the very purpose of the excursion is to unplug for 24 hours, I was thrilled...and nervous.
Getaway was started by two Harvard grad students who wanted to help stressed-out, overworked people get out of Boston. They tricked out a couple 160-square-foot houses and parked them in undisclosed locations, promising renters an opportunity to "recharge in nature, reconnect with people you love, and rekindle an interest in life unplanned." Now they have a whole slew of tiny houses in the woods, each within a two-hour drive of New York City, Boston, and D.C.
Part of the beauty of Getaway is that while they encourage you to drive to your cabin (the exact coordinates of which won't be revealed until a week before your stay), they do promise that you can get there via public transportation and a few extra steps. I was lucky enough, however, to borrow a GMC 2018 Terrain for the occasion—a SUV that, ironically, has built-in Wi-Fi, a touch-screen that features Apple CarPlay, bluetooth streaming capabilities, loads of USB ports, and an *amazing* sunroof.
You can take the girl out of the city, but you can't take the—yeah, you get it.
So fine, I knew that if the going got really tough, spending the night in the car wouldn't be so bad. So with that, I left my phone charger at home and dramatically announced that I was going off the grid.
The Getaway cabins are the most quintessentially hipster structures ever, but that's part of their charm.

The interior is simple but contains everything you'll need: a comfy bed, a huge window for appreciating nature and all that, a very modest bathroom, a tiny stovetop and sink, plus books and games and a lockbox for your phone.
There's also a grill outside and firewood, as well as a picnic table and Adirondack chairs for lounging. We brought burgers for grilling, a bottle of wine (plus another bottle, shh), and a backgammon board. Heaven.
The first rule of Getaway is there are no rules. But seriously, if you don't lean into the digital detox opp, you're making a mistake. The first thing we did when we arrived was put our phones in the aforementioned lockbox, which felt liberating. Sad, I know, but it's rare that I feel comfortable unplugging entirely.
Even though you're basically on a campus dotted with these tiny houses, it feels really private and remote because of the way the cabins are arranged. We sat outside grilling and drinking and playing games until it got too cold, and it felt like we in the middle of nowhere.
Another underrated experience? Getting a decent night's sleep, and waking up to this view:
I should also mention that there are plenty of activities to do on your way to and from your Getaway (if you're doing one near NYC, that is). We stopped for a hike at Kaaterskill Falls, which was gorgeous even though we eventually got rained on.
And on our way back to NYC, we took a detour and visited the highly-Instagrammable Storm King Art Center.
You'll definitely want to bring some food for your Getaway stay, though there are simple provisions like pasta and granola bars on-site that they will add to your tab later if you partake. For me, part of the fun was trying (so very hard) to build a fire on which we could grill burgers and make s'mores. I'd recommend bringing a picnic.
For breakfast the next day, we made a beeline for the Phoenicia Diner. I had discovered this spot on Instagram, and the the food looked so damn good. The menu features locally-sourced delights like house-cured corned beef hash and homemade waffles. If you're ever driving around upstate, definitely fit the Phoenicia into your day. You will not leave hungry.
Marie Claire email subscribers get intel on fashion and beauty trends, hot-off-the-press celebrity news, and more. Sign up here.
As Cosmopolitan's deputy editor, Rosa Heyman oversees a team of whip-smart editors and hilarious writers who bring you some of the best investigations on the internet, from dissecting the latest Kardashian drama to uncovering the link between white supremacy and misogyny. She currently manages the news and social teams and develops the strategy for how the brand best distributes content. You can usually find Rosa glued to her phone workshopping a cheeky caption for Cosmo's Instagram account.