Weekend Travel Guide: Where to Stay, Eat and Drink in Boston
A wicked fun getaway.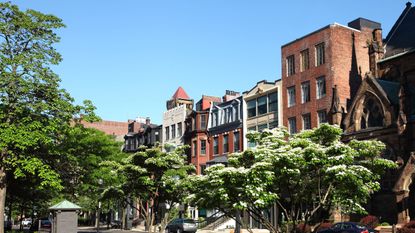 (Image credit: Getty Images)
Welcome to MarieClaire.com's series on weekend travel—a smart girl's guide to making the most of those glorious two days off.
Patriotic, inviting, and spirited, Boston is truly one-of-a-kind. The city is filled with history, music, and great food, but small and low-key enough to be experienced in just one weekend. Skip the duck tour and the visit to the Cheers bar in favor of these awesome, under-the-radar sites.
Here's a list of the must-hit spots in the bean.
Where to Eat and Drink
Start your trip off with an unforgettable Bloody Mary at Bostonia Public House. For $18 bucks, you'll get access to an insane build your own Bloody Mary bar—the rule is, start off with vodka or tequila and pile on as much as your glass can handle. You've got to be strategic here, since toppings range from mini-donuts to fried chicken wings. Pro tip: Use a celery stick as your base.
Next up, head to the Seaport district for some mouthwatering lunch options. Sit right on the water at one of Boston's most beloved institutions, The Barking Crab. Here you'll find the best seafood (don't miss the peel and eat shrimp with old bay seasoning). If you're not feeling fishy, you can always check out neighboring Mediterranean restaurant, Committee. I highly recommend the rotating Tzatziki trio.
Ready for a cocktail? Check out the Envoy hotel's Lookout Rooftop. Here you'll find panoramic views of the Boston skyline, plus delicious libations. Even if you don't make it to Beantown in the summer months, this spot works year-round. In the wintertime, it transforms into an "igloo" themed bar. Also in the Seaport neighborhood is the nearby Harpoon Brewery. This usually-packed ale-house offers year-round tours, soft-pretzels made with beer, and a variety of booze samplers—it's always a great time.
One of my favorite Bostonian experiences is chowing down at Lolita, a dark, rustic-feeling Mexican cantina with two locations (both are excellent). Dinner starts off with a complimentary palate cleansing grapefruit granita (made with tequila and dry ice) and ends with a whimsical spin on cotton candy with pop-rocks sprinkled on top. Prepare for a leisurely dinner in an awesome ambiance. Some other must-try dinner spots are Barcelona Wine Bar and The Beehive in the South End.
For dessert, head over to Boston's Italian influenced North End neighborhood. The can't-miss spots are famous cannoli haunt, Mike's Pastry, and family-owned neighbor, Modern Pastry.

Looking for a place to grab a nightcap? Wink & Nod is a speakeasy with an extensive cocktail list, and Drink is another serious contender—there's no menu here, you just tell the bartender what you like and he or she will mix up a drink just for you.
What to Do

Get familiar with the cityscape. Boston is picturesque in any season, so channel your inner photographer and capture the bean's gorgeous ivy brownstones, brick architecture, and sprawling parks. First, head to the Back Bay neighborhood, lined with Victorian style apartments, and home to the famous Newbury Street—a world-class shopping destination. Here, you'll also find the Boston Common and the Boston Public Garden, where you can people-watch in the park, take a swan boat onto the pond on a nice day, and ice skate in the winter. End your tour of the Back Bay with a drink or bite at the Top of the Hub, the restaurant and cocktail lounge on the top floor of the Prudential Tower. This is your best spot to capture those #views.
Get sporty and snag yourself tickets to the Green Monsta'. Even if you're not a Red Sox fan, you've got to check out a game at Fenway Park. The Fenway neighborhood is an experience in itself, with spirited fans lining the streets before games, exorbitant amounts of memorabilia, and tons of great bars to hang out in before and after.

Finally, get historical. You'd be remiss to visit one of America's oldest cities and not test out your knowledge of our country's founding. Boston's museums are fabulous and plentiful. In the seaport district alone you can make a day of checking out the Boston Tea Party Museum, Fire Museum, and the Institute of Contemporary Art—a striking waterfront institution overlooking the Harbor.
Where to Stay
There are so many lodging options in the city. The best place to stay really depends on the season. In the heart of summer there's no better spot than The Envoy. Located directly on the waterfront, this hotel is elegant, hip, and design-minded. In nice weather, some other great options are The Colonnade and The Verb, both of which boast rooftop pools. In the wintertime, cozy up at the Mandarin Oriental or The Boston Harbor Hotel, which has lovely al fresco fire pits. If you're looking for something more bespoke feeling, check out a homey Airbnb, perhaps in the Back Bay neighborhood you're planning on touring anyway.
RELATED STORY