What a 14-Hour Flight on a Hello Kitty–Themed Airline Is Like
...I was the youngest person on the plane by 10 years.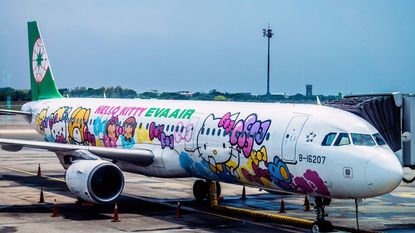 (Image credit: Joshua Mellin)
I have a very specific long-haul flight ritual: One hoodie. One terrible movie I'd never watch on land. One glass of wine. One poke at whatever they're passing off as dinner. And then please, don't wake me unless you're asking me to put my seat in an upright position.
But even the best laid plans still leave me with plenty of time to grapple with the reality of being 40,000 feet above earth inside a tin can. I don't have a fear of flying as much as I do a fear of spending time inside a nearly internet-free bubble. So when I was invited to experience the ultimate distraction, EVA's Hello Kitty-themed flight from Los Angeles to Taipei, Taiwan, I went for it. Riding out turbulence with one of my favorite childhood characters probably won't make it any less annoying, I reasoned. But as my seat-back safety card—featuring Hello Kitty with her hands clasped over her non-existent mouth—proved, it does make the process marginally more adorable.
I've been a fan of Hello Kitty since childhood, evidenced by a raggedy pair of pajama pants I should have thrown away years ago. But as Katy Perry, Avril Lavigne, and Charli XCX have shown, it's still cool to be on team Kitty as an adult. And with Sanrio's more recent creations, like Gudetama, a genderless, lazy egg yolk, and Aggretsuko, a job-hating, death metal–singing red panda growing just as popular (the former has earned itself an EVA themed flight, as well, the latter, a Netflix series), it seems like the Japanese cartoon powerhouse isn't going anywhere.
It was startling that there were no children on the flight. Or even any other overly-nostalgic millennials, making me and my travel buddy Josh the youngest in the cabin by at least 10 years. I settled into an oversized economy-plus seat with a cover depicting Hello Kitty, My Melody, Little Star Twins, and Gudetama, hugged a pillow that showed the same (something I briefly considered stealing), and accepted a glass of sparkling pink wine and Hello Kitty rice crackers from a smiling flight attendant. After appreciating the cartoon-heavy welcome video, I found myself watching the business men in the seats surrounding me work on spreadsheets.
Much of the flight played out like a feline version of Where's Waldo. If time passed faster at first, it's because I insisted on indulging in every aspect of the airplane just to see how it was branded. The seatback duty-free catalogue proved I could buy travel gear featuring just about any Sanrio character. (I later kicked myself for not by purchasing a Gudetama passport holder.) But the thematics proved cute for only so long. By the time flight attendant came by to refill my drink, several hours into the journey, I realized two things: Her green neck scarf featured a very subtle Hello Kitty pattern, and as clever as that detail is, it didn't change the fact I still had almost a full day of travel ahead of me. Ditto for the discovery of the Kitty-fied toilet paper.
At dinner time, the flight attendants put on frilly Hello Kitty aprons and served us our meal: a utilitarian pasta dish coupled with a cranberry mold in the shape of Hello Kitty's face. The whole thing was packaged in a hot pink elementary school lunch tray. Air travel is by nature infantilizing (think of the sheer number of rules you have to follow just to get on a plane!); at least on EVA's Sanrio flight they pair that rigmarole with some of the more pleasurable aspects of childhood. In that spirit, I played with my food using bright purple utensils and ate dessert first.
The flight itself was fairly basic, albeit the most Japanese "kawaii" version. Which turned out to be a relief. Unlike Southwest Airlines' concert series, where musicians perform a show for unsuspecting passengers and I worried I'd accidently found myself on a flight to hell, EVA's Hello Kitty flights are all about passive participation.
Maybe it's just the super cute pretense of the whole trip, or maybe I mind-melded with the spirit of Hello Kitty herself, but when I did finally fall asleep, much later than anticipated, I dreamed about a hot pink room, its corners filled with racks of animal-shaped candy. (As I caught my connection to Osaka, Japan, in the Taipei Taoyuan airport, I noticed with no small amount of pleasure that the ticketing kiosk was painted in the exact eye-bending shade.) When the stewardess came to wake us before landing, I bolted up, shouted the word "chocolate," and discovered I'd spent the last few hours drooling on Josh's shoulder. Sure, it wasn't a graceful return to reality, but you do have to come back to earth eventually. Thirteen hours and 25 minutes later, to be exact.
EVA's Sanrio flights run from Los Angeles to Taipei, Taiwan, three times a week, with additional flights from seven other North American cities, including Seattle, Chicago, and New York. Kawaii-decked planes come at no extra charge. For prices and flight schedules, visit evakitty.com.
Celebrity news, beauty, fashion advice, and fascinating features, delivered straight to your inbox!