Away Founder Jen Rubio Does Her Best Work 20,000-Feet Up in the Air
Professional and work travel advice from the founder of Away suitcases, Jen Rubio.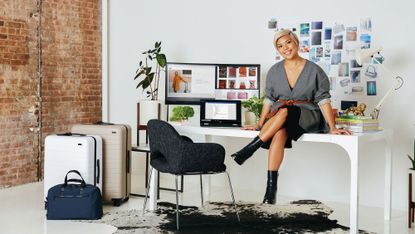 (Image credit: Daniela Spector)
When you're a resident airport dweller who happens to be the founder of one of the chicest luggage lines on the market, it's no secret that a lot of your work is... up in the air. Away founder Jen Rubio has mastered the art of the airport hustle, running her business from 20,000 feet off the ground when she travels for her job.
By now, masterfully packing a week's worth of work outfits into a carry-on is her religion, and lightweight tech is her bread and butter. Here, Rubio's best tips for traveling like an absolute boss.
What's your favorite place to work in the airport?
JR: For domestic flights, I've mastered the art of leaving my home or office with the exact amount of time needed to breeze through TSA, quickly walk to the gate, and be one of the last ones in my seat. I'm always on WiFi once I'm on the plane in case I need to catch up on work.
If I'm traveling on long international flights, I like to arrive early and visit the lounge to have a glass of wine while I'm catching up on work before boarding—[that way] I can sleep and watch movies on the plane.
How do you keep your devices powered up on the go?
JR: Away's carry-ons come with a built-in, but removable, battery that can charge any USB device, which is great because I never have to deal with a dead phone while I'm traveling.
What tech do you bring in-flight to turn the airport/plane into a portable office?
JR: I rely on the Slack app on my phone so I can stay connected to my team no matter where I am in the world. I also use my laptop in flight, which is great for Netflix and especially helpful if I'm reviewing a deck or new campaign concepts from our creative team and don't feel like viewing it from my phone.
What are your best tips for working from the plane?
JR: I travel over 200,000 miles a year, so I tend to do my best work from 20,000 feet up. Before I head to the airport, I make a list of the most essential tasks I need to accomplish while I'm traveling, that way I can focus on prioritizing only those things. If I know that the WiFi is going to be spotty, I'll send my team a quick heads up on Slack so they know I might be out of pocket for a few hours. I'll also bring a notebook and pen in case I want to jot down any ideas I have once the internet cuts out as we're preparing to land.
What's your favorite suitcase to use on a long trip when you're checking a bag?
JR: You'll rarely catch me checking a bag unless I'm traveling for more than three or four weeks at a time. I can usually pack everything in just a carry-on. In the event I do need to check a bag, it's usually The Medium from Away in White—it stands out on the carousel.
What's your favorite suitcase to use on a shorter trip where you're squeezing everything into a carry-on?
JR: I'm taking Away's Bigger Carry-On in Aluminum and The Everywhere Bag in Tokyo Leather. I'm a notorious over-packer, but I use packing cubes so that I can organize everything I need in just a carry-on and avoid checking a bag. I swear by them so much that we launched our own line at Away.
I use The Everywhere Bag as my personal item to pack my laptop and any other inflight essentials.
What are your tips for mastering comfy-chic style at the airport?
JR: Since I'm often traveling from the office to the airport and then straight to a business meeting or dinner with friends, I'll wear simple, yet stylish silhouettes and versatile pieces that easily transition from day to night. For me, that usually means a black slip dress, a sweater, and a comfortable pair of sneakers. I usually pack a vintage leather jacket and my Balenciaga booties so I can quickly change at the airport.
Jen's Travel Essentials
Celebrity news, beauty, fashion advice, and fascinating features, delivered straight to your inbox!