A Tour of Iceland's Feminist Past and Present
Most people go to the island nation to see waterfalls and glaciers—I went to learn about its women.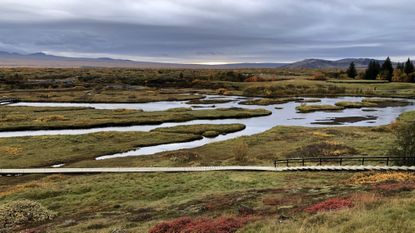 (Image credit: Kayla Webley Adler)
As I was boarding a flight to Iceland in mid-September, I struck up a conversation with a flight attendant. I told her I was a journalist headed to her native country to learn why it consistently ranks highest in the world on gender equality. She told me, "You want to know why we're so equal? It's because, for many years, women sent the men out to fish while we ran the show!" And just like that, I was already in love with Iceland.
I'd been invited to visit the country by Glacial Experience, a small, local travel company that offers private, tailored tours. I would be taking part in the company's newest offering: The Kona Tour: A Gender Equality Journey, which promises to teach guests about Iceland's rich feminist history ("kona" means "woman" in Icelandic) while exploring the striking landscapes that have spurred a surge in tourists visiting the island nation. (In 2018 alone, Iceland saw 2.3 million tourists; the country's population is just over 360,000.) "Everyone comes to Iceland for the scenery, but I think gender equality is beautiful, too," says Kjartan Valgardsson, owner of Glacial Experiences and our tour guide for the week. (Valgardsson, a man, served as our guide for the press trip; future kona tours will be led by the company's female guides and drivers.)
Upon landing in Reykjavik, our first stop was Valgardsson's home, where we were treated to a history lesson from Magnea Marinósdóttir, a special advisor to the prime minister on gender equality. Marinósdóttir recounted the country's major milestones in women's history: 1915, when women gained the rights to vote and to run for election; 1922, when the first woman was elected to parliament; 1980, when Iceland became the first country in the world to have a democratically elected female president (Vigdís Finnbogadóttir, who served for 16 years and remains the longest-serving female head of state of any country to date).

Finnbogadóttir's election and many of the key advancements Iceland has made on women's rights in the years since can largely be traced to one day in 1975 when women brought Iceland to a standstill. On October 24, 1975, more than 90 percent of the country's female population went on strike in order to demonstrate how much society depended on their labor. Without women, schools and daycares closed and telephone service and newspaper printing were disrupted, among other impacts. That show of force paved the way for the passage of a law prohibiting gender discrimination at work and in schools, the establishment of a gender equality council and a feminist political party, and for a higher number of women elected to parliament.
By 1999, more than a third of Iceland's members of parliament (MPs) were female; today women make up 38 percent of parliament, down from a record high of 48 percent in 2016. (By comparison, women in the U.S. hold just 23.6 percent of seats in Congress.) The following year, led by its new female MPs, parliament passed a family leave law that gives each parent three months paid leave that is nontransferable along with an additional three months to share as they'd like. That approach was revelatory because, so often, when countries give parents time to be used by either parent, the mother ends up taking the majority of the days, creating a gender imbalance in child rearing. Under Iceland's law, 90 percent of fathers take leave, which Drífa Snædal, who heads a powerful union called The Icelandic Confederation of Labour, told us has had the effect over time of making "all unpaid domestic work more equal."

On our second day in Reykjavik, we went to Iceland's Parliament. Walking up to the entrance, it was refreshing to see statue of Ingibjörg H. Bjarnason, the country's first female MP, standing prominently out front. We were there to meet Rósa Björk Brynjólfsdóttir, an MP from the Left-Green eco-socialist political party. Brynjólfsdóttir says she's proud that her country is "often looked at as the champions of gender" and that it became the first in the world to legally enforce equal pay among men and women by enacting a law in 2018 that requires companies to demonstrate they are doing so or face fines. But she points to an incident in December 2018—when a group of male MPs were secretly recorded at a bar talking about their female colleagues in crude and sexist terms and making light of domestic violence—as a sign that there is much more work to be done. "It was a big shock and we're still dealing with it," Brynjólfsdóttir says. "In other countries, they would have been forced to resign, but here they took time off and came back to work. One was just reelected to head a committee."

There was a bright spot for women in parliament last year, though, when MPs passed a new abortion law. Under the previous law, terminating a pregnancy after the 16th week required approval from a government committee; the law was rarely enforced, but liberal MPs worried that could change if conservatives eventually take over the government. "We know a cornerstone to women's success is being able to decide when and if she will get pregnant and with whom," says Snædal. She says she and other leaders didn't anticipate a debate at the outset and were surprised to see fierce opposition from the populist party. "We thought there was consensus, but you never know what lies beneath," Snædal says. In the end, women crossed party lines to join together and pass the legislation, which allows abortion within the first 22 weeks of pregnancy regardless of circumstance. "I get goosebumps just thinking about how women made a law together," Snædal says.
The remaining two full days of our trip were devoted to Iceland's natural beauty. We traversed the Thorsmörk Highlands in a souped up jeep and the Golden Circle, a trio of well-trodden sights, including Strokkur, a geyser that erupts like clockwork every four-to-eight minutes; Gullfoss waterfall, which rivals Niagara; and Thingvellir National Park, where the Icelandic Parliament was founded in the year 930. Valgardsson found ways to bring in lessons on gender where applicable. At Thingvellir, he showed us a plaque dedicated to 18 women who were drowned in the 17th and 18th centuries as legal punishment for activies like adultery and incest. By contrast, men convicted of such "crimes" had their heads cut off, a quicker death than drowning. "Sexism," Kjartan notes.

Finally, because no trip to Iceland would be complete without a visit to the famed Blue Lagoon, we spent the morning before our flight home at The Retreat Spa, which has a less-crowded, smaller but identically hued lagoon that general visitors can't access, full-body salt scrubs and mask treatments, and private changing rooms. It was the perfect place to reflect on all we'd learned, while sipping on a glass of free champagne.
All of the women we met with during the trip cautioned that, while men and women are generally more equal in Iceland than in other nations, it is by no means a paradise. "We're heralded worldwide, which I think is a shame because people think we've solved all our problems and we have not," says Thórunn Sveinbjarnardóttir, president of the Icelandic Confederation of University Graduates. Marinósdóttir, the prime minister's gender equality adviser, notes that although Iceland ranks number one in the world, the World Economic Forum (WEF), which publishes the rankings, bases its tabulation on gender parity in education, health, politics, and the workforce, but does not factor in what Marinósdóttir calls "the missing indicator": sexism. "People think of Iceland as a utopia," she says. "But they don't take into account that we have a lot of sexual harassment and sexism in the culture in general."

Visiting from the U.S., which ranks at number 51 on the WEF's scale, it's hard not to be jealous of what Iceland's women have achieved. While I appreciate that Iceland still has work to do, I have a feeling the women I interviewed would be horrified by the sorry state of gender equality in the U.S. But I also know there is always room for improvement, even in Iceland. The country is studying how to be even better—it recently hosted the first major international conference exploring #MeToo during which Prime Minister Katrín Jakobsdóttir said she is dedicated to "relegating sexual harassment to history." Surely whatever further reforms Icelandic women enact in the coming years will serve as a model for the rest of the world. Let's hope more than a few U.S. politicians sign up for the trip.
For more stories like this, including celebrity news, beauty and fashion advice, savvy political commentary, and fascinating features, sign up for the Marie Claire newsletter.
RELATED STORY
Kayla Webley Adler is the Deputy Editor of ELLE magazine. She edits cover stories, profiles, and narrative features on politics, culture, crime, and social trends. Previously, she worked as the Features Director at Marie Claire magazine and as a Staff Writer at TIME magazine.