Where to Go in Tokyo to Take Instagram-Worthy Pictures
Get lost in Japan's dazzling capital city.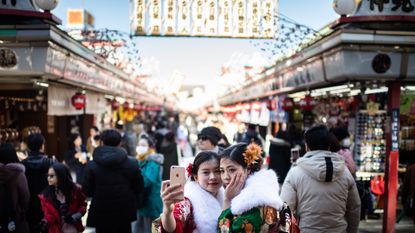 (Image credit: MARTIN BUREAU)
Tokyo regularly tops tourists must-visit lists, a reputation the city is likely to retain with the upcoming Olympics. Maybe it has something to do with the fact that, with more than 35 million inhabitants, Japan's capital is a city of extremes. Which means no matter what first brought the city to your attention—their cosplay culture, the idea of de-stressing in an onsen/spa, their food culture featuring a galaxy of Michelin-starred restaurants—chances are you can indulge to the max. All this big city living also makes for intense photo ops. Tokyo's densely packed buildings, peaceful parks, and colorful mascots all look equally good through the lens of professional DSLR, iPhone 11, or even Instax Super 8. So, pack your camera, lace up your walking shoes, embrace your inner sense of kawaii, and get shooting. Below, the places that will bring all the double-taps to your feed.
teamLab Borderless
The world is full of selfie pits, but there's only one teamLab Borderless, where if you steal a selfie or 10, no one will bat an eyelash. Opened in 2017, the digital art gallery is billed as the biggest and best in the world. It meets and often exceeds the hype, marrying together packs of butterflies, wild, customizable animals, and magical cups of tea at the in-house café. Everything is interactive and there's no running order. So, visit and revisit the long lines of darkened rooms, poking and prodding everything to unlock some of the gallery's most impressive secrets.
Templo Goutokuji
Tokyo is home to an array of shrines and temples, each of which believers visit to pray for a specific cause. But few are as eye-caching as Templo Goutokuji, aka the home of the waving cat. Legend has it that it was established by a monk, whose cat answered his prayers to bring his budding temple prosperity, by waving in rich travelers. (#TeamCatFTW) Today you can share in the luck by buying one of the temple's waving cats ("maneki neko") and leaving it on the alter with 2,000 of its closest friends. Or you can just snap a few unforgettable photos.
Shibuya Crossing Intersection
The Shibuya Crossing is basically the Kardshian of intersections: famous for being famous, busy because of its reputation for being busy. Of course, that doesn't mean it isn't fun to go rub elbows with fellow tourists (and locals just trying to get home). Use a tripod and camera with a flash for the ultimate power portrait. (Just watch out for cars please!) It can also be strangely zen to get above the fray and just take some time to watch the world go by.
Claw Games
Japan participates in claw games like it's a sport, which means there's rarely an establishment where you can't grab your way to some impressive stuffed animals, dolls, and candy for only ¥100 a turn. If you're a beginner—or simply don't want to bet the rent on that super Hello Kitty doll—stick to the machines closest to the door, which generally have a higher rate or return. Then snap a few Shining-worthy shots before you head home with your prize.
Akihabara
The comment most people make about Tokyo is that it feels like you're in a video game. No neighborhood lives up to this reputation quite like Akihabara. Its brightly-colored main drag, costumed-tourists whipping through the roads on go-carts, video game shops, and manga parlors double down on the weird and wonderful.
Jigokudani Snow Monkey Park
This is a bit of cheat, since visiting Jigokudani will require a very aggressive day trip from Tokyo. But it's a popular trek for a reason: monkeys. Free of cages or coercion (apples are thrown into the onsen only in the morning to lure them in; later in the afternoon much of the pack migrates back up into the hills), this is your chance to rub shins with some of nation's cutest Japanese Macaques. Even if you're not a photographer by trade, you simply cannot take a bad photo with an entire pack of baby monkeys wrestling at your feet.
Any Viewing Platform
Tokyo is a densely packed city. While that thought may occur to you on the trains during rush hour, you can't quite wrap your head around how impressive the urban sprawl truly is until you see it from the air. Tokyo has a viewing platform in nearly every neighborhood, so there are many opportunities for birds-eye explorations. But for a truly iconic image, head to the Mori Arts Building/ Roppongi Hills just before sunset to watch the Tokyo Tower slowly illuminate. Like Paris, but even more すごい!
All Things Sakura
Going to Japan for sakura (a.k.a. cherry blossom) season is a popular bucket list item. The bad news: You'll need to plan a multi-week trip, since blooming schedules in late March/early April are approximate until the moment the buds open. The good news: Once they do everything feels like it's been dusted a delightful shade of millennial pink. Start with the big locations Ueno Park, Shinjuku Gyoen National Garden, and the Meguro River. But don't be afraid to branch out—there's hardly a neighborhood, street, or corner where your quest won't be rewarded. Bonus: Many restaurants, cafes, and stores will have special sakura-related products. So, get your sweet tooth ready.
Photo-Ready Sweets
Tokyo has no shortage of trendy food, splashed over Instagram on a regular basis. No judgement: I've eaten super-fluffy pancakes, and dined in my share of theme cafes. But making picture-perfect food has been Japan's thing, long before "doing it for the gram" was a very silly phrase that people started taking very seriously. For something a bit closer to the heritage of the country you're visiting, track down some wagashi, sweets made of red bean and mochi, generally eaten as a way to cut the bitterness of matcha.
For more stories like this, including celebrity news, beauty and fashion advice, savvy political commentary, and fascinating features, sign up for the Marie Claire newsletter.
subscribe here (opens in new tab)
RELATED STORIES