The Instagram Guide to Poland
What to see, do, and—more importantly—take pictures of in this oft-underrated Eastern European country.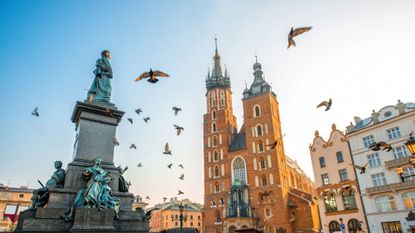 (Image credit: RossHelen)
For many travelers, Poland is an unremarkable spot on the European map, located further east than popular destinations like France and Germany and colored by the historical events of World War II and Communism. Given that thinking, it's understandable that the country is still building its profile on the international tourism scene. But it's a blank space worth filling in, one that comes with buildings fusing the past and present, heaping portions of comfort food, and a creative cultural legacy being built upon at a rapid pace. And, with a favorable exchange rate, you'll have plenty of Złoty in your pocket to see it all and still have a happy hour vodka. (Yes, this is a popular social glue, and yes, it's worth getting into the spirit with a shot or two.)
Despite having a reputation for being dark and gray (one no doubt lingering from a time when limited resources meant commercial goods and clothes were…dark and gray), Poland is also a great place to liven up your feed with piles of fluffy baked goods, pop culture-inspired and inspiring street art, jagged mountain ranges, mirror-like lakes, and even a dragon or two. While not an exhaustive list (does such a thing really exist?), here are a few Instagram-friendly reasons to consider a Polish vacation.
The Palace of Culture and Science sits at Warsaw's exact city center. Originally a "gift" no one wanted from Stalin to commemorate his greatness (gee…thanks), the building was repurposed after the fall of the USSR as a public space, featuring bars, restaurants, theaters, even a swimming pool. Sure, the view from the top is cool (opens in new tab), but the real Instagram bait is found standing across from it at night when the building is lit up in a rainbow of shades depending on the season or for special events like Pride.
The David Bowie Wall, Warsaw
In April of 1976, David Bowie got off his train to take a quick walk through Warsaw, a layover that would go on to inform the creepy instrumental "Warszawa," a track on his 1977 album, Low. Extremely proud of this, Varsovians (people who live in Warsaw) opted to honor the musician shortly after his death in 2016 with an enormous piece of street art. The design, created by artist David Celek and located in the quiet Żoliborz neighborhood, features an Aladdin Sane–era Bowie, the Palace of Culture cutting through his signature face paint. Perfect backdrop for a selfie, or if you're just in the mood to pay tribute to everyone's favorite Starman.
The Neon Netball Player, Warsaw
There was a time during the communist era when the streets of Poland's capital were covered in Vegas-level neon. Since then, the herd of lights has been culled considerably. (Turns out people weren't terribly keen on keeping mementos from that time period.) However, a few iconic pieces remain, including The Netball Player, a lonely figure on Plac Konstytucji, one of the city's main thoroughfares, that marked the one-time location of a sporting goods store. (Be sure to hit up this site during the summer; she's switched off during colder months.) Thanks to preservation and education efforts by the Neon Muzeum, many bars, restaurants, and shops have been inspired to create new signs, so take a stroll through downtown at night (Poznańska street is a great place to start).
Pasaż Róży, Łódź
Pasaż Róży, a.k.a. "Róża's Passage," is a dazzling alleyway just off of Piotrkowska Street in Łódź, Poland's third largest city, two hours from Warsaw. The small area is filled with disco ball–like mirror shards embedded in the walls. The artwork by Joanna Rajkowska has a meaningful backstory: Created in honor of her daughter Róża, who survived a rare bout of eye cancer that left her with shattered vision, Rajkowska is asking viewers to consider their own point of view, and to see the world from a different angle. Stand back—when the sun hits, the view is glorious.
Market Square, Kraków
There's a saying in Poland, "If you want to see history, go to Kraków." The southern city was occupied during World War II, a dark fact that means its infrastructure was kept largely intact. To get a better sense of what Poland used to look like, start at the Market Square.
Snap a shot of St. Mary's Basicila's lopsided towers. Legend has it that two brothers were tasked with building them. When the younger brother realized how much shorter his tower was, he killed his older brother. Wracked with guilt, he killed himself with the same knife, and fell to his death from the top of his tower. (Brothers' Grim has nothing on Polish morality tales.) Not so dark is the hourly trumpet call from the taller tower, broadcast on the radio and internet at 12:04 each day.
Smok Wawelski, Kraków
Seriously, who needs Game of Thrones when you can visit real dragon bones? The Wawel Dragon or "Smok Wawelski" sits on the bank of the Vistula River, marking a place where it's believed a real dragon was slayed. (The skeleton reportedly sits in the Wawel Royal Castle, just up the hill.) Although the statue breathes fire every five minutes you can also make like the Queen of Dragons herself and demand a performance by texting "SMOK" to 7168. Just be sure to use your powers for good, not burning down Kings' Landing.
Lake Czorsztyn
Lake Czorsztyn feels like such a fairy tale, it's hard to believe you're only two hours outside of Krakow, particularly given that the area comes with not one but two castles. From there, it's a short jaunt to the Pieniny mountains, where you can scale the Sokolica Peak for breathtaking, 'gram worthy views of Poland and Slovokia—provided you're brave enough to take out your camera at the top. (You're protected by a single bar that hits roughly at chest level, making this a tough trek for people with acrophobia.) Celebrate the four kilometer-long calorie burning fest (which can be done alone or with a guide) with Oscypek, a fancy regional sheep's cheese, stamped with eye-catching patterns.
Park Śląski, Katowice
Almost twice as large as Central Park, the best way to take in Park Śląsk is via cable car. The 15-minute, 2185-meter ride will take you length-wise across the mining community's largest green space. From your perch (either gondola or ski-lift style), you can appreciate the retro futuristic sports complex, amusement park, swimming complex, and carefully manicured gardens. Plan the rest of your day while you're in the air.
'The Watcher' Street Art, Poznan
Poland goes hard on street art, to the point where in most of the country's major cities you can catch an impressive mural…or 12. But Poznan, its fifth largest city, is the unofficial home of The Watcher, a character created by the street artist Noriaki. The big-eyed black-and-white creature lurks around nearly every corner, interacting with his environment and popping up on street signs like a real-life game of Where's Waldo.
Stara Pączkarnia, Poznan
Even if you're not putting pączki on your Instagram feed, you should definitely be putting them in your belly. The Polish donut is lighter and slightly less greasy than its American cousin, and usually filled with rose-jelly and covered in a light dusting of powdered sugar. The paczki at Stara Pączkarnia are a bolder, more photogenic beast, filled with a child's birthday party of sugar, colorful sprinkles, and chocolate.
For more stories like this, including celebrity news, beauty and fashion advice, savvy political commentary, and fascinating features, sign up for the Marie Claire newsletter.
subscribe here (opens in new tab)
RELATED STORIES