I Traveled Alone to Morocco
And it was amazing.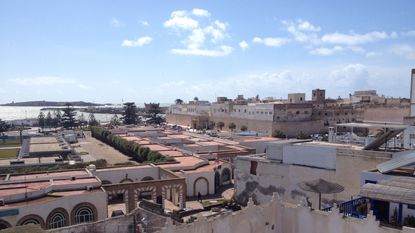 (Image credit: ARCHIVES)
I didn't want to admit it, but I was slightly nervous about my last-minute trip to Morocco to attend the final gala for the Gazelles Rally, the all-female off-road rallycovered by writer Jaclyn Trop for our June issue. It wasn't because I'd be rolling solo—I've driven cross-country by myself many times, and I bought a house out in the Texas desert on my own. And I wasn't too concerned about the language barrier; I crossed my fingers that my high-school French would serve me well. But I felt out of practice as an exotic traveler. I've flown as far as South Africa and have repeatedly explored Europe and Mexico, but in recent years I've spent more time hiking and camping in the American West than booking overseas tickets, and this would be my first time in a Muslim country. I didn't want to accidentally make any cultural missteps, and I only had a few days to prepare.
Plus, friends had warned me about the potential for street harassment in Morocco. "Find women to show you around," a Facebook friend cautioned when I announced my plans to travel to Essaouira, a small city on the country's western coast, by way of Marrakech. "Is it safe to travel there alone as a woman?" a few others asked.
Okay, okay: I got it. I'd have my guard up.
But as soon as I landed in Marrakech, very late on a Thursday night in March, I wished I hadn't worried. The arid climate and landscape reminded me of my former home in the high Texas desert, and I immediately felt at ease. The people—my cab drivers, the staff at my riads (small guest houses), everyone I spoke with—were incredibly warm, friendly and helpful.
The morning after I arrived, I set out on the three-hour drive for the coast to Essaouira with the driver I'd hired for 700 Moroccan dirhams, or about $85. The Atlas Mountains flanked us to the left under a cloudy sky. About an hour from Essaouira the weather cleared, and the vegetation changed from flat savanna to rockier terrain dotted with gnarled argan trees. "This is as far as I can go," my driver, Moustapha, said when we reached the medina (old city) walls. "Cars aren't allowed inside the medina." So I coughed up a few dirhams to hire a guy with a cart—there's always a group of men waiting for tourists outside the medina—to help get my luggage to my riad.

Bab Marrakech, one of the ancient walls of Essaouira medina.

My gorgeous (and inexpensive!) riad. From the nondescript wooden door on the street (and the twisted path I walked to get here, dodging feral cats, children playing, and people hurrying about their business), you'd never know this romantic sanctuary was inside.

Essaouira from the roof of my riad.

Essaouira (also known by its Portuguese name, Mogador) is steeped in history, both mythic and real; the architecture is a combination of Berber and other Moroccan cultures, and Portuguese, which colonized the town in the early 1500s.

Supposedly Jimi Hendrix wrote his 1967 hit "Castles Made of Sand" about the crumbling walls off in the water here, but whether he was actually in town back then is up for debate. (It doesn't seem likely from my research.) Essaouira does have a jam-band kind of vibe; these days it's partly known for the Gnaoua World Music Festival, held here every June.
First things first: I'd heard about the famous Moroccan hammams, or baths, where for a few U.S. dollars you can soak in hot water, get a hardcore black-soap exfoliation and massage, all topped off with cucumber water and mint tea. I asked Omar, my riad's manager, to point me in the right direction. "Do you want the Western version, or the traditional?" he asked. When in Rome, I thought. "Most traditional!" I said. "Most traditional?" he repeated, looking skeptical. "Most traditional!" I emphasized.
So he handed me some extra towels and a plastic bin for my clothes, and walked me to another nondescript door a few feet away. After conferring in Arabic to the woman who answered, I was let in to a Moroccan bathhouse that definitely wasn't a spa for tourists: I entered a central shower room in which an elderly naked woman sat on the bathhouse floor, surrounded by buckets of water, which she periodically dumped over her waist-length hair. My therapist, if that's the word, pulled on scrub mitts, squirted soap all over me from a packet, motioned me to lie flat on the mat she'd spread on the shower floor, and proceeded to scrub me down on both sides, as her breasts hit me in the face. That's fine: after all, most traditional. And I did leave with one layer of skin less, all for $6.
(Fascinating that this was the most interaction I had with Moroccan women during my short stay. The rest of the time I passed them by, mostly covered, on the streets, and spoke almost exclusively with men.)
Next up: shopping. Morocco's medinas are known for their souks, or open-air markets, filled with spices, leather goods, carpets, pottery, argan oil, scarves, clothes and Berber jewelry. And it's all negotiable. I forgot this at first, and bought my first round of jewelry without thinking about it. But within a matter of hours, I was haggling like a pro. I ended up bringing home a carpet runner for $56 USD that I was originally told was $475 USD, and left with jewelry similarly marked down.
Here's how I did it. My tips play off gender stereotypes and aren't the kind of negotiation techniques you can use in, say, a salary situation, by any means. But it's not like these merchants are necessarily playing fair, so one has to fight fire with fire. Also: they worked.
How to Haggle At a Moroccan Souk—Or, At Least, How I Did It:
Drink the Tea. If you're about to do business, you'll drink mint tea together. Each merchant seemed to send a nearby teenage boy, who somehow mysteriously appeared out of nowhere, to fetch the super-sweet, highly-caffeinated tea, which we drank while haggling. Delicious!
Start at 2/3 Lower Than What They're Asking. I was told that items were marked up 2-3 times, so I immediately offered 2/3 lower than the asking price.
Don't Stop Smiling. I didn't get mad or walk away if the merchant said no at first, which he always did. Sometimes I'd linger in other parts of the store, but basically I just smiled sweetly, constantly, and acted like, Well, of course I will get this item for this low price I'm demanding.
What Do You Want To Pay? This is honestly how I haggled: I thought about what I actually wanted to pay for an item, and offered that, or sometimes a little bit more if I was trying to be respectful. It usually worked, even if it was a ludicrously low amount.
If All Else Fails, Leave. Usually they'll follow you and give you what you want. But I succeeded most often by sticking around for an uncomfortable amount of time and just repeating what I wanted, over and over, while looking really friendly.
Here's how the conversation would often go:
Me: Sir, how much is this rug?
Merchant: I'll write it down for you.
Me: That's way too much.
Merchant: But it's hand-woven. [Goes into all the reasons why I should pay almost $500 for a tiny runner.]
Me [smiling]: No, I don't think so. How about $40?
Merchant [laughs]: No. Serious price.
Me [smiling]: That is my serious price. $40, please.
Merchant: No, no, serious price.
Me [smiling]: Sure. $40.
We go back and forth like this. I finally go up a tiny bit. Depending on the situation, sometimes I'd add caveats: "But it's for my mother"; "But I'm a student" (total lie); "But this is all I have." I linger in the store until the merchant just wants to get rid of me and finally sells me the item at the price I've requested.
This worked 75% of the time. The other 25% it didn't, but who cares? Haggling was a total high, and whether I actually got the necklace/ring/whatever or not didn't really matter. I just wanted to win.

A bustling medina afternoon.

Pouring the tea for our showdown. I was trying to score a necklace for a friend's upcoming birthday, but this was one time when I didn't win. "You are like Berber woman!" this man cried, clenching his fist in the air. I didn't know what that meant, but I took it as a compliment.

The huge carpet warehouse where I made my biggest purchase in Essaouira.

The medina was full of pottery like this...

...and lanterns...

...and kids playing...

...and stray cats...

...and more stray cats...

...and incredible jewelry...

Turning left—back to Marrakech.
I had one final night in Marrakech before flying back to New York via Paris. I'd been told that I had to check out Jemaa el-Fnaa, a major marketplace inside the city's labyrinthine medina. My riad manager tried to show me on a map how to walk there, but when I gave him a confused look, he offered to show me himself. "I have to do business there, too," he said. "But don't take your phone out, and hold on tightly to your bag." I usually laugh off warnings like this, but since it was coming from a local and not my grandmother, I latched on to both ends of my Clare Vivier just in case.
On the way to the square we got stuck in a mad crush of people, witnessed a fistfight, and almost got knocked down multiple times by scooters zooming by, but as long as I kept my new friend in sight, I figured I was fine. The longer it took to walk to the square, the more I wondered if I'd be able to get back. "Oh, I can just ask for directions if I have to, yes?" I asked him, assuming that everyone would be just as friendly and helpful as they were in Essaouria. "Yes," he hesitated. "But you'll have to pay them. And they might take you a longer route than they need to." Ugh. City life.
We split up when we reached the square, and after a few hours of wandering around, I set out for home along the unmarked medina streets. But many of the shops had closed by this point—it was 10 PM on Sunday night—so the already-confusing streets looked even more foreign, and the markers I'd tried to memorize ("Turn left at the hanging meat," "Another left at the huge fish,") were gone. I had a feeling I was thisclose to my riad when I finally decided to give up and ask someone for help. "Excuse me, can you let me know where we are on this map?" I asked two teenage boys in French hanging out near a wall. I knew that they'd walk me back and expect payment in return. But once they pointed out where we were, I got so excited—I was right! I'd almost made it!—that I abandoned them so I could try it alone. And when I miraculously saw my riad, opened the front door into the oasis inside—all fountains and throw pillows and marble—and announced "Guys! I found my way back by myself!" and the staff all high-fived me, I felt like I'd somehow accomplished something monumental, even if it was just finding my way home.
Photo Credits: Whitney Joiner
Marie Claire email subscribers get intel on fashion and beauty trends, hot-off-the-press celebrity news, and more. Sign up here.