The Instagram Guide to Jordan
The Middle Eastern country is home to unbelievable sights, food, culture, and history.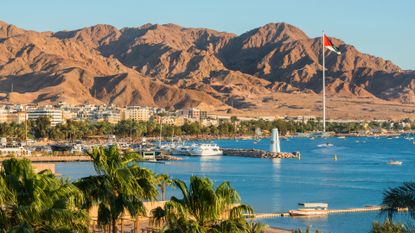 (Image credit: Getty Images)
Marie Claire Newsletter
Celebrity news, beauty, fashion advice, and fascinating features, delivered straight to your inbox!
Thank you for signing up to Marie Claire. You will receive a verification email shortly.
There was a problem. Please refresh the page and try again.
Odds are, you probably haven't considered Jordan as a vacation destination. Despite being home to one of the modern wonders of the world (that would be the stone city of Petra), the country often gets passed over by American travelers trained to follow the London/Paris/Rome circuit.
But good news: If you're interested in non-European travel, Jordan is an excellent place to start. (And not just because most major American hubs offer direct flights!) From climate to food to a culture with roots running back to BC, there's no end to what you're able to explore with just a bit of curiosity and planning. If you're ready to experience Middle Eastern hospitality for yourself, here's just a small sampling of the adventures that await.
Take in the View
Since Queen Alia International Airport is Jordan's main international airport, chances are Amman will be the first stop on your visit. History usually gets first billing, for good reason—Amman is considered to be one of the oldest continuously inhabited places in the world. However, to get a sense of how the old world and modernity sit side-by-side, it's worth visiting Amman Citadel. After you've snapped shots of ruins from the Roman, Byzantine, and Umayyad periods (which includes the Temple of Hercules), take a moment to appreciate the view, which vividly demonstrates how the old and new come together in Jordan's largest city.
Appreciate the Local Color
Maybe you came to Jordan to soak in its history. Awesome—there's a lot of it! But it's worth remembering that you're not just in an open-air museum. To get a better sense of Amman's modern side, join up with an Underground Amman walking tour. Led by Alaeddin Rahmeh, a Palestinian refugee, hip-hop dance champion, and genuinely cool guy, your stroll will lead you through both the streets of Amman and through underground culture as depicted through the city's murals. Not only is the outing rich for Instagram fodder, but learning how local artists are reacting to political, ecological, and social issues will genuinely help shape your impressions of the country and culture.
Eat Your Face Off
Jordanian food is objectively delicious. Falafel, shawarma, fresh juice, sugary cups of black tea, hummus, and mouttabal (smoked eggplant)—just know that if you feel like Martin Short in Only Murders in the Building, yelling about his love of dips, you're not alone. However, what can be surprising is how much prep can go into these deceptively simple dishes. To get a full sense of the love that Jordanians put into their food, book a session at Beit Sitti. The cooking academy is run by three sisters, determined to make sure that both their grandmother's house and recipes live on. Which means from the eye-watering work of chopping onions to the joy of sitting down to a lunch you made yourself, you're an active participant in the country's cultural heritage.
See a Wonder of the World
If you have been considering a visit to Jordan, chances are Petra is the reason why. While it came to international public attention in 1989 (with a little help from everyone's favorite archeologist turned adventurer), the stone city of Petra is estimated to be 2000 years old. Located a little over a mile from the visitor's center, The Treasury (a.k.a. the place everyone snaps a photo of) is an ornate tribute to the power of the ancient civilization. (It also looks stunning during their night events.) However, don't stop exploring there. The UNESCO world heritage site is a jaw-dropping 102 square miles. Which means it's worth planning at least three to five hours to explore the area's numerous former dwellings and temples. It's a dusty workout, so take a break to shop the local spice markets, or grab a drink at numerous tea houses.
Visit the Desert
Jordan is an arid, desert climate—so visiting Wadi Rum to see the vast expanse of sand made famous by Lawrence of Arabia (and more recently The Rise of Skywalker) is a requirement. Plan your visit around one of the area's famous bubble tents like Wadi Rum UFO, which offers up the opportunity to get in touch with nature without sacrificing comforts like soft beds and daily showers. From there it's an opportunity to choose your own adventure. Hike, snap photos, hop on a hot air balloon for stunning sunrise views, or link up with the local tour operator who will be happy to take you on a 4x4 along their coaster-like sand dunes, and enjoy the local scenery by camel.
Take Local Transportation
Speaking of camels, rumors of abuse are strong enough to suggest that you should avoid camel and donkey rides at Petra. (Besides—it's much better to see it by foot, when you can stop to examine anything that catches your interest.) But if you are interested in getting up close and personal with camels, which locals call "ships of the desert," it's worth doing your homework to find an ethical tour operator. Responsible Travel is a great place to start, as well as Tripadvisor's user-generated reviews. The travel company Jordan Tracks also has an ethical charter, supporting not only the animals, but the local community at large.
Float Away
You cannot fully understand the experience of floating in the Dead Sea until you try it yourself. The lake is eight times saltier than any ocean, making it the ultimate, otherworldly bathing experience. (Just make sure you don't have any cuts—you will feel it!) For the full effect, spend fifteen minutes floating, hit the shore to cover yourself with mud (another Dead Sea beauty trick) and let it dry, and then go for a rinse and one more soak. If you're staying at the Kempinski Hotel, their private beach also features an attendant who will offer you a vigorous post-float salt scrub. Take them up on it for the ultimate post-swim glow. (Just don't forget to tip.)
Stay Somewhere Eco Friendly
The Feynan Ecolodge is located in the Dana Biosphere Reserve at the end of a road so rough, you'll have to park at reception and then allow the locals to drive you another half hour to the main building. But the extended jaunt pays off. As implied by the name, the hotel is all about sustainability, with proceeds from guest stays being used to make the surrounding community even eco-friendlier. Their on-site efforts include all-vegetarian meals, purified water delivered to rooms via large clay pots, and candles after dark—which translates to a relaxed, low-key romantic vibe. All activities, like sunset hikes, evening stargazing, or sipping tea with nearby Bedouins, are all curated by people who know the area best, which means in addition to a roof over your head, you'll be gifted with true local insight.
Celebrity news, beauty, fashion advice, and fascinating features, delivered straight to your inbox!