The YOLO Guide to Tuscany
Life is short. Rent the villa.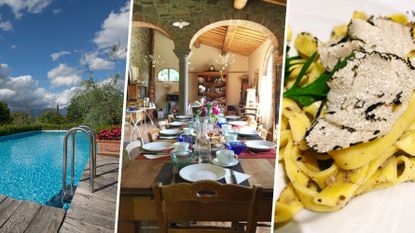 (Image credit: Archives)
Tuscany is the land of you only live once. Drink the extra glass of wine. Eat the carbs. Pile on the truffles. Shack up in a 3,000 square foot villa.
The Tuscan way of life is such a departure from our day-to-day in the U.S. that living like a local in the Italian countryside can seem like a pipe dream. But la dolce vita is within out reach unlike ever before thanks to Airbnb, which not only puts Tuscan villas—yes, like the 200-year-old farmhouse Frances Mayes flipped in Under the Tuscan Sun—at our fingertips, but taps into a network of dyed-in-the-wool locals ready to show you how to do Tuscany right. In other words, keep you off the beaten, tourist-trap path. I learned as much exploring and villa-hopping, from the hills of Chianti to the quiet medieval village of Montalcino, with a slew of native hosts who felt like my extended Italian family by the end of the trip.
Because it's officially fall, and you have plenty of time to plan your spring or summer getaway, I implore you to make your next trip to Tuscany—whether you're traveling Eat, Pray, Love-style or with a group of 20—and make sure the following is on your bucket list. Because simply put, YOLO.
1. Rent a Villa or Two
The beauty of Tuscany is that you can make a single place your home away from home or just as easily spend the duration of your trip hopping from farmhouse to farmhouse. During my time in Tuscany, I stayed in two very different kinds of Airbnb villas.
The first was a 17th-century stone farmhouse amidst the Chianti hills called La Selva Giardino. An hour outside of Florence, it's situated upon a 32-acre private botanical garden spangled with olive trees, wisteria, and modern sculptures. As for the villa itself, it's over 300 years old. But you'd never know it by looking at it. Once dilapidated, La Selva was restored to its former glory by Airbnb superhost Francesco Cioncolini and his family who are native to area.
In addition to the villa itself, which can house as many as 16 guests, the property also boasts a natural stone amphitheater where visitors can hold private concerts and weddings. One evening during our stay, a tuxedo-clad piano player performed a sunset recital for us as we sipped rosé and nibbled on foie gras lollipops inside the al fresco auditorium. Tough life, I know.
La Selva Giardino in Montevarchi; $578 per night, airbnb.com.
The second listing was in Montalcino, which is famous for its delicious Brunello red wine (one of the most celebrated in Italy), sweeping vineyards, winding roads, droves of olive groves, and to-die-for-architecture.
Our home for an evening was Fattoria Pian Dell'Asso, which may call itself a "charming country house," but when you arrive its abundantly clear that this is an understatement. At capacity, the spacious villa's three floors can house as many as 28 guests! But despite its palatial size, it oozes make-yourself-at-home-ness, whether you're grilling outside in the garden or cozying up to one of its its wood-burning fireplaces.
The sprawling property is equally breathtaking as it's surrounded by its own secular park, complete with its very own sea beach. But more on that later...
Fattoria Pian Dell'Asso in Montalcino , $907 per night; airbnb.com.
2. Befriend the Locals...Or Bust
Full Disclosure: I was 100 percent spoiled in the "locals" department having gone the Airbnb route. During our stay at the first listing, our host Francesco did everything from drive us around the countryside to give us private wine tasting/toasting lessons. My two biggest takeaways were 1) When observing a wine's appearance, tilt it by the stem against a white tablecloth so that you can view its color and intensity and 2) When a toast is proposed, every single person at the table must toast with each other, locking eyes whilst clinking glasses. This is non-negotiable. So don't start something you can't finish. Salute!
At the Montalcino estate, our hosts Simona and Michele wasted no time making us feel at home, greeting us with a lovely aperitivi (the Italian ritual of pre-dinner drinks) in their living room, before throwing us a large, home-cooked dinner party. We were joined by their friends (and fellow Airbnb hosts) from down the street, who were equally as charming.
One of the highlights of the trip came following dessert when a small group of us made the impromptu decision to hop into Michele's old Land Rover truck and go off-roading through the countryside to a nearby village, Bagno Vignoni. A medieval spa town, the town square is literally a pool of thermal water you can bathe in. It's easily one of the coolest places I've ever been, let alone happened upon. We spent the rest of the night in a charming little bar with live music, sipping cocktails and chatting. It was perfect.
3. Cook...Like an Italian
As someone who prior to this trip, couldn't remember the last meal I made of my own volition, being tasked to help with dinner by way of a semi-formal cooking class was intimidating to say the least. Luckily, Maria, who has been the house chef of La Selva Giardino for years, was an excellent (and by excellent I mean patient) teacher.
Maria walked us through the entire process of creating ravioli from scratch, including mixing up the dough, using a pasta maker to achieve the right paper-thin texture, cutting the ravioli with a pastry roller, and stuffing each ravioli with fresh ricotta and spinach.
While making our dinner wasn't half us fun as eating it (what can I say, I'm a New Yorker), it gave me a new appreciation for hard-earned, home-cooked meals and the kind of fresh pasta that money simply cannot buy.
4. Throw Italian-Style Dinner Parties
Large family meals (whether those at the table are related by blood or not) are perhaps the single most important tradition of Italian culture. It's all about connecting with loved ones, relaxing, and of course, eating to your heart's content. Now the the Tuscan way, is of course, cooking the five-course meal yourself. But there's nothing wrong with enlisting the right kind of help.
Our group was lucky enough to have three female chefs, from Michelin-star-rated restaurant La Tenda Rossa, prepare all of our courses (that's primo, secondo, antipasto, secondi piatti, and dolci if you're keeping track) for the evening, the highlight of which was tortellini with fresh edible wild flowers.
As for the ambiance, the table had all the fixings of a traditional Italian farmhouse dinner spread including an elegant table dress, tall candle sticks, fresh floral bouquets, and of course, great company. Technology was kept to a minimum; save for Francesco's iPod playing old Italian classics.
5. Drink Wine Like It's Your Job
Because keeping up essentially is! Much like the Italians love espresso at any hour of the day, they have a similar affinity for wine—not that this is news. Italy is, after all, the largest exporter of wine in the world.
While they do go sans-vino for breakfast, wine is as often as integral to lunch and dinner as the food itself. Whether you're out to eat or cooking at your digs in Tuscany, you should be choosing local wines that complement, or serve as nice contrast, to your dishes. When in doubt, defer to the locals. Life is too short for the wrong pairing.
Another great way to refine your wine palate is by visiting a winery. Trust that they're about as hard to come by in Tuscany as farmland. In other words, all over. But one of the most storied is without question the Badia a Coltibuono, a stone abbey farmstay in the Chianti wine region that was founded by monks in the 11th century. Today it's home to a picture-perfect botanical garden and wine cellars with vino offerings so old they need a new word for vintage.
6. Eat All the Truffles
It's always truffle season in Tuscany. Okay, so that's not exactly true, but truffles are bountiful in the Italian countryside...and at a fraction of the price. Appetite must be paid. So look out for local truffle festivals where you can try a variety of different fungi and truffle-based delicacies.
7. Day Trip to a Hilltop Village
Tuscany boasts so many different hilltop villages, it can be hard to keep track of all the hidden gems. But one that's unmistakable is Civita di Bagnoregio, an ancient Etruscan village perched atop an incredibly tall hill made of tuff, which is volcanic rock hardened over soft clay and sand.
Nicknamed il paese che muore or "the dying town," it's lost 20 percent of its terrain since the 18th century and at present is only officially home to ten people. However, since making a major update to the large pedestrian footbridge leading up to the village, the number of tourists has grown tenfold and restaurants, shops, and even an Airbnb listing have cropped up.
During our visit we checked out the aforementioned listing, Domus Civita. A 14th century palazzo with underground caves, tombs for meditation, and a Roman water cistern, it's the picture of "serenity, beauty, and respite" as promised. There's even a magical cliff garden overlooking the surrounding canyons.
Domus Civita in Civita di Bagnoregio, $402 per night; airbnb.com.
8. Swim in Style
Having spent time in three different Tuscan homes, I was struck by how important each property's swimming pool was to its individuality. At La Selva Giardino, there was a classic salt water pool amidst a sun deck and blooming shrubs.
In Montecino, there was a sea-beach-style salt water pool that overlooked the countryside and could've fooled me with how natural it looked.
And finally there were the grotto-style hot tub and heated pool situated inside the caves at Casa Citiva.
My takeaway? No matter where you're going in Tuscany, B.Y.O.B., bring your own bathing suit,because you never know what infinity pool is just around the bend.
For more travel ideas, head to MarieClaire.com/travel-guides.
Follow Marie Claire on Facebook for the latest celeb news, beauty tips, fascinating reads, livestream video, and more.
Celebrity news, beauty, fashion advice, and fascinating features, delivered straight to your inbox!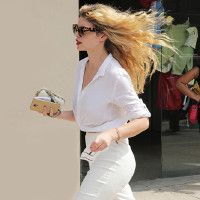 Lauren is the former beauty editor at Marie Claire. She love to while away the hours at coffee shops, hunt for vintage clothes, and bask in the rough-and-tumble beauty of NYC. She firmly believes that solitude can be a luxury if you've got the right soundtrack—that being the Rolling Stones, of course.