The 8 Most Instagrammable U.S. Cities to Visit This Summer
So pretty you won't need a filter.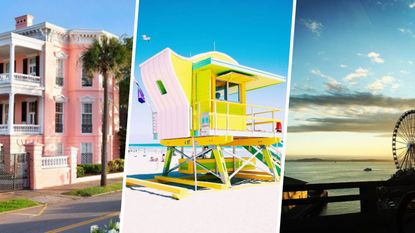 (Image credit: Instagram)
With massive parks, outdoor piazzas, rooftop bars overlooking the sun-soaked downtown, and beaches, lakes and ponds outfitted with wildlife, you don't have to leave the U.S. this summer to get a Discover-page-worthy 'gram. From Boston's new Greenway Park to Miami's sparkling coastline to Seattle's bustling Pike Place Market, there are a million and one reasons to stay stateside and explore the outdoor havens that make these cities so darn picturesque. Whether you're coming from near or far, these are America's most Instagrammable destinations. (After one peek, you'll easily see why).
[editoriallinks id="a6caadd2-f830-42e7-821a-d9268ffadbe8"][/editoriallinks]
RELATED STORY
The 12 Best Summer Getaways to Book Now
Charleston, South Carolina
Quintessential Southern charm, candy-painted historic mansions, horse-drawn carriages, and streets flanked with centuries-old, moss-laden oaks—it's no wonder Charleston, South Carolina has long been fabled as one of the South's most beautiful cities. Although the town is often flooded with visitors, there are plenty of beautiful shots to be captured in and around the old city market, down the cobblestoned streets of downtown (like Church Street and Chambers), along the Battery, or near the Waterfront Park's iconic pineapple fountain. Beyond downtown, the neighboring areas of James Island (home to the famed Angle Oak), Isle of Palms (with its miles of beaches), and West Ashley's famous plantations (think Middleton Plantation and Magnolia) make for scenic shots—especially during sunset.
RELATED STORY
Weekend Trip Guide: Where to Stay, Eat, and Drink in Charleston
Boston, Massachusetts
From the inspiring and captivating sunsets hailing over Fenway Park to the sprawling Greenway Park (and its whimsical carousel) to Beach Hill's famed Acorn Street's townhouse-lined cobblestoned streets, the city of Boston is an Instagrammer's dream come summertime. Of course, there's far more than just these big sights that'll make your followers swoon. For fewer crowds but just as pretty a pic, head to Charlestown's abandoned train car, the Mary Baker Eddy Library (where you can wander through a giant painted globe), or the secret garden that currently occupies the top of a parking garage in Cambridge.
Chicago, Illinois
Known the world over for its iconic architecture that's a mix of both modern and historic, Chicago's skyline is one of the most recognized in the world. Aside from the famous Cloud Gate (AKA the Bean), Millennium Park, and the towering John Hancock building, the city is actually home to a million other landmarks, sights, and quirky neighborhoods that beckon a VSCO filter. For quirky street art and a collection of the city's most eccentric locals, visit Wicker Park's "hipster highway" (AKA Milwaukee Ave.) and stop into the Handlebar restaurant or the Wormhole coffee shop, which is home to an actual replica DeLorean. Not as crowded as Millennium, but just as picturesque is Lincoln Park, which spans 1,208 acres and overlooks Lake Michigan. Skip the fabled golden hour and hit the lakefront at sunrise to get a stunning view of the downtown skyline—without having to fight for a spot.
La Jolla, California
If you're looking for premium #content, head over to La Jolla, the hilly seaside town that sits on the border of San Diego. No matter where you wander, you're going to find something worthy of your feed, whether it's the famous "what's your favorite color" mural that sits on Eads Ave., the bold and bright flower fields of Carlsbad Ranch, or the coastal views found at the Sunset Cliffs, which is best visited—you guessed it—at sunset. A town boasting more street art than many others in California, you'd be remiss not to spend time soaking up the many examples that make up the Murals of La Jolla project.
RELATED STORY
Miami Beach, Florida
There are few places that are as iconic on social media than Miami, with its famed art deco buildings looming on Ocean Drive in South Beach, the bikini-packed beaches lining the sparkling Atlantic Ocean, Little Havana's domino players and mouthwatering Cuban sandwiches, and the vibrantly painted buildings of Wynwood. For photos that won't need a filter, head to the last location and spend an hour or so snapping your way through the trendy neighborhood's painted alleyways. For one of the best views of the city, skip South Beach in favor of East Miami's rooftops, which offer stunning views of the ocean, the downtown skyline, Virginia Key, and the Vizcaya Museum and Gardens. For a more unexpected shot (and to test your phone's new slow shutter app), head to the Best Buy garage on fifth and Alton for some prime time-lapse photo opps.
RELATED STORY
Weekending in Miami? Here's Where to Stay, Eat, and Drink
Seattle, Washington
If you spend any amount of time scrolling through Instagram's most popular posts, you're going to find at least two, maybe three, images showcasing some part of Seattle's iconic geography. Although many flock to the Space Needle for sweeping views of the city or into the bustling Pike's Place Market, there's actually an astounding array of places a little more off the beaten path that are just as likely to boost your followers. A snap of Paramount Theatre pairs well with the Gingham filter, for example. And for a view of the city made famous by 10 Things I Hate About You, go to Kerry Park at dusk to see the Space Needle and surrounding buildings sparkling at night. The EMP's strangely curved metal exterior (that glows in the sunlight) makes for an epic addition to your Insta Stories. However, if you're feeling a little basic, grab a frap and take a #foodintheair shot in front of the original Starbucks on 1st and Pike.
Kennebunkport, Maine
When people think of swoon-worthy Maine towns, Kennebunkport is almost always top of list. For one, this coastal seaside escape boasts presidential pedigree, being the home of the Bush family. Although it doesn't often the quirk of neighboring Portland, it does offer ample beauty perfect for sharing. The shops, like Farm + Table, boast artisanal crafts wrapped in beautiful packages and nautical-inspired pillows, blankets, and the like, while the restaurants offer enough bright red lobsters and mayo-laden lobster rolls for creating the ultimate #foodporn shot. You'd be remiss not to at least visit Gooch's beach (home to Bennet's famous sandwich shop) or have your best friend snap a lifestyle shot of you paddle-boarding into the sunset in front of Cape Porpoise Lighthouse.
RELATED STORY
The 13 Best Luggage Sets Money Can Buy
Old Town Alexandria, Virginia
Founded in the 1700s, Alexandria is easily one of Washington D.C.'s most famous suburbs. Touting cobblestone streets, a beautifully restored dock nestled on the Potomac, and pastel row homes on Queen and Prince Streets, nearly every block brings a shot you just have to capture. (Hurry and you could catch the cherry blossoms and magnolia trees that are in full bloom around Waterfront Park.) If you're a foodie, head to King Street on Saturday to capture the area's fresh produce. Beyond the main streets of King, Queen, and Prince, the iconic trolley makes for great Instagram fodder (especially during the evening). For engagement shoots or lifestyle shots, you can't beat the brick Court House, which sits right on King Street, or the whimsical Old Town Riverboat.
Follow Marie Claire on Facebook for the latest celeb news, beauty tips, fascinating reads, livestream video, and more.
Celebrity news, beauty, fashion advice, and fascinating features, delivered straight to your inbox!