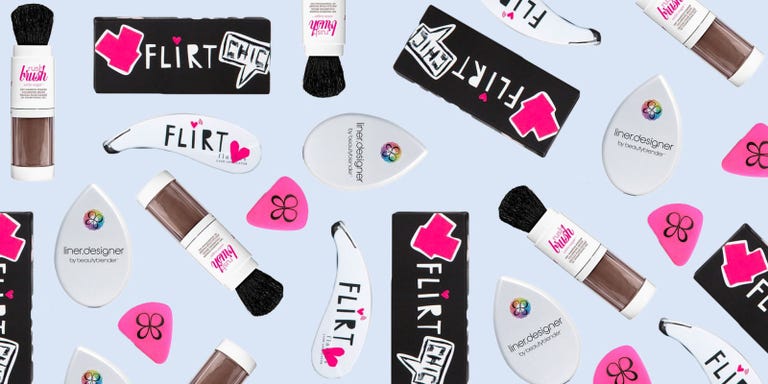 As scotch-tape-cat-eye-loving, baby-powder-as-dry-shampoo-ing individuals, we look at beauty tools as a hack in object form. We cannot get enough of them.
And as far as making our lives easier goes, 2016 was a real doozy. From the staple gun for false lashes to the silicone foundation applicator primed to be the next Beautyblender, here's every beauty innovation that has done us a solid over the past year.
If you wear foundation everyday, and have graduated past the sponge that comes inside the compact, you know that the Beautyblender has been the application tool of the Instagram era. The one downside, though, is that while it blends to perfection, it absorbs a lot of precious product in the process. Solving this conundrum is the SiliSponge, a clear silicone applicator that isn't porous, but still helps the foundation melt into the skin like a regular sponge. Oh, and it's way easier to clean.
Silisponge, $12; mollycosmetics.com.
2
Cake Beauty's The Rush Brush
The days of shoving a full-size can of dry shampoo in your bag are over. Now, you can spruce up your roots on the go with Cake Beauty's The Rush Brush. A portable, makeup-brush-like dispenser filled with tinted dry shampoo, it comes in three different shades and smells like heaven.
Cake Beauty The Rush Brush Tinted Dry Shampoo, $16; cakebeauty.com.
3
Flirt Flash Lash Applicator
The false lash hack we've been waiting for, the tongue-in-cheek tool functions like a staple gun with pre-loaded individual "lash buds" that can be applied along the lash line with just a few quick clicks.
Flirt Cosmetics Flash Lash Applicator, $28; flirtcosmetics.com.
Unless you're a pro, at-home blowouts are decidedly challenging. Or at least they weren't until we made the acquaintance of Click N Curl, which brilliantly designed round brushes with detachable barrels that function as curlers. A technique that allows you to dry and style hair in one fell swoop, we're mad we didn't think of it first.
Click n Curl Full Set, $39.99; click-n-curl.com.
5
Beautyblender Liner.Designer
Because drawing on a cat eye is perhaps the single most anxiety-inducing thing in the world, Beautyblender (who changed the makeup application game with its namesake sponge) came to the rescue with their Liner.Designer tool, a guitar-pick-like tool, which has three different edges, (straight, round, and curvy) to ensure a picture-perfect wing every time.
Beautyblender Liner.Designer, $16; net-a-porter.com.
6
Dyson Supersonic Hair Dryer
Blowdryers and peace and quiet are no longer mutually exclusive. The biggest breakthrough for hair drying in our lifetime, Dyson's new Supersonic dryer was designed by over 100 different engineers to be sleeker, quieter, lighter, and less damaging than anything else on the market. We put their claims to the test and the hot pink little wonder passed with flying colors.
Dyson Supersonic Hair Dryer, $399; sephora.com.
In case you've never heard of them, in the 1950s and 1960s Spoolies were at the forefront of at-home curl styling. Now, in 2016 they've gotten a makeover, and are heat-resistant, more flexible, and available in multiple sizes. To create a curl, all you have to do is wrap a section of hair around the curler and fold the top piece down to secure it. Let it set for however long you want, and that's it. No pins, no clips, no problems.
Spoolies Hair Curlers (Box of 12), $17.99; spoolies.com.