36 Half-Up, Half-Down Hairstyles for Every Hair Type and Length
All you need: A hair tie and a couple of minutes.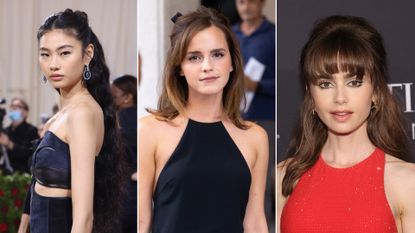 (Image credit: Getty Images)
Few things in life are truly universal. But the half-up, half-down hairstyle is a rare and welcome exception: It works for almost everyone who wishes to rock it, no matter their texture, shade, or preference. It's a true workhorse. If you're looking to conceal greasy roots, a textured pony at the crown can hide them until wash day. If you're doing Pilates or going for a run around your neighborhood and still want to look chic, a sleek pull-back will keep your strands out of your face. It's the perfect way to show off trendy makeup by drawing attention to the eyes, and if you're just plain feeling indecisive, the look is versatile enough to inspire a new variation every day.
Best of all, the half-up, half-down hairstyle is the perfect style for day-to-night dressing, so you can hop from grocery shopping to a dinner party without taking a shower or reaching for a brush. This theory is more than proven by our favorite celebrities: contrasting flowing locks with some creativity up top—from a sculptural top knot to a chic half-ponytail—can look elegant, playful, or avant-garde, depending on the mood you're in or the event you're attending. Ahead, 36 reasons why some half-up, half-down styling is the best way to break up your hair routine (yes, even you, short-haired gals).
Our Favorite Half-Up, Half-Down Hairstyles
Zendaya's Sleek Ponytail
Stylist Dimitris Giannetos says his go-to is a "simple sleek pony up top with lots of curls and volume on the bottom," à la Zendaya. Luckily for us, it's easy to recreate. "To achieve this style, section your hair in a ponytail from temple to temple. I recommend the Dae Cactus Fruit 3-In-1 Styling Cream to smooth through your hair and follow up with a detangling/boar bristle brush to slick your hair back," he explains. "Secure the ponytail closer to the top of your head for a high snatched pony look. After you have secured your ponytail, I would use the Kim Kimble Multi-Barrel Auto Curling Iron to create your favorite style of curls."
Emma Watson's Delicate Touch
Bonus: The length of your hair doesn't matter with this style. While Watson may have a shoulder-grazing bob, tying up half of her hair with a bow instantly lengthens it with volume, while giving it a nice feminine touch.
Jourdan Dunn's Sparkly Embellishment
Adding some bejeweled clips or accessories to your half-up ponytail is bound to make you shine from head-to-toe. It's also a great addition if you're keeping your makeup a little smokey and dark, like Dunn is here.
Bella Hadid's Off-Duty Curls
This style doesn't have to look prim and proper to pull it off, ensures Giannetos. "If you are tight on time, as long as you brush through your hair, you can quickly and easily throw the front up into a ponytail and then you are ready to go! And if you don't have time to brush through your hair, don't worry—Having some texture to your hair gives it a messy but effortless look."
Meghan Markle's Va-Va-Voom Volume
A half-up, half-down hairstyle is just asking for some extra volume up top. Make like Meghan Markle and tease your hair at the crown before pulling it back into a pony. This will take your hairstyle to new heights, literally. Extra points if you pull out a few short pieces to frame your face.
Jennifer Lopez's Red-Carpet Pony
For a more formal occasion (got a red carpet coming up?), Giannetos recommends playing with the placement of your ponytail. He says, "Instead of a traditional high pony, I would place the ponytails more towards the middle/back of your head, to elevate the look into a more elegant hairstyle instead of playful and fun."
Hailey Bieber's Baby Braids
How adorable is this look from Mrs. Bieber? Try it out at home by braiding two tiny sections near the part of your hair. Pull these baby braids into two ponytails near your crown and you're good to go. If you're wanting an ultra-feminine touch, add some pretty pink bows.
Kourtney Kardashian's Super Sleek Pony
If you're in a pinch, Better Natured's in-house hair expert, Melessia Wade-Smith recommends a super-sleek half-up ponytail. To start, Wade-Smith says to apply Better Natured Heat Styling Lotion evenly through damp, clean hair prior to blow drying to protect the hair for a smooth long-lasting style. Then section off hair into four sections and straighten with a flat iron, doing ¼ -inch widths of hair at a time. Once all your hair is straightened, use the tip of a comb to part your hair from ear to ear, then sweep this section up into a ponytail and secure the ponytail with a hair elastic of your choice.
Jodie Comer's Proper Pull-Back
Texture at the root keeps this look accessible. Curl the ends with a large barrel curling iron, and tease the top of your strands near the scalp for a balanced coif.
Jessica Chastain's Under Action
Instead of your having your top section of hair up, why not switch it up? Take the front half of your hair and tie it underneath the back half of your hair for a modern take on the hairstyle. It's still technically half-down, just with a subtle twist.
Rosie Huntington-Whiteley's Romantic Waves
To create a vivacious or flirty half-up for more formal occasions, Wade-Smith says to go with a curled half-up ponytail look. To achieve the look, the hair expert recommends spraying Better Natured Beachy Texture Spray all over your ends to add volume and a light, brush-able hold before parting your hair into four sections. Then start curling your hair with a medium-size curling iron or wand, working in 2-inch wide sections. Once your hair is curled, use the tip of a comb to part your hair from ear to ear, and use a bristle hairbrush to weep this section up into a ponytail and secure with a hair elastic of your choice. To really dress it up, wrap a small piece of hair around your elastic and secure with bobby pins.
Lily Collins' Bangin' 'Do
Bangs aren't extra baggage—if anything, they're your best accessory, so try leaving them out of your half-up, half-down hairstyle. Face-framing, fringe bangs like Collins' will add a fun flair to any look.
Kerry Washington's Braided Top-Knot
Box braids are not only a protective, heat-free style that's been around for ages, but they're easy to pull up into a half-up hairstyle. The next time you have braids in, pull the top-half of your hair into a knot for a look just as cool as Washington's.
Nicole Scherzinger's Y2K Space Buns
We all know Y2K fashion is hotter than hot right now, but Giannetos' space bun look on Nicole Scherzinger proves the trend extends into the beauty sphere, too. Try adding spiky space buns to your look for an extra dose of fun, and if you really want to go crazy, streaky highlights will really pull the look together.
Kendall Jenner's Barrette Business
Yet another Y2K trend coming back in a big way? Barrettes, if the Versace Spring/Summer 2024 show is any indication. Hide your hair elastic with an extra big barrette. Not only will you look like a bonafide fashion girl, but it's also a nice way to tie your hairstyle into your outfit.
Sydney Sweeney's Claw-Clip 'Do
When in doubt, claw clip it out. The hair accessory will be a life-saver when you're in a pinch. It will only take seconds to pull half your hair up into the clip, plus you can make your look more fun with different colors and prints.
Margot Robbie's '70s Waves
Leave it to the IRL Barbie to give us major hair envy. Margot Robbie's crimped curls add some fun texture and playfulness to any half-up, half-down styles. Use a hair crimper to get the look, or leave your hair in a French braid for several hours or overnight for similar waves.
Gigi Hadid's Baby Bun
Gigi Hadid wasn't the only one to rock a half-up, half-down style at the 2023 Met Gala, but hers was certainly innovative. Rather than wrap the top section of her hair into a full-blown knot, she went with a tiny bun and left the tail-end hanging down. The next time you can't get your bun wrapped perfectly so, might we suggest leaving the tail out like Gigi?
Rihanna's Side-Swept Style
Speaking of Met Gala hairstyles, Rihanna also opted for a half-up, half-down look for the biggest night in fashion. A deep side part and texture at the roots help keep this half-ponytail style looking red-carpet fresh.
Beyonce's Braids
Braids welcome texture to a regal updo. French-braid your strands on each side of your head, then plait what's left down your back.
Khloe Kardashian's Long Locks
Khloe Kardashian's voluminous waves and snatched ponytail makes her crazy-long hair interesting. While her look comes from celebrity hairstylist Chris Appleton, you can recreate the look with a large curling iron and some clip-in extensions.
Kate Middleton's Twisted Look
Because we can't have her title/husband/wardrobe/tiaras, we might as well try and steal her style tricks. As always, the princess keeps it classy with a twisty half-up style, one of her signature looks, might we add.
Ciara's Bedazzled Middle Part
Got a festival coming up? Take inspiration from Ciara's Met Gala look and throw some glitter in your middle part. The spiky top knots add even more of a galactic vibe to this edgy look.
Ashley Greene's Swooping Strands
To add some zhuzhing effect to your half-updo, drape the strands closest to your forehead up and away from your face like so.
Halle Bailey's Curly Edges
A half-up, half-down hairstyle is the perfect opportunity to show off cool edges. To create Halle's look, comb your edges into mini curls along your hairline for an extra-pretty detail to your look.
Anya Taylor-Joy's Twisted Side
For a look that's as elegant as it is easy, try Anya Taylor-Joy's twisted hairstyle she donned to the Golden Globes. Simply take a front section of your hair and twist away from your face, then pin in the back. For a true half-up style, make sure to twist sections on both sides of your hair.
Ashley Park's Tousled Top-Knot
Sometimes the messier the better, as is the case with Ashley Park's top-knot style. To get the look, skip brushing and spray your roots with your favorite texturizing spray (we love Oribe's Dry Texturizing Spray) to give them some grit, then pull the top section into a loose bun. Feel free to make it messy.
Kristen Stewart's DGAF Floppy Ponytail
The perfect weekend look: tying back a messy half-ponytail (dark roots and all!) and letting the rest of your hair hang loose.
Issa Rae's Swept-Back Style
Leaving little to no hairs free to surround your face will help draw attention to your beautiful face and other parts of your ensemble, like those gorgeous hoop earrings Rae's wearing. You can even add baby braids for a pop of texture.
Hoyeon Jung's Knotty Updo
Squid Game star Hoyeon Jung opted for not one top knot, but multiple for her Met Gala look, and we're obsessed. The knotted top half is paired perfectly with cascading beach waves, resulting in a look that's edgy and pretty at the same time.
Rooney Mara's Mini Bun
Keep a long hairstyle interesting by tying back a mini bun that's placed towards the back of your head rather than on top of it.
Penelope Cruz's Side-Swept Bangs
While most people opt to keep their hair away from their forehead for a half-updo, Cruz's side-bangs are a fresh take on the style that frames her face to perfection.
Camila Cabello's Wispy Bangs