The 26 Best Lip Balms and Treatments in 2022
Pucker up.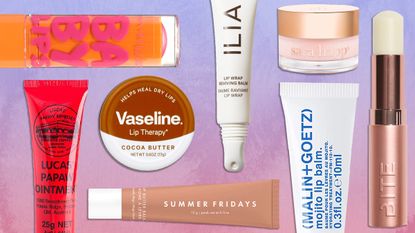 (Image credit: Vaseline, Dr. Paw Paw, ILIA, Maybelline New York, Summer Fridays; Brittany Hollow)
Marie Claire newsletter
Celebrity news, beauty, fashion advice, and fascinating features, delivered straight to your inbox!
Thank you for signing up to . You will receive a verification email shortly.
There was a problem. Please refresh the page and try again.
There are few things more vital to a good makeup day—or more likely to get lost in the bottom of your bag—than a lip balm. If, like me, you're currently in the market to find your new go-to balm, you've come to the right place. Ahead, the beauty team at Marie Claire rounded up the very best lip balms that you can buy right now. We've tried almost every single option that money can buy in 2022, and these are the lip balms and treatments that stood out from the pack.
There are so many reasons to pick up a new lip balm this season. Maybe you have chronically dry lips no matter the weather. Maybe you need something to wear underneath all of the best lipsticks that you have in your collection. Or, maybe you're a beauty pro who already knows everything there is to know about both the best lip stains and the best lip plumpers and are looking for a base product to condition your lips on no-makeup days. Luckily, the market is chock-full of options that come in every type of formula, from matte balms to others that look and feel like the best lip oil or your favorite lip gloss.
With so many options, it can be hard to discern what makes a good lip balm the best lip balm. Marie Claire spoke with board-certified dermatologist Dr. Shereene Idriss, M.D to get some answers. Ahead, Dr. Idriss broke down what to look for when shopping for balms, from superstar ingredients that will heal your dry, chapped lips to a breakdown of her viral "lip basting" technique that is everywhere on Instagram.
What causes dry lips?
If you thought that winter was the only time of year when lips can get chapped and dry, think again. Dr. Idriss says that dry lips can be "caused by so many different factors, both externally and internally," including the humidity in the air or extreme temperatures, both in the summer and in the winter. Plus, not drinking enough water can lead to dehydration that will cause your lips (and skin!) to dry out, so add this to the ever-growing list of reasons to get so much water throughout the day. "The last and biggest cause of dry lips is licking your lips, one that I am guilty of," she says. "By licking your lips, moisture is drawn out of them, causing them to dry faster. If you want hydrated, nourished lips, this is one habit you should try to break."
And, if you use topical treatments like retinoids or Accutane, they could be at the root of your dry lips issue. "Retinoids increase cell turnover, therefore dry lips can result as a side effect of topically applied skincare products, at least at the very beginning while your skin is adjusting," she says. "Keep them hydrated and you should be good to go."
What should a good lip balm do?
"A good lip balm should be nourishing and hydrating, while keeping your lips protected from pollution in the air and even damage from the sun if you choose one with SPF in it," Dr. Idriss says. "Lip balm should soothe and calm dry lips without causing any irritation or inflammation."
What ingredients make a great lip balm?
"Traditional lip balms often contain ingredients like beeswax, carnauba wax, lanolin, or petrolatum," says Dr. Idriss. "For lip basting I like to use non-traditional lip balms that melt into your lips for longer lasting hydration. Panthenol is one of my favorite ingredients in Bepanthen Nappy Rash Cream."
What is "Lip Basting?"
"Lip Basting is my favorite technique to use when your lips are super dry and desperate for moisture," Dr. Idriss says of her cult-favorite technique. "It's a really simple and nourishing technique that I suggest incorporating into your routine as often as you'd like—or whenever your lips need an extra boost of hydration. First, you start by buffing your lips with a chemical exfoliant. I like to use one that isn't too high in concentration to avoid any unwanted effects. After you apply the chemical exfoliant and allow it to dry, the next step is to apply a thick layer of lip baster. Something rich in calendula and panthenol that really feeds your lips is great to use here."
Dr. Idriss's Favorite Lip Balms
If you're just starting out with lip balms, start simple. "Vaseline is a classic, no-fail lip product," she says. "It is super occlusive and gentle, so it's good for all skin types, especially those with sensitive skin. I even like to use it on my under eyes if they are looking or feeling a little dry. Another favorite of mine is Aquaphor, which is basically Vaseline plus Lanolin. An unconventional, but amazing lip product is the Lansinoh Lanolin Nipple Cream—yes, you can use nipple cream on your lips. Homeoplasmine is another great product to help nourish and soften dry, cracked lips. It is basically Vaseline plus calendula, which has some anti-inflammatory properties and a skin healing formula. Lastly, Bepanthen Nappy Rash Cream is loaded with panthenol, one of my favorite ingredients to look for in a good lip product."
Marie Claire Editors' Favorite Lip Balms