21 Genius Lipstick Hacks You've Never Tried Before
Here's exactly how to get the most out of your favorite shades.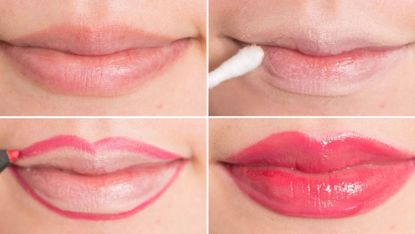 (Image credit: Marie Claire)
1. Exfoliate dry lips for a smoother lipstick application with a clean, disposable mascara wand. Just apply a balm over your mouth first to give your lips some slip, so it's easier to slough away any flaky skin.
2. Keep lipstick off your teeth by sticking your clean pointer finger in your mouth, wrapping your lips around it, and pulling it out. Any lipstick that would have gotten on your teeth will be left on your finger.
3. Use your favorite pink lipstick of choice as a cheek color. Just be sure to blend it in with your finger like you would any cream blush.
4. Repurpose broken eye shadow as a lip color. If your favorite shadow crumbles and it's a color you'd also wear on your lips, store the broken pieces in a tiny container and mix what's left with some balm on a spoon, and then apply.
5. Use a concealer brush to achieve an opaque, precise application.
6. Or, use a fluffy eye shadow brush to apply your lipstick if you want more of a stained, diffused look.
7. Turn any lipstick into a long-wearing version with translucent powder. First, swipe on your lip color, hold a tissue over your mouth, and then dust translucent powder over it. A small amount of the powder with transfer onto the tissue this way, locking in your color.
8. If your lips have a lot of pink or red tones in them, pat concealer over them before you apply any lipstick to nude them out. This helps ensure that your lip color will look exactly how it does in the packaging on your lips; otherwise, the pink or red tones will alter how the color appears when you apply it.
9. You can also reshape your lips by first covering them with concealer, and then tracing just slightly outside your natural lip line with a lip liner pencil, making them appear larger. Continue to fill in your lips with the pencil for a matte look or finish with a gloss. See Jessie James Decker demonstrate this trick here (opens in new tab) (at the 4:37 mark).
10. Blot the right way: between applications to make your lip color last longer. Doing so removes excess oil on your lips from the first application, so that the second one grips it better and doesn't travel off of your lips as quickly.
11. Nail your nude shade every time by going for one that is one shade darker than your skin tone, regardless of what that is. if you're fair-skinned, try a nude with a hint of pink in it, like CoverGirl Colorlicious Lipstick in "Honeyed Bloom;" (opens in new tab) if you're medium, go with a nude that has orange undertones, like CoverGirl Colorlicious Lipstick in "Caramel Kiss;" (opens in new tab) and with deeper skin, opt for chocolate browns, rosy browns with a hint of shimmer, or caramel browns that can counteract redness (if you have a lot of it in your lips), making them look more nude, like CoverGirl Colorlicious Lipstick in "Sultry Sienna." (opens in new tab)
12. Find the best red for your skin type by following this advice: if you're fair, go with a blue-based red, like CoverGirl Colorlicious Lipstick in "Hot;" (opens in new tab) if you're olive, opt for an orange-y red, like CoverGirl Colorlicious Lipstick in "Garnet Flame (opens in new tab);" (opens in new tab) and if you're darker skinned, go for a burgundy red, like CoverGirl Colorlicious Lipstick in "Tempt Berry." (opens in new tab)
13. Perfect your Cupid's bow by drawing an "X" on the center of your upper lip. Then, fully line and fill in the rest of your lips to give your matching lipstick something to grip on to. That way, when it starts to wear off, it will do so evenly, and you won't have that tell-tale ring of lip liner around your mouth.
14. Make your lipstick pop by lining the outside of your lips with cover-up and a concealer brush. You'll be amazed at how sharp your lips will look afterward.
15. Store the bullets of your lipstick in a pill box when you're traveling. This keeps you from having to carry around eight tubes of lip color.
16. Reattach a broken lipstick by melting the end with a lighter and affixing it back to the base in the packaging. Then, melt the two pieces where they meet to fuse them back together (just don't hold the flame on it too long or you'll melt your entire lipstick. Oh, and be careful!).
17. Store your lipstick in the fridge when it's warm out to keep it from melting.
18. Make your lips appear larger by applying one shade of lipstick over your entire mouth, and then a shade in the same color family that's a lot lighter (you can even use concealer if you really want a major effect) in the center.
19. Use hairspray to remove a lipstick stain. Spray the fabric (make sure it's not dry-clean only) with hairspray, and let it sit for a few minutes. Dab the stain, and then toss it in the washer.
20. Soften your lip liner with your clean fingertip after you apply it and before you apply your lipstick, so it doesn't look too harsh.
21. Apply a clear makeup primer around the perimeter of your mouth before you put on your lipstick to keep it from feathering. Try CoverGirl TruMagic Clear Primer. (opens in new tab)
You should also check out:
The Lipstick Colors That Make Your Teeth Look Brighter (opens in new tab)
Are You Ready? Meet the Marie Claire 7-Day Lipstick Challenge (opens in new tab)
The Best Lipsticks You Can Buy at the Drug Store (opens in new tab)
Carly Cardellino was the beauty director at Cosmopolitan. If you follow her Instagram, then you know she'll try just about any beauty trend or treatment once (the pics of her purple hair are on IG to prove it). But her favorite part about being in beauty is finding the most effective products, and then sharing that intel with others—because who wants to spend money on stuff that doesn't work? No one, that's who. Her most recent discovery: De La Cruz Sulfur Ointment, which will change your blemish-clearing game! Hopefully through the beauty stories she writes—and the experiences she shares—you can see exactly why she's in this business.