4 Ways to Grow Out Your Bangs Without Hating Your Hair
Your fringe is about to look bang-on for its entire grow-out stage.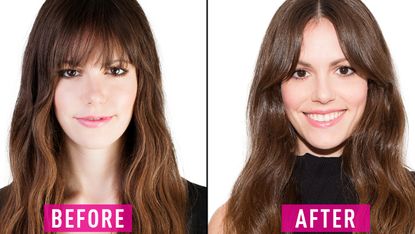 (Image credit: )
Marie Claire Newsletter
Celebrity news, beauty, fashion advice, and fascinating features, delivered straight to your inbox!
Thank you for signing up to Marie Claire. You will receive a verification email shortly.
There was a problem. Please refresh the page and try again.
If you've ever had bangs, then you know the vicious cycle: You cut bangs, you look bangin' in said bangs, you regret ever getting bangs, and then you Google terms like "how to make my hair grow faster" and "hairstyles to wear when growing out bangs." This is why Cosmopolitan.com asked bang whisperer/celebrity stylist Cash Lawless to show you how to survive the struggle in style.
If You're in Stage 1 (the First Couple Weeks Post-Cut)
Trim your bangs in the center only. As your bangs start to grow out, you need to keep them from getting in your eyes. Once you've dried and styled your fringe, "take a small pair of scissors—the smaller the scissor, the easier they'll be to control—and, holding the scissors vertically, cut into the hair that falls in between your eyes," Lawless says. "Cutting them in the center only will help the outer corners blend in with the rest of the layers in your hair cut as they grow, so you'll end up with a style that's sweepable to either side." The scissors in the Revlon Brow Set work perfectly.
If You're in Stage 2 (One Month In)
Separate your bangs down the middle. At this point, your bangs aren't really long enough to do anything with other than bobby pin to either side of your head, so it's good to separate them down the middle for a chic look. If your forehead tends to get oily and make your bangs stringy, this will also help with that, since your forehead won't be completely covered with your fringe. "Before splitting your bangs down the center though, blow-dry them forward with a ceramic-barrel bristle brush," Lawless says. "The tension and heat will flatten out any cowlicks and add a tiny bit of length." Leave your bangs straight since they don't have enough length to flip up, and then spray your fringe with a light-hold hairspray, like John Frieda Frizz Ease Keraflex Flexible Hold Hairspray, to keep them in place.
If You're in Stage 3 (Two Months In)
Flip the ends of your hair out. First, apply a product that will give grip to your bangs, like a salt spray or mousse (Lawless recommends Bumble and Bumble Salt Spray or Oribe Surf Comber Mousse). Next, blow-dry your bangs forward, but instead of leaving your bangs straight, use a flat iron to bend the hair away from your face, flipping it up and out. Just remember to keep the heat on low to make a subtle bend; high heat will make a harsh one. Freeze your fringe in place with a hairspray, like Kenra Professional Volume Spray 25.
If You're in Stage 4 (Three Months In—You're Almost There!)
Blend your bangs into your hairstyle. By this time, your bangs should be much longer and actually look like they're blending in with the rest of your layers. To make your bangs look like a seamless part of your style, slightly bend your bangs away from your face using the same ceramic brush from stage two. Finally, use a tiny amount of a hair taffy to style your fringe in with the remainder of your hair. Try TIGI BedHead Manipulator.
Ready to start all over again with some fresh bangs?
Celebrity news, beauty, fashion advice, and fascinating features, delivered straight to your inbox!
Carly Cardellino was the beauty director at Cosmopolitan. If you follow her Instagram, then you know she'll try just about any beauty trend or treatment once (the pics of her purple hair are on IG to prove it). But her favorite part about being in beauty is finding the most effective products, and then sharing that intel with others—because who wants to spend money on stuff that doesn't work? No one, that's who. Her most recent discovery: De La Cruz Sulfur Ointment, which will change your blemish-clearing game! Hopefully through the beauty stories she writes—and the experiences she shares—you can see exactly why she's in this business.