Guys, Emma Stone Got a Perm and the Before-and-After Pics Are *Everything*
Does this mean we all get perms, now?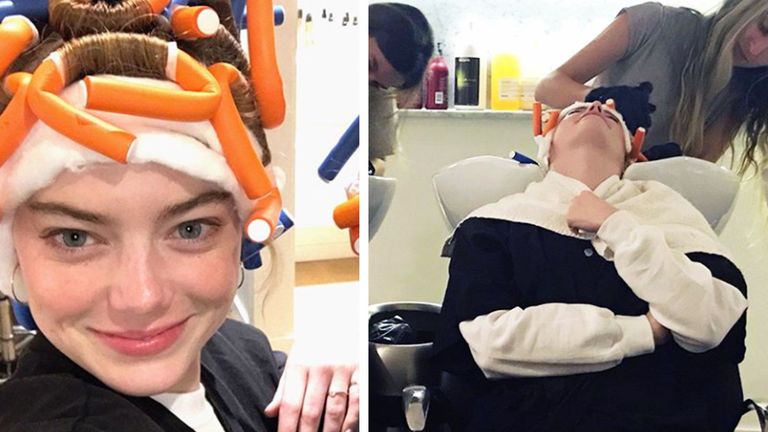 (Image credit: Instagram)
They say history repeats itself, and you needn't look further than your coworker's black choker, scrunchie, and embellished flare jeans to know that it's true. And now, Emma Stone is taking us to the way, way back of beauty trends, past the flat-ironed hair of the early aughts and '90s, to the permed masterpieces of the '80s.
RELATED STORIES
In a photo posted to Instagram, Stone and her longtime makeup artist, Rachel Goodwin, got BFF perms (that's not really a thing, but we're making it a thing now) with the pics to prove it. "We have a permanent bond! Some friends get tattoos, well we get perms!" reads Goodwin's post, adding, "We're here to tell you that they are BACK and theyre not your grandmas perm! Especially when you are in the amazing hands of @mararoszak and @bykileyfitz at @mare_salon #curlyisthenewstraight this is the #newwave."
But unlike the perms of yesteryear, which were poofy, voluminous, teased creations, Stone's perm ended up looking like super-subtle beachy waves—basically, what your natural waves look like in humidity.
But hey, if you've got stick-straight hair that refuses to hold a curl, then by all means, get yourself a 2018 perm. We have a feeling it's about to become an Instagram trend. Dun, dun, duuunn.
📷 Rachel Goodwin via Instagram: Some friends get tattoos, well we get PERMS! We're here to tell you that they are BACK and they are not your grandmas perm! pic.twitter.com/qUmaUt2FzOJanuary 31, 2018
See more