No, This Lip Art Isn't Photoshopped—They're Actual Paintings
This. Shit. Is. Crazy.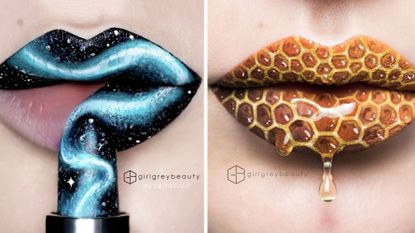 (Image credit: Instagram)
Imma be real with you: 99-percent of all makeup ads and beauty photos you've ever seen have been hardcore Photoshopped. I know—the shock! The horror!
So naturally, when I first spotted the lip-art photos of makeup artist Andrea (@GreyGirlBeauty), who goes by her first name only, on my Instagram feed, I dismissed them as impressive, yet manipulated, works of art. That is, until I dug a little deeper—i.e. all the way to the bottom of her account—and realized that all of her stunningly intricate designs are actually hand-freaking-painted.
Yes, that's the sound of your brain melting.
Andrea's feed, which has 900 photos of her lips covered in complex images, like snow-covered berries and honeycombs, were all drawn (and designed) by her, using liquid lipsticks, liquid eyeliners, and a ton of skinny brushes.
"I like to use tiny painting brushes from the art store to create each look," Andrea tells me. If that sounds impossibly time-consuming, Andrea assures me that it most definitely is.
"The application alone takes around one-to-two hours, depending on the difficulty and detail level of the lip art," she says, adding that the entire process (from conception to retouching and editing) can take up to six hours. Of course, that's only if every single thing goes exactly as planned—no accidental smudges or mistakes involved, which, as someone who messes up her lipstick application at least 50 percent of the time, sounds impossible to me.
"I get so frustrated when I've spent two hours painstakingly painting my lips, and then I have a camera malfunction," says Andrea, "and since I'm trying to not ruin the lip art before I shoot it, I can't verbally ask my husband for help."
But that's where the magic of Photoshop comes in (though the designs aren't doctored, she does still use the software when needed). "I try to get everything as perfect as humanly possible before taking the photo, that way I can limit my editing time," she says. "But I definitely use it to retouch any distracting blemishes or stray brush hairs, or to help really bring an image to life."
Thankfully, Andrea is kind of an old pro at this point, having been involved in makeup art since 2014, so mistakes are rare. "I've always loved to do art, whether it's drawing, painting, mixed media sculpture, art installations," she says, "but I wanted to challenge myself with a more difficult canvas, which is why I started painting on my lips."
And clearly, she's mastered it, amassing 355k followers on Instagram, who regularly post heart-eyed emojis and "OMG" comments on her photos. I may or may not have fan-girled out, too.
If you want to get on my loving level, please set aside a full hour to scroll through Andrea's account. Or, you know, just start with a few of my favorites, below. And please think of Andrea next time you complain that applying liquid lipstick is "just too hard."
Chloe Metzger is the deputy beauty director at Cosmopolitan, overseeing the editorial content and growth strategy of the hair, makeup, and skin space on digital, while also obsessively writing about the best hair products for every hair type (curly girl here; whattup), and the skincare routines that really, truly work (follow her on Instagram to see behind-the-scenes pics of that magazine life). She brings nearly a decade of writing and editing expertise, and her work has appeared in Allure, Health, Fitness, Marie Claire, StyleCaster, and Parents. She also has an unhealthy adoration for Tom Hanks and would like to please meet him one day, if you could arrange that. Thanks.