I Ditched 100 Beauty Products for These 10 Basic Items—and I've Never Looked Better
Here's what made the cut.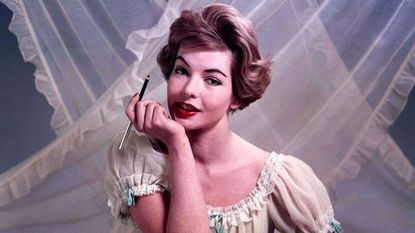 (Image credit: Getty + Popperfoto)
For most of my adult life I've been drowning in beauty products. Literally.
When I lived in Los Angeles, I had an amazing antique claw-foot bathtub set against the back wall of my bathroom. In between the tub and the wall, I balanced bath bombs, body washes, sea salts, sugar scrubs, skin softeners, and hair conditioners. One time, I was taking a bath and drifted off to sleep. Moments later, I was jolted awake to my tub shaking: dozens of bottles, tubes, and containers had caved in on top of me. When I was finally able to dig my way out of the tub, I slipped on a streak of bath oil and fell.
This was not the luxurious life of a beauty queen. It felt more like the slapstick version of hitting rock bottom for a beauty junkie.
But even that was not rock bottom.
My bathroom and my bank account would become my nightmare. I spent thousands of dollars—on a regular basis—to have the chicest new lipstick, the hottest highlighter, and the most high-tech anti-aging cream. Eventually, hundreds of beauty products cluttered my counters.
Even when I wasn't spending my own money, products mounted: I worked at a celebrity tabloid magazine where PR firms would frequently send samples of beauty products their celebrity clients endorsed. Half the time the product was junk, but I was also something of a hoarder, so instead of tossing the stuff—because, were I a logical woman, I would think "Nah, I have enough already"—I would tuck the samples away in my bathroom, bedroom, living room, kitchen, and...yes...car. One time I drove around with 500 mini-bottles of shampoo for months without noticing they were there until I stopped short at a red light and they flew from the back seat, exploding against the windshield.
I had so many products that it took me hours to get ready every day, digging through it all. I was frequently late to events because I was applying another layer of body bronzer or meticulously curling my hair, testing a new setting spray or curling gel I had just bought. Then I'd remember that a new package full of an A-lister's "red carpet look" mink lashes arrived, so I'd dick around for another hour messing with those. I started having a reoccurring nightmare that I took so long to get ready that I'd miss an important life event.
That was the insanity of my beauty routine.
This was the insanity of my life.
I had no idea how it got this way. When I was a teenager, I used only soap, water, shampoo, conditioner, eyeliner, mascara, and lipstick. My hair was always shiny and my skin was flawless. (Granted I was a teenager, so nature was working with me at that point.)
My mother's daily beauty routine was pretty basic too, consisting of showering, smearing Vaseline on her face and body, and then applying eyeliner and mascara. Fin.
On special occasions she wore red lipstick to contrast against her naturally ginger red hair. She never bothered with face creams, foundation, or trips to the beauty salon. I don't even think she bought razors or shaved—and she was not a feminist or a hippie. (She voted for Reagan and both George Bushes, FYI.) Despite her absolute lack of effort, she always looked so fresh, healthy, and young.
So why was I trying so hard?
I decided to simplify my beauty routine. I made a commitment to give or throw away everything except for 10 beauty products. I cleared out my cabinets and never looked back. Here are the essentials I narrowed it down to:
1. Coconut Oil (Refined)
It's everything in one: I use it as a face moisturizer, head-to-toe body salve, lip balm, stretch-mark reducer, base for my perfume, teeth whitener, and sex lube. I also cook with it. Don't worry, I keep separate jars in the bathroom, bedroom, and kitchen—although why, really?
2. Castile Soap
I wash myself (and my cat) with it. It also doubles as my shampoo. And as my bathroom cleaner.
3. Essential Oils
Okay fine, maybe these count as more than one item, but I have a shelf full of oils like lavender, peppermint, lemon balm, tea tree, cinnamon, etc. And they work for just about everything—from instant zit zapper (tea tree), skin energizing mist (peppermint mixed with water), deodorant (tea tree and lemon), anxiety reducer (lavender), and bug repellent (citrus oils). I also mix and match to make signature scents depending on my mood.
4. BB Cream
Evens out my skin tone. Great.
5. Brow Dip/Grooming Cream
My brows are my best frenemy, sometimes looking fierce, sometimes looking mismatched, dejected, and wonky. I need this product.
6. Powder Palette
I purchased an all-in one type thing that has highlighter, contour, blush, bronzer, and setting powder. I also use it for eyeshadow. It's genius.
7. Eyeliner
Jet black creamy pencil. Period.
8. Mascara
Heavy duty lash-lengthening mascara is bae.
9. Lipstick/Lip Gloss/Lip Liner
I have one signature lipstick, one light gloss, and one neutral liner. I almost always use the same lipstick and liner, but lately I've been partial to a new gloss I found that makes my lips looks big, full, and fake. Kylie Jenner changed the face of the lip game, so I try to keep up.
10. Dry Shampoo
This invention deserves all the accolades it gets. I use it abundantly and often.
The takeaway:
The results of narrowing down my beauty regime were immediate and astounding. It now takes me just minutes to get ready, my monthly beauty budget is nearly non-existent, and I look and feel great.
Sure, there are a few other products I use on a weekly basis
(hair conditioning mask, hair taming mousse) or one-offs for work related events (HD foundation, concealer, and faux lashes if I'm going to be on stage or on camera). I have a few extra things stashed away for emergencies and I do buy myself treats for special occasions. If I get bored, I'll try a new lipstick color—but I won't buy 10 tubes.
These days, I don't miss having hundreds of beauty products (nor do I judge those who do). Maybe some day I'll have an entire wing of my house dedicated to beauty and pampering, like a private little spa, and I can pick through my 50 tubes of whatever at my own leisurely pace. But for now I'll stick to my little apartment, my simplicity, and my coconut oil.
Follow Marie Claire on Facebook for the latest celeb news, beauty tips, fascinating reads, livestream video, and more.