How Vintage Beauty Changed Everything About the Way I See My Body—and My Eating Disorder
It may seem counterintuitive, but going retro is giving me a healthier outlook.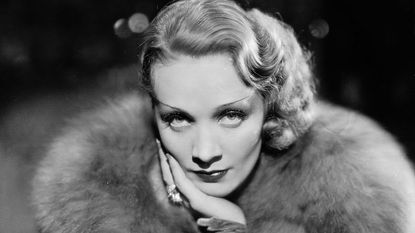 (Image credit: Getty Images/Don English)
When I was 12 years old, I thought I knew the trick to being beautiful: looking like everyone else.
I went to a private girls' school on the Upper East Side–Gossip Girl, based on one of our sister schools, had just premiered. The climate was so feverish that the school had to send notes home to parents warning them not to talk to the press. But to be honest, we were more preoccupied with ourselves to even care: our daily, stringent beauty routines left little time for anything else.
There was a lot to keep up with and master, a very particular homogenized look to aspire to: Juicy Couture T-shirts, skinny jeans, minimal makeup, and straight hair (naturally, my hair was red, frizzy, and wild, so my mother blew it out). Sometimes, if I was feeling casual, I'd wear it in a ponytail. I never dared to do more.
With clothes, there was only one bar to clear: If any garment made me look thin, if it gave me a Good Figure–to use the words my mother and my grandmother so often repeated–it would suffice. But I was heavy after puberty, so the Good Figure always seemed to evade me, slimming clothes or no—I skipped most meals and subsisted on low-calorie frozen yogurt, punctuated by the odd bulimic episode.
Over time, the mantra became more and more distinct: To be beautiful meant to do this one thing correctly, to fit this one image correctly.
I was resigned to this idea for the next 10 years. I wore the same hair and makeup every day in college and stuck to my boring old clothes. I kept throwing up for good measure.
Then I met Victoria.
By that point, I was 23 and back in New York, where, on this night, I was parked on a stool at a speakeasy-type bar.
Victoria was wearing a black silk dress, a beige coat with a fox-fur collar, and a Chanel fascinator from the '30s. Underneath, her hair was pinned into deco waves. She was the most beautiful human I'd ever seen.
People often talk about the moment they first saw the person they were going to marry. I felt like that meeting the woman who would become best friend. She wasn't just a person I wanted to know, to talk to, to discover. She was—with the impossible grace of someone whose career is as a model specializing in vintage clothing—the person I wanted to be.
There was nothing prescriptive or conformist about her beauty. Her '30s makeup—careful brows, smoky eyes—her hat, her silks, they were so unlike the blowouts and thigh-high dresses of the other women in the bar. You might have thought she was in costume, were it not for the iPhone.
We became friends, then good friends, then those friends (I fed her cat while she was away; she brought me ginger ale when I was hung over). She took me to the vintage events she went to. She taught me to dance. She taught me to do my hair: a series of bobby-pin disasters, each one a little bit less catastrophic than the last.
From her, with her, I learned different approaches to beauty and style: the sensual artifice of the '30s; the practical, natural blush of the '40s. I came to take pride in getting a victory roll just right, in curling my hair in imitation finger waves, in finding a vintage cocktail dress on eBay that was just my size. Beauty was no longer an albatross of self-consciousness—something I had to attain for the sake of others—but an expansive field of expression. For the first time since I was a child, dressing up and painting my face became a form of play.
My body became a canvas. Every time I tried a new style (experimented with a '60s beehive for a James Bond party, tried on a snood for a swing dance evening), I delighted in the the temporary play of trying on models of beauty and then freely wiping them all away. I could reinvent myself at will.
Nothing is magic, of course. My evolution didn't automatically cure my eating disorder, nor did it make it any easier when my mother despaired of what she called, only half-jokingly, my "frumpy librarian clothes." But the realization that there was no trick to being beautiful—that beauty itself was the trick—was incredibly freeing. For the first time, I thought of my face, and my body, as art.
Follow Marie Claire on Facebook for the latest celeb news, beauty tips, fascinating reads, livestream video, and more.