Lucy Hale Shares the One Anti-Aging Product That "Completely Changed" Her Skin
Plus, her favorite red lipstick, frizz serum, deodorant, and acne-fighting toner to try ASAP.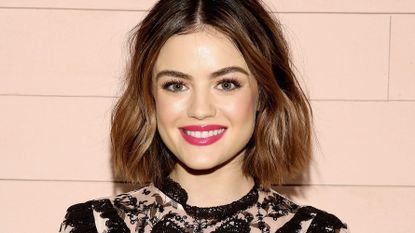 (Image credit: Getty Images)
Master a Holy-Shit-I'm-Running-Late LookGet Yourself a Clear DeodorantEmbrace Smelly Skincare ProductsStart—and Stick With—a Retinol
Things I love about Lucy Hale, enumerated: 1. All of Lucy Hale. 2. See previous. Hey, I can't help that it's a short list. My love doesn't stem from some #fangirl fantasy, though, but from a place of real respect for Hale's deep love of all things beauty—like the fact that she cuts and dyes and re-cuts and re-dyes her hair every other week, or the fact that she once had a 15-step skincare routine (yes, really).
Basically, Lucy Hale knows her (beauty) shit. So when the actress waxed poetic to me about the miracles of retinol, spray deodorant, and a consistent skincare routine, I listened. And then I fervently wrote all of her advice down so the rest of you could be enlightened, too. Behold: the only beauty products you need to kinda, sorta look like Lucy Hale (I can't help you with the genetics part, sorry).
Master a Holy-Shit-I'm-Running-Late Look
When I gave Hale a hypothetical situation in which she has only 10 minutes to get ready for a red-carpet event all by herself, her first response was, "Well, that sounds terrifying," followed by a quick hair and makeup lesson.
RELATED STORIES
"I would try to keep it fast and classic," she says. "I would pull my hair into a sleek ponytail, then slick down the flyaways with a gloss." She has two favorites—one from R+Co ("I love anything R+Co") and the other from Kristin Ess ("it's not too heavy and just makes your hair look really healthy").
As for makeup, Hale would stick with "really clean skin, a very minimal eye, and a really good brick-red lipstick," she says. "I really love the matte red lip I get from Nars Velvet Matte Lipstick Pencil, or I'd use MAC's Ruby Woo lipstick, which I know everybody also loves."
Get Yourself a Clear Deodorant
Granted, I was chatting with Hale while she was promoting Degree's UltraClear Black+White spray deodorant (which prevents white marks and yellow sweat stains on—yup—both black and white clothes), so obviously, we were going to chat deodorant. But unlike some celeb endorsements, Hale genuinely uses and loves the spray."I only promote something that feels natural and organic to me, and I've actually been using Degree's products for a very long time," says Hale. "I like the spray because I think it's a bit easier and lighter for summer, but I also love that I can re-wear my staples and favorite clothes without worrying about deodorant marks." Sure, maybe this product won't make you look like Hale, but at least it'll keep you from looking like a hot mess, right?
Embrace Smelly Skincare Products
Or, okay, just don't be turned off by smelly products, says Hale, who swears by a very divisive toner to get clear skin. "I'm obsessed with the Biologique Recherche Lotion P50—I know a lot of people know about it and like it, but I just recently started using it, and I love it," she says. "We all use a lot of the wrong products for our skin type, and this toner helps balance out your face to get your skin to look how it looked as a child."
The only downside? "It smells awful—like really, really intense—but it's worth it; my pores are smaller, there's more clarity, and my skin looks better overall." A warning: This stuff isn't for sensitive skin types, and it's pretty strong, so make sure to use it on clean, dry skin just a few nights a week to start (on opposite days of your retinol, see below) and layer on a moisturizer after it dries.
Start—and Stick With—a Retinol
Sure, you know you should be using a retinol (not only for its wrinkle-preventing benefits, but also because it fights acne, smooths bumps, fades dark spots and discoloration, and also gives you the complexion of an angel cherub), but are you actually using one? Or did you try it once and give up at the first sign of flakes?
"Retinol has been the biggest game-changing product for me," says Hale, "but you've got to be consistent with it, even when your skin flakes at first." Yes, even celebrities have to deal with the dreaded few weeks of irritation that come with starting a retinol. But, as Hale knows, the results are totally worth it. "I'm really breakout-prone, and retinol keeps my skin really clear, because it helps speed up cell turnover to prevent build-up in your pores," she says, adding that "it does take months to work" (three-to-five, to be exact), so you need to be consistent.
"I mix my retinol with my moisturizer and use it only three nights a week," says Hale. Though she uses a prescription retinol ("I feel like it just works a bit faster"), you can easily get the exact same results at home with a drugstore retinol. Seriously—this is one of those times where the outcome—better skin—will be the exact same in the end, no matter what product you use.
Not sure where to start? Choose one of my five favorites, ahead, and start slathering to get celeb-worthy skin at home.
Celebrity news, beauty, fashion advice, and fascinating features, delivered straight to your inbox!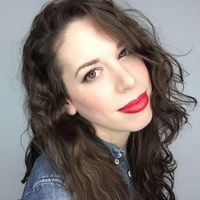 Chloe Metzger is the deputy beauty director at Cosmopolitan, overseeing the editorial content and growth strategy of the hair, makeup, and skin space on digital, while also obsessively writing about the best hair products for every hair type (curly girl here; whattup), and the skincare routines that really, truly work (follow her on Instagram to see behind-the-scenes pics of that magazine life). She brings nearly a decade of writing and editing expertise, and her work has appeared in Allure, Health, Fitness, Marie Claire, StyleCaster, and Parents. She also has an unhealthy adoration for Tom Hanks and would like to please meet him one day, if you could arrange that. Thanks.