Why Everyone You Know Is Boycotting Kat Von D Beauty Products
People are freaking pissed.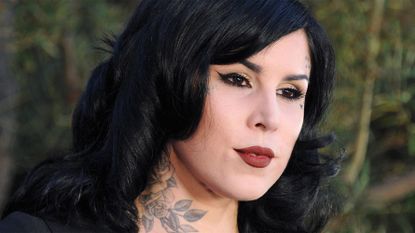 (Image credit: Getty Images)
In today's super-niche beauty drama we're weirdly invested in, people are calling for a boycott of Kat Von D Beauty after the pregnant beauty mogul announced she will not be vaccinating her child.
In a lengthy Instagram posted earlier this week, Von D wrote, "I knew the minute we announced our pregnancy that we would be bombarded with unsolicited advice. Some good and some questionable - unsolicited none the less."
She continued, "And, if you don't know what it's like to have the entire world openly criticize, judge, throw uninformed opinions, and curse you - try being an openly pregnant vegan on Instagram, having a natural, drug-free home birth in water with a midwife and doula, who has the intention of raising a vegan child, without vaccinations. "
Von D has never been one to shy away from her opinion—the beauty mogul is openly anti-Trump and even allegedly disqualified a contest winner in 2017 after discovering her political views. So fans aren't taking her vaccination stance lightly—since the post went live, people have flooded the comment sections with outrage. The general consensus? People are threatening a boycott of Kat Von D Beauty. The news has also made its way to Twitter:
Officially done with kat von d and her brand 🤷🏻‍♀️ terribly sad, but can't support someone who risks other kids lives for what? To be vegan? To be natural and different from the masses? Not cool 🙄#boycottkatvondJune 9, 2018
See more
I donated what I would have spent on my next @KATVONDbeauty eyeliner to @gavi to provide access to vaccines in lower-income countries. #boycottkatvond pic.twitter.com/bgtNuUCGRxJune 9, 2018
See more
TBD on how this will actually affect business. Kat Von D Beauty has yet to release a comment, but we'll be sure to update this post with any developments.
RELATED STORY
These People Think Babies Will Destroy the Earth
Ruby was the beauty editor at Cosmopolitan, where she covered beauty across print and digital. Her work has appeared on The Zoe Report, Fashionista, and StyleCaster. Follow her on Instagram.