12 Non-Cheesy Nail Designs to Wear on Thanksgiving Day
Apple pie stripes and butternut squash hues.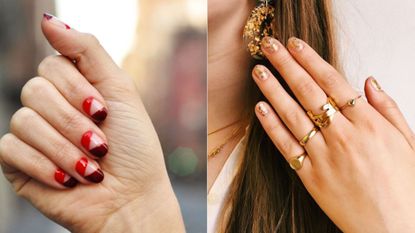 (Image credit: Instagram / Design by Monica Park)
While Thanksgiving isn't exactly the pinnacle of style and beauty—unless you consider sweats and a food baby a "lewk"—there's nothing that reads "put together" to inquiring relatives like a chic, chip-free manicure, amirite? Here, 12 subtle nail designs (AKA no visible turkeys) that evoke the best aspects of the food fest, from autumn leaves to the home-cooked food and desserts that make the trek home worth it.
RELATED STORIES
1. Autumnal Gradients
2. Toffee Nudes
3. Gold Leaf
4. Fall Stripes
5. Butternut Squash
6. Turkey with a Side of Gravy
7. Hot Cherry Pie
8. Pumpkin Pie
9. Flannel Stripes
10. Grey Goose
11. Autumn Leaves
12. Merlot Chrome