The 5 Truly Excellent Beauty Products I'm Loving This Week
My real, no-bullshit reviews of new products you'll actually want to buy.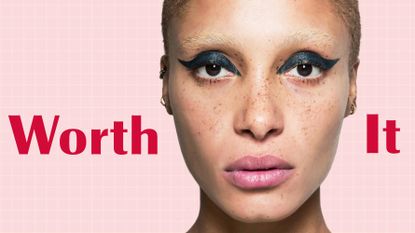 (Image credit: Design by Morgan McMullen)
Hi, hello, and welcome back to Worth It, my bi-weekly breakdown of the newest beauty products I'm completely head-over-heels obsessed with right now. No, I'm not getting a kickback to write about these products; I merely fell in love with them for one simple reason: They're really freaking excellent.
So please, read on to find out the five products that are actually worth your cash, and catch up on the latest Worth It breakdown, here.
1. Becca Hydra-Mist Set & Refresh Powder
WHY I LOVE IT:
It's the only setting powder that actually hydrates (yes, hydrates) my dry skin while mattifying my makeup.
MORE DEETS:
As anyone with dry skin knows, setting powder is out to ruin you. Okay, not really, but it does have a precarious way of making every fine line, rough patch, and dull area on dry skin look a million times worse. Which is why this powder is so freaking cool—literally. It's formulated with 50 percent water and glycerin (two very excellent skin hydrators) that cause the powder to feel cold and cream-like as you blend it on, almost like dusting on a moisturizer...if that were possible. The result is a semi-matte, softly luminous complexion that stays shine free (yet not at all corpse-like) for hours.
2. Dr. Brandt Radiance Resurfacing Foam
WHY I LOVE IT:

It makes your face insanely smooth, bright, and soft after just one 60-second use.
MORE DEETS:
If you've ever wanted to try dermaplaning (a.k.a. getting your face "shaved" with a scalpel to remove dead skin cells and peach fuzz for soft, clear skin), but don't really want to shell out the money or time, then please meet your new at-home alternative. This cream-to-foam formula is packed with natural fruit AHAs (alpha hydroxy acids) that work to break down and dissolve dry patches, excess oil, and flakes, leaving you with noticeably brighter and smoother skin.
Just apply a thick, even layer across your clean, dry skin, let the foam do its magic for 60 seconds, then use the included scraper tool to gently remove the layer of foam (as if you were shaving with a bladeless razor). It won't remove peach fuzz or the top layer of skin like dermaplaning will, but that also means it isn't as irritating, either, so you can use it twice a week (or just once a week, if your skin is sensitive).
3. Undone Beauty 3-in-1 Gel Cream
3-in-1 Lip + Cheek Cream. Coconut Extract for Radiant, Dewy, Natural Glow - UNDONE BEAUTY Lip to Cheek Palette. Blushing, Highlighting & Tinting. Sheer to Opaque Color. Vegan & Cruelty Free. BLAZEN
WHY I LOVE IT:
It's gives your lips and cheeks a dewy flush that looks genuinely natural.
MORE DEETS:
Normally, when I see a random beauty product on Amazon that's only $7, I'm skeptical. But this sheer gel-cream rivals (and, to be honest, might even beat) its pricier counterparts, especially in terms of ease.
Unlike some two-in-one creams that are so pigmented they leave you with blotchy stains, this coconut extract–spiked tint has three levels of pigmentation—sheer, medium, and intense, so you can opt for a neutral lip and a bright cheek, or a soft highlight-like flush and a bold lip. Just tap the gel over your lips and cheeks, and you're good to go.
4. DHC Acne Spot Treatment
WHY I LOVE IT:
It kills my zits without leaving my sensitive skin flaky or irritated.
MORE DEETS:
Most acne treatments are filled with either benzoyl peroxide (effective for whiteheads, but harsh and drying) or salicylic acid (great for blackheads and clogged pores, but doesn't kill bacteria), which is all fine and dandy, unless they're both too irritating (or, for whatever reason, ineffective) for your skin type.
Enter: this DHC spot treatment, which is formulated with 3 percent sulfur—a milder oil-sucking, pore-unclogging ingredient that's also a natural antibacterial. So, you know, the best of both worlds. It's also formulated with soothing green tea and aloe vera to combat irritation, making it an excellent option for anyone who has easily angered skin, like me (though you should still only use a thin layer, over moisturizer, once a day if you have sensitive skin).
5. Westmore Beauty Liquid Eyeliner
Westmore Beauty Liquid Eyeliner, $29 (for two!)
WHY I LOVE IT:
It gives you a smooth, ultra-precise black line that doesn't flake or crack throughout the day.
MORE DEETS:
I'm a huge liquid liner snob. The tip can't be too stiff or too thick, and the formula has to be opaque and not too runny (I don't want anything bleeding into my lid). And this little pen meets all of my incredibly high standards. The felt tip is skinny and long, so you can almost lay it on its side and drag it along your lash line for a perfectly smooth line—no skipping or dragging. And, most importantly, the ink itself is completely opaque and matte, giving you the cleanest, darkest line you could hope for with a liquid liner.
RELATED STORY
Chloe Metzger is the deputy beauty director at Cosmopolitan, overseeing the editorial content and growth strategy of the hair, makeup, and skin space on digital, while also obsessively writing about the best hair products for every hair type (curly girl here; whattup), and the skincare routines that really, truly work (follow her on Instagram to see behind-the-scenes pics of that magazine life). She brings nearly a decade of writing and editing expertise, and her work has appeared in Allure, Health, Fitness, Marie Claire, StyleCaster, and Parents. She also has an unhealthy adoration for Tom Hanks and would like to please meet him one day, if you could arrange that. Thanks.