Sulfur for Acne: The Benefits, Uses, and Best Treatments
It's stinky, but it works.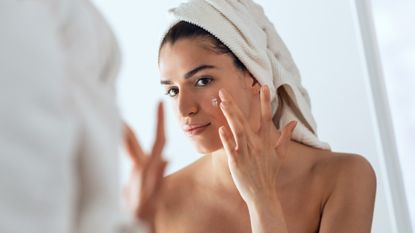 (Image credit: nensuria/Getty)
Sometimes the best skincare products stink—and sulfur-based acne fighters fall into that category. Here's the deal: Sulfur, when combined with some other ingredients, can give off a rotten egg stench that, well, is not so cute. But in most cases, the benefits of the ingredient outweigh the smell. "Sulfur is know in the setting of acne to have not only an anti-inflammatory effect, but also a drying effect that's useful for oily skin types and other types of acne lesions like whiteheads and blackheads," explains board-certified dermatologist and founder of GlamDerm Dr. Lian Mack. "When it's coupled with other ingredients like sodium sulfacetamide, there's somewhat of an antibacterial component to it, too. Those two ingredients work somewhat synergistically to reduce bacteria, inflammation, and oil."
That in mind, it's no surprise that so many brands use the ingredient. It's available in a range of concentrations and a handful of formulations (think: lotion, spot treatment, cleanser), so finding the best sulfur product for your skin and specific concerns is relatively easy. To get the lowdown on what to look for, and shop the best sulfur products out there, scroll ahead.
How Does Sulfur Help Acne?
Let's lay down the facts: Sulfur is a mineral and can be used to create a wide, wide range of products, from cement or glass to fertilizers and batteries. But when it comes to skincare it's loved particularly for its acne-fighting abilities. "Sulfur, which has antimicrobial properties, can inhibit the growth of bacteria that contributes to acne development," explains board-certified dermatologist Dr. Camille Howard-Verovik. "It works to absorb excess oil, which can clog pores and cause acne, by drying out the surface of the skin to unclog pores and remove debris or bacteria build up." Add the anti-inflammatory benefits into the mix, and it can be tremendously helpful at targeting a wide range of pimples.
Am I a Candidate?
There's no shortage of acne-fighting ingredients on the market. Some of the most popular include benzoyl peroxide and salicylic acid. So that begs the question: When is sulfur the better option? The answer: When you have sensitive, dry skin or deal with acne and rosacea. "It has less of a drying effect than other exfoliants and has less of an exfoliative property compared to other acids," explains Dr. Mack. "So it's a good way to exfoliate the skin in a way that's non-irritating."
That said, salicylic acid is still the gold standard to fight congestion—if you can tolerate it. "Salicylic acid is a better exfoliant than sulfur. Sulfur does have exfoliative properties, but salicylic acid is superior, so if you're struggling with a lot of congestion (blackheads and whiteheads), it's a better fit," adds Dr. Mack.
Are There Side Effects?
Overall, sulfur is a pretty low-risk addition to any skincare routine. Because it's gentler than most exfoliants and recommended for sensitive skin, you shouldn't experience too much irritation. That said, you should still do a spot test. "Just make sure you don't have an allergy to the product," says Dr. Mack. "I would recommend that for any new beauty products, but some people do have systemic sulfur allergies." If that's the case, don't use any topical sulfur products.
What to Look For
Medium
Sulfur can be a main ingredient in just about every beauty product to exist. There are spot treatments, masks, cleansers, and even moisturizers that feature the ingredient. Picking which medium is best suited for your routine, however, falls largely on personal preference. "Spot treatments can be used more frequently, while lotions and cleansers with a higher sulfur concentration should be used less," says Dr. Howard.
Concentration
"The concentration of sulfur in skincare products typically varies from three to 10 percent," explains Dr. Howard. "The concentration of sulfur and formulation of the product used will determine how frequently to use the products." Lower concentrations (think five percent and below) can be used daily, while higher concentrations should be used more sparingly to avoid irritation.
OTC vs Prescription
Most over-the-counter products are going to fall below five percent. While certain products can be extremely effective at that strength, you might want to consider a prescription if you can't get your acne under control.
The Best Sulfur Face Products for Acne
The Best Sulfur Wash-Off Mask for Acne
Kate Somerville EradiKate Mask Foam Activated Acne Treatment
"A wash off mask is a great way to experience the benefit of active ingredients, especially for those with sensitive skin," explains Dr. Howard. That's where this Kate Somerville product comes into play. "It has a 10% sulfur concentration that exfoliates dead surface skin cells and effectively clears pimples and blemishes." As an added bonus, this mask is going to seriously shrink the size of your pores.
Pros: Ideal for sensitive skin; High concentration for over-the-counter
Cons: Messy to apply
The Best Multi-Purpose Sulfur Product for Acne
TULA's Acne All Star 3-in-1 Acne Cleanser, Mask, & Spot Treatment
If you like a streamlined, minimalist skincare routine, it's well worthwhile to scoop up this three-in-one sulfur-powered product. "This works to prevent acne while soothing and cleaning the skin," says Dr. Howard. There's also pre and probiotics in the mix to balance your skin and create a smoother, softer texture. "It can be used daily as a cleanser, or one to three times a week as needed as a spot treatment or mask."
Pros: Multi-purpose; Minimal scent
Cons: Some say it's oily as a moisturizer
The Best Cult Favorite Sulfur Acne Product
Mario Badescu Drying Lotion
"This product has been around forever—and it's a great spot treatment," says Dr. Mack. "In addition to having sulfur in it, it has a little bit of salicylic acid so you're able to get a little more of an exfoliating effect. The sulfur helps with inflammation and decreases the bacteria, while the salicylic acid drives cellular turnover to resolve cystic acne lesions." Just grab a Q-tip, stick in the solution, pop some product onto your pimple, and let it dry out your acne overnight.
Pros: Derm-recommended, contain sulfur and salicylic acid
Cons: Too strong for some
The Best Sulfur Spot Treatment
Sunday Riley Saturn Sulfur Spot Treatment
"What I like about this is that it's something that we refer to as short contact therapy," explains Dr. Mack. So you're putting it on for 15 to 20 minutes and then washing it off. That's attractive to me because that definitely minimizes the risk of irritation. Essentially, you're not going to be able to overdo it with this product because you're washing it off."
Pros: Derm-recommended; Short term therapy
Cons: Expensive
The Best Brightening Sulfur Acne Treatment
Naturium Sulfur Spot Treatment 8%
I'm a massive Naturium fan because their products are affordable yet effective—and this sulfur product is no exception. It has one of the highest over-the-counter concentrations out there. The main allure though, in my opinion, is the inclusion of niacinamide. Why, you ask? Well, in addition to fighting active acne, niacinamide is going to help combat post-inflammatory hyperpigmentation. Trust me: One dot and your pimple will shrink overnight.
Pros: Editor-recommended, Includes niacinamide
Cons: Really strong smell
The Best Sulfur Acne Product for Oily Skin
Dr. Dennis Gross DRx Blemish Solutions Clarifying Mask
This face mask has a two-pronged approach. First things first: Colloidal sulfur and two types of clays take hold to fight acne, absorb oil, and give the skin a little bit of its glow back. Then aloe swoops in to calm down redness, soothe irritation, and counteract the drying effects of the active ingredients. Feel free to wear this as a traditional face mask or use it as a spot treatment and let it work its magic overnight.
Pros: Contain aloe; Can be used multiple ways
Cons: Expensive
The Best All-Over Sulfur Treatment for Acne
Lancer Skincare Clarifying Spot Solution With 10% Sulfur and Green Clay
At a 10 percent concentration, this spot-treatment-meets-all-over-lotion isn't messing around. Sulfur dives deep to absorb oil, while green clay exfoliates dead skin cells that can A) make skin look dull, and B) clog pores. While a thin layer will be effective, it can also be a bit irritating—especially if you run on the sensitive or dry side. My advice: Start slow and use this just once a week. If all goes well, feel free to use it more frequently.
Pros: High concentration; Includes clay
Cons: Too drying for some
The Best Sulfur Lotion for Acne
Indie Lee Banish Solution
"This Indie Lee product has zinc oxide in it, which when combined with sulfur, has an anti-inflammatory effect," explains Dr. Mack. "Because of that, it has more of a calming impact on the skin." But don't let the soothing factor make you think it's any less effective. In fact, it's more powerful than most. Salicylic acid made its way into the formula, which amps up the exfoliation factor.
Pros: Derm-approved; Extra exfoliation
Cons: Strong smell
Meet the Dermatologists
Lian Mack, MD is a board certified dermatologist committed to excellence in comprehensive dermatological care. She holds a special interest in skin conditions as it applies to skin of color, as well as all aspects of aesthetic enhancements including neurotoxins, injectable fillers, and laser treatments. She has achieved a Master Injector Certification from Allergan, the largest makers of dermal fillers and Botox. Dr. Mack graduated magna cum laude from Columbia University, Columbia College in the City of New York. She continued her postgraduate studies at Weill Cornell Medical College, during which she did a one-year research fellowship in melanoma research at the NYU School of Medicine. After a one-year internship at New York Hospital, she went on to complete her residency in Dermatology at St. Luke's – Roosevelt Hospital Center where she served as Chief resident during her final year. Prior to GlamDerm, Dr. Mack worked in Chelsea alongside her mentor Dr. Michael Eidelman. Currently, she volunteers as an Assistant Professor of Clinical Dermatology at Mt. Sinai Medical Center. Dr. Mack has authored numerous peer reviewed journal articles and book chapters. She is a fellow of the American Academy of Dermatology, and a member of several professional societies including the American Society for Dermatologic Surgery, and has actively served as a member and on the board of the Women's Dermatologic Society.
Dr. Camille Howard-Verovic
About Dr. Camille Howard-Veronica Camille Howard-Verovic, D.O. is a Board Certified physician in Dermatology. She completed her medical degree at New York College of Osteopathic Medicine in Long Island, New York. She is double board certified in Family Medicine and Dermatology. She completed her Family Medicine residency at St. John's Episcopal Hospital in June, 2017 and her Dermatology residency at St. John's Episcopal Hospital in June, 2020. Dr. Howard is a member of the American Medical Association and a fellow of the American Academy of Dermatology. Dr. Howard employs a thorough and patient approach to her patient's dermatological concerns. She believes the best medical outcomes are achieved with collaborative care. Her unique training as an osteopathic physician reinforces her inherent medical viewpoint to treat the whole person first rather than just the symptoms. Our practice ethos is "actively listening and always personal." Her dermatology and cosmetic services include but are not limited to : Acne Alopecia Actinic Keratosis Botox/Dysport/Xeomin Neuromodulators Chemical Peels (Salicylic Acid, Glycolic Acid, TCA, PCA, ViPeel) Cosmetic consults Cold Sores Cysts (Body and scalp) Dandruff Dry Skin General skincare regimen Eczema Hidradenitis Suppurativa Hyaluronic acid fillers (undereyes, lips, cheeks, jawline, smile lines) Hyperpigmentation Hyperhidrosis ( excessive sweating) Itching Keratosis Pilaris Microneedling Melasma Moles Mole removal PRP (Platelet rich plasma) for hair loss PRP microneedling Restylane fillers RHA fillers Psoriasis Shingles Skin cancer screenings Skin of Color Skin cancer excision Skin fungal infections Warts.
Celebrity news, beauty, fashion advice, and fascinating features, delivered straight to your inbox!