Ariana Grande Got a Lob Haircut and Looks Completely Unrecognizable
She said "thank u, next" to her ponytail.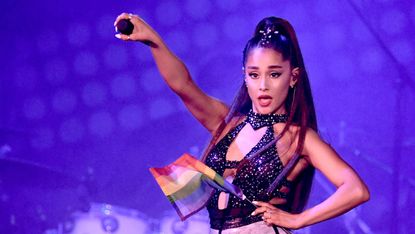 (Image credit: Getty Images)
If you almost scrolled past Ariana Grande (opens in new tab)'s latest Instagram photo without noticing it was really her, I don't blame you. The singer was hardly recognizable without her trademark ponytail (that, and there was a bunny filter over her face). Instead of having her hair tied back, Ariana rocked a lob, with the strands just barely grazing her shoulders. Our team's Slack channel was packed with questions: Is this a new haircut? How short was her extension-less hair? What does this mean for her ponytail??
The last time the star took off her lengthy extensions (opens in new tab) was back in September when she tossed a heap of hair onto the floor and said, "til next time" though, we didn't see her face then. Come to think of it, I don't know when or if I've ever seen Ariana with short hair, though she looks amazing with short hair. She didn't address the style change on Instagram and instead posted the caption, "This filter took my eyebrows away but I promise they're there."
Her Twitter fans appear to love the hairstyle change, with one user writing (opens in new tab), "a concept: ariana keeping her short hair." While we're not sure what exactly made Ariana say thank you next to her ponytail (she did just go through a rough breakup...), we won't question it. The lob looks great, Ari.
Here's Ariana's long hair before the chop:
If you're inspired by the singer's lob, scroll through to see which other celebrities have also gotten this style.
Image 1 of 55
Laura Harrier's Lob With Loose Textured Curls
Reese Witherspoon's Side-Swept Blonde Lob
Natalie Portman's Wispy Waved Lob
Jessica Chastain's Ginger Lob
Olivia Culpo's Layered Shoulder-Length Lob
Olivia Palermo's Blonde Lob With Dark Roots
Charlize Theron's Beach Wave Lob
Mila Kunis's Brunette Lob With Caramel-Colored Ends
Regina King's Curled Lob With a Side-Swoop
Zendaya's Honey Blonde Lob With Fringe Bangs
Sandra Bullock's Messy Waved Lob With Caramel Highlights
Courtney Cox's Bed Head Lob With Soft Bends
Justine Skye's Violet-Streaked Shoulder-Length Lob
Emrata's Chocolate-Spiked Lob With a Center Part
Adrienne Bailon-Houghton's Voluminously Curled Lob
Kelly Rowland's Bumped-Under Lob
J.Lo's Tousled Lob With Golden Blonde Highlights
Hailey Bieber's Loose Wave Lob
Serayah McNeill's Shoulder-Skimming Ombré Lob
Emilia Clarke's Voluminous Retro Lob
Ashley Graham's Perfectly Wavy, Shiny Lob
Solange's Blunt Lob With Brushed-Out Curls
Lili Reinhart's Long Lob With Brushed-Through Waves
Jenna Dewan's Scrunched and Tousled Lob
Ellie Kemper's Choppy Lob With Softly Wavy Ends
Gabrielle Union's Side-Swept Lob
Margot Robbie's Buttery Angled Lob
Natalia Dyer's Textured Lob With Deep-Parted Waves
Rachel Brosnahan's Gently Wavy Lob
Sevyn Streeter's Shiny, Graduated Lob
Emma Stone's Creamy Blonde Lob
Viola Davis' Super-Shiny Lob
Kendall Jenner's Brushed-Out Waves
Jennifer Lawrence's Icy-Blonde Lob
Yara Shahidi's Geometric Curly Lob
Ciara's Caramel-Highlighted Lob
Lily James' Finger-Combed Lob
Tao Okamoto's Sleek, Angular Lob
Cara Delevingne's White-Blonde Lob
Jessica Alba's Cheek-Skimming Lob
Keira Knightley's Sharply Angled Lob
Rihanna's Center-Parted Lob
Ashley Tisdale's Cropped, Blown-Out Lob
Cate Blanchett's Loosely Curled Lob
Dakota Johnson's Subtly Balayaged Lob
Jourdan Dunn's Wavy Lob With Face-Framing Layers
Rosamund Pike's Sleek, Flat-Ironed Lob
Rose Byrne's Blunt Lob With Voluminous Curls
Kate Bosworth's Lob With Round-Brushed Ends
Jada Pinkett-Smith's Finger-Waved Curls
Rosie Huntington-Whiteley's Sextured Lob
Beyoncé's Tightly Curled and Ombréd Lob
January Jones' Hand-Tossed Lob
Rita Ora's Cotton-Candy Lob
Kerry Washington's Rough-Dried Lob
RELATED STORIES