How Sarah Hyland Found Self-Confidence and Self-Love
"My body has been through a lot of transformations."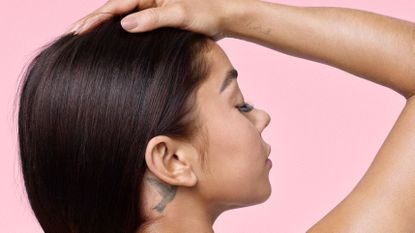 (Image credit: Olay )
Women like Sarah Hyland remind you to keep going. The 28-year-old actress has had 16 surgeries for her endometriosis and kidney dysplasia. She's been incredibly vulnerable about her journey with depression, and speaks openly about body standards and loving the scars on her stomach, a result of her surgeries. Hyland is a representation of growing through what you go through. Hence why she's being honored by Olay for her transformative journey in the brand's newest book, Transformation by Olay. It's the ultimate self-care tome, filled of personal stories from Hyland and more, highlighting their personal journeys to encourage self-confidence in others.
When the TV cameras are off, the Modern Family star is all about stripping off the makeup and hair extensions, and feels her best when her naturally curly hair and makeup-free skin can breathe. Her version of self-care prioritizes health and wellness, coupled with a good skincare routine. Below, she shared what it looks like for her to honor her body after going through so many physical transformations and how staying positive keeps her moving forward.
On Maximizing Her Mornings
"I'm really into hydration and all about moisturizing. Moisturizing is the most important thing in skincare. Whatever kind of skincare products you use, if you don't moisturize nothing's really going to be good enough for you. This is why I was really excited to team up with Olay for this campaign. Not only because it's so inspiring and empowering for everyone—especially for women—it's also an amazing moisturizing product that saves me so much time.
When I shower, I normally slather coconut oil all over my body before I even dry off to lock in that moisture. But I've been using this new Olay Body Wash for the past few weeks, and I've found that I don't have to do that anymore. It cuts down my shower time in half, because it's as moisturizing as it is cleansing. It's definitely a huge part of my beauty regimen."
On the Skincare Products She Swears By
"After I shower, I use Vintner's Daughter oil on my face, Nurse Jamie's EGF Botanical Complex face moisturizer, and eye serum. Then, I'll use Nurse Jamie's UpLift Facial Massaging Beauty Roller to really get those serums and moisturizers into my pores while it also helps with inflammation and de-puffing. Sometimes, when I wake up in the morning I'll use one of Joanna Vargas' sheet masks, which I keep in the fridge overnight. When I put it on my face at, like, 5 a.m., the cold sensation really wakes me up. I'll put a baseball cap and glasses over my mask so it stays on while driving to work. Whenever I have a small breakout, I put on Kate Sommerville Eradikate Acne Treatment or I'll dip a Q-Tip into Mario Badescu Drying Lotion to spot-treat."
Shop Sarah Hyland's Skincare Regimen
On the Importance of Taking Time for Yourself
"Because I've been through so much, I really do have to honor my body. Not just in a physically healthy way, but mentally as well. I truly believe that your mental, emotional, and physical reality are all dependent on each other. If your physical reality is shaken, your mental stability is going to be as well, and vice-versa. If you're super-stressed, your body will show that in one way or another, whether it's just a simple pimple or an immune collapse. You really need to be able to take at least one moment a day, and focus on your body—a fitness class, yoga, working out at the gym, going for a run, taking a bath, or something as simple as taking a shower and letting the water strip away all of the negativity of the day. The kind of self-care that really reiterates your self-love."
More of Hyland's Favorite Products
On Overcoming Negativity and Ignoring Body-Shamers
"My body has been through a lot of transformations. The more outspoken we as women are, the more accepting people will be. A lot of people aren't accepting of things like scars, cellulite, or certain body shapes—whether you're considered too skinny or too overweight, everyone's always going to have an opinion. By us sharing our voices and stories people will become more accepting. There's always going to be horrible people in the world trying to spread hate and negativity, but if you shower yourself with self-love, you will be able to overcome that. Our voices will shine brighter over the darkness that is trying to be put upon us."
On Her Beauty Motto: "Less Is More"
"It's really important to let your skin breathe, and not have a crap-load of makeup on it. I've always been into less is more. Once you're able to feel comfortable in your own skin, you'll feel more comfortable with yourself. The same goes for my hair, which I love changing up all the time. But I feel the most me when I don't have extensions in and when it's super-curly, because that's its natural state of being. I'd actually like to go on the record and say I didn't get a haircut last month, I took out my extensions. Then, a week later I got my roots touched-up and we did a mini cut to get rid of dead ends. But my hair has been short since 2013."
On Those Unreal Brows of Hers
"I tweeze them minimally. I've always had super-thick brows—even in the early 2000s my thin brows were considered super-thick compared to everyone else's slivers. Thanks, genetics!
I'm a big fan of brow gel to keep them in place because they can get pretty wild. I go back and forth between Anastasia Beverly Hills Brow Gel and Mary Kay Brow Gel, which is great because it's so compact. As far as other makeup products, I like to use a nude lip liner to overdraw my lips for that extra oomph and make them look super-plump. A good color on me is Charlotte Tilbury Pillow Talk. Then, I like to layer chapstick on top. I go in with Fresh Sugar Lip Treatment Sunscreen SPF 15, and I'm good to go."
Shop Hyland's Favorite Makeup Products
On Self-Love
"Invest in yourself, and it will spread to every aspect of your life. If you have self-confidence and self-love, the only way out is up. Just how negativity can be a cancer, positivity is the same way. So, if you start your day off with a positive affirmation about yourself it can only go up from there."
For more stories like this, including celebrity news, beauty and fashion advice, savvy political commentary, and fascinating features, sign up for the Marie Claire newsletter.
RELATED STORY
Maya Allen is the former Digital Beauty Editor at MarieClaire.com where she covered makeup, skincare, haircare, wellness, you name it! She has a 15-step skincare routine, owns over 200 red lipsticks, and enjoys testing the latest and greatest in beauty. On most weekends, you can find her at her happy place, which is her makeup vanity. There, she's usually blasting her speakers while singing along to lyrics at the top of her lungs, and making sure her highlighter is on point.