How Hijabi Blogger Shahd Faisal Khidir Silences Nastiness From Trolls
Beauty and fashion influencers who wear a hijab account for less than 5 percent of the industry.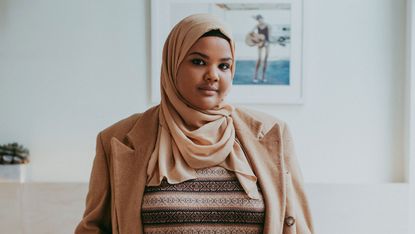 (Image credit: Sylvie Rosokoff)
Shahd Faisal Khidir cannot be easily pigeon-holed into a stereotype. Yes, she's a Muslim blogger who wears a hijab (and pairs it perfectly with her eyeshadow when the mood strikes), but she's also an influencer who has openly shared her journey with weight gain–and loss–with her 36,000+ followers. She also devotes coverage to finding the perfect products to flatter her skin tone and the journey of developing a true sense of self-love and self-appreciation, openly sharing all her learnings with her ever-growing community.
We chatted with @hadyouatsalaam about how she got into her career as an influencer, stays connected with her followers (and herself), and silences nastiness from trolls.
"When I got started, YouTube wasn't as big as it is now—you couldn't just go on and see, for example, a smoky eye tutorial. So I went through my own trial and errors of getting certain outfits to look flattering on my body and match it to my hijab. 'How do I style my hijab in a way that is still me, and how do I get that to look different?' 'How do I get the right foundation when I need full coverage?'
"I was private on Instagram, trying new products and posting about it, [before] I found this group of women mentioning and tagging each other on my posts, and asking me to make it public, which I did in 2016. I immediately got this big rush of women asking me questions, like, 'How do you get the right foundation color?' and 'How do you get the right size, because this brand doesn't carry plus size?'
"Every time I had an event I would be able to just practice, practice, practice and then report back. I'd either recommend a product or say that it's not the best; I'd say this brand doesn't come in plus size, but you can probably get a shirt and not button it and wear it on top of your outfit as a cover up or cardigan or jacket and it would look chic and cute.
"When I lost my job and gained a lot of weight, I couldn't fit into some of my clothes and focused more on beauty blogging. Like I always say, makeup doesn't have a size. I found my niche in helping women select products and read labels and purchase items to suit their skin.
"Eventually, I started taking care of myself more and changing my lifestyle, eating more greens and vegetables, incorporating wholesome foods, and going to the gym. I lost some weight and I was able to fit into my clothes again, regained my confidence, and now I incorporate clothing and beauty products into my posts. Sometimes, I match my eyeshadow to my hijab or my outfit to my hijab; I always tie it together with a bag!"
On how the industry is changing:
"Brands are now very inclusive with their colors. Diversity is 'in' in 2019, but it wasn't always like that, so it was really hard for me. I would spend so much time—and money!—purchasing a product, trying it at home, realizing it wasn't going to work, going back, and finally trying to manipulate it to make it the right color."
On pampering herself offline:
"Even though I am a Muslim woman and I wear a hijab on my head, I like to take care of my hair and my skin. For my hair, I do a deep conditioner, because my hair gets dry and it doesn't get enough exposure.
"On my body, I love Olay Ribbons Body Wash in Shea + Lavender Oil because it smells amazing. The texture is super soft, almost like velvet, and when I use it in the shower, I'm by myself in my zone. I have a moment of taking in this really delicious smell—I love the lavender. It makes me feel really good afterward: I feel super confident and rejuvenated.
"The Olay Two-Week Body Wash Challenge totally changed my skin, making it softer and more moisturized and luminous. I joined the challenge because I wanted to take better care of my skin during the winter season, and I loved it because it helped me appreciate my skin and body more."
On learning to love herself:
"At some point, I realized that all I have is myself. I can't not be confident and not love myself just because somebody said something, or because some people are scared to step out of the norm of what they've been taught. Today, I can go into a store and know what foundation will look good on my skin. The whole process is a journey of self-love, taking the time to learn my skin and body types, to learn my style, and what colors wash me out."
On conquering her demons:
"I go through negativity like everybody else. I have a lot of supporters who are great and very kind, but there's this one person who doubts everything I've done and mocks me just to make me feel bad about myself. Recently, she created an Instagram account and commented on my pictures. She painted everything about me, especially that I'm a plus-size black woman, in such a negative way.
"It was really hard and upsetting because I can't change my race or my skin color or who I am—but I can delete that comment, block that person, take a really deep breath, and drink a cup of tea."
"I don't know why, as humans, we focus on the negative more than the positive. I can't stop it, but I usually try to just put my phone down. I put one hand above my belly button and one on my chest and take a deep, loud breath through my nose three times. Every time I breathe in I remind myself that one, I am alive; two, I am safe; and three, I am healthy.
"The thing that everyone has to understand is that you only have yourself. If you're going to treat yourself in a negative way, you're going to get back exactly what you give.
"Social media plays a big role in 2019, but not getting enough likes is not the end of the world and it shouldn't shake your confidence in yourself. Whether your post got 1 like or 10,000 likes, you're a valuable, complete, whole person and you're beautiful just the way you are. Love yourself as much as you can, because if you don't love yourself, who will?"
Celebrity news, beauty, fashion advice, and fascinating features, delivered straight to your inbox!