Adut Akech on Achieving Your Dreams
The face of Valentino's new fragrance shares her journey from refugee to international model.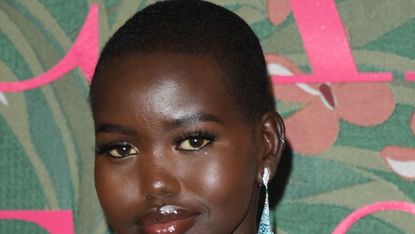 (Image credit: Daniele Venturelli)
I am only 19, but I feel like my life could be a movie. My family fled from South Sudan, and I was born on the way to a refugee camp in Kenya, where I lived until I was 5. Although there was fear at the camp—you know there's something wrong when you see older people getting scared—I still felt like I had a normal childhood. I obviously didn't own a lot of things, but I had food to eat and somewhere to sleep. I didn't have a lot of clothes, but I still had something to wear. I just remember waking up every day, playing with my cousins and my friends, and being a child.
I also have good memories after we left the camp and traveled around Kenya waiting for our visas. In our house, there was always the amazing scent of bakhoor, which is homemade incense from wood with perfumed oils and spices. My mother cooked us traditional food, and those smells are still in my head: delicious-smelling ingredients like garlic, cumin, and coriander. My mother still cooks that kind of food, and the smell reminds me of home.
When I was 8, we moved to Australia, where my auntie and older sister were living. I was excited, especially about going to school, which was too expensive in Kenya. I spoke only Swahili and Dinka, my native language, so I went to a school with kids from all over the world to learn English. I didn't feel out of place because everyone else was out of place too. But when I transferred to a regular school, I was bullied for being tall and kids made fun of my gap teeth. I felt insecure at first, but I realize now that these traits make me unique.
I knew I wanted to be a model the first time I walked down a runway at 13. It was my auntie's fashion show and just for fun. Once I was old enough, I signed with an agency. When I was 16, I went to Paris to do my first major fashion show for Saint Laurent, and that's when my career really started.
It's all happened so fast that I haven't even processed that moment, which was only three years ago. I'm a big believer in dreams, and I think that if you want to do something, you should go for it. I'm a prime example. I've stayed committed, dedicated, and determined and worked my little butt off to make my dreams a reality. When people tell me that I'm their role model or that I've inspired them to be more confident, it's one of the most rewarding feelings I could ever have.
I just want to make a positive impact on people's lives. I work with the United Nations in support of refugees because I want to show the world that we're just like everybody else. Being a refugee is not a choice, and that's something a lot of people don't understand. I say this all the time, and I will say it for the rest of my life: No matter where I end up or how successful I become, I will always be a refugee, and I'll always be proud of that.
Shop Adut's Must-Have Beauty Products
This story appears in the October 2019 issue of Marie Claire.
Celebrity news, beauty, fashion advice, and fascinating features, delivered straight to your inbox!