Emily Ratajkowski on the History of Her Hair
The model and face of Kérastase reveals her favorite hair, skincare, and makeup products.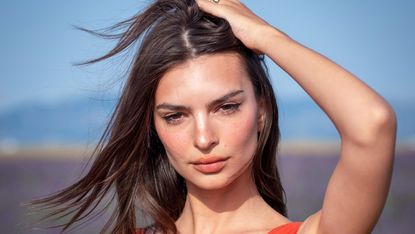 (Image credit: Arnold Jerocki)
My hair has been pretty much the same my whole life. I've never even colored it. It's super straight and fine, but there's a lot of it, which means bad things can happen. When I was younger, it was always tangled, probably because I was always moving around and getting rambunctious. My mom and I would get into these hair wars; that's what we'd call it. I'd have these crazy little knots and she'd spray them with detangler to try and brush them out. I remember the bottle having little sea creatures on it.
Her hair was the opposite, really thick and curly. I wanted what she had, and she wanted what I had. She had been into the Beatles and would iron her hair straight, but I thought her curls were always so chic and cool. One time, when I was about 14, I tried to give myself layers. My dad had haircutting scissors—he cuts his own hair—and I went into the bathroom, took the scissors, and just went for it. It was bad. So bad.
Soon after that, I started modeling, which was how I learned to care for my hair. I'd watch the experts and pick up things. I'm really good with makeup now, but styling my own hair? It's been a journey. I can't see the back of my own head! I don't know what I'm doing! I recently gave my best friend a bob. After the first chop, I was like, "Oh my God, what have I done?" But luckily she wasn't in front of a mirror, so I just kept going and it looked really good in the end.
And there's always wigs if things don't work out. One of the hairstylists I work with, Jennifer Yepez, gave me the best advice: Take care of what you've got and use wigs when you need to experiment and get that urge to do something different. I wear them all the time and people don't realize it. I wore one to the Tony Awards this spring. Every time I do it, people are like, "Oh my God, you cut your hair!" I'm like, "Nope."
But I still have this deep want—need—to go crazy and get the teenage years out at some point, since I never got to dye my hair green or anything. And I'm always up for a dare. Well, I would be if I didn't have a hair contract with Kérastase! So, it's going to look like this for a while.
Shop Emily's Favorite Products
This story appears in the November 2019 issue of Marie Claire
RELATED STORY
Celebrity news, beauty, fashion advice, and fascinating features, delivered straight to your inbox!
Jennifer Goldstein is the former beauty & health director of Marie Claire and co-host of the award-winning beauty podcast Fat Mascara. In her quest to uncover the world's beauty secrets, she's gotten tattooed in New Zealand, dug up turmeric in India, harvested shea nuts in Ghana, and squeezed enzyme-rich eggs from salmon in Norway. She can pluck eyebrows like a pro and has read the FDA monograph on sunscreen labeling and effectiveness—but she still can't get liquid eyeliner to look the same on both eyes.