The Problem With Beauty & Wellness Slacking
We have the freedom to fix our cosmetic flaws instead of practicing preventive self-care, but bad habits may have weighty consequences. Monica Corcoran Harel questions the "I'll just fix it later" mind-set.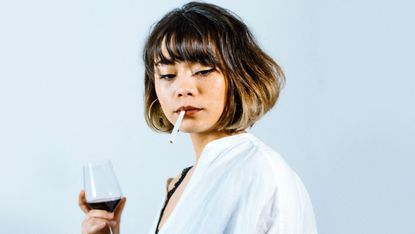 (Image credit: Farnam Poorreza / EyeEm)
I just did 14,000 squats in 20 minutes. What's up with you? I texted a friend who's constantly training for a triathlon. Before she could respond with WTF skepticism, I added one more calculated dig: I didn't even break a sweat.
For the record, I was brag-texting while lying on a table at a medical spa in L.A., relaxing after my first Emsculpt session. If you haven't heard, the FDA-cleared treatment involves attaching paddles to your body to deliver high-intensity electromagnetic energy that activates deep contractions of targeted muscles, like glutes or abs, for a sculpted appearance. Of course, it's no substitute for exercise; it won't strengthen your heart or elevate your circulation. (And it runs about $4,000 for the recommended four sessions.)
Emsculpt is just one of many nonsurgical cosmetic services gaining popularity. Since 2014, there's been a 50 percent increase in the number of fat-reduction treatments administered in the United States, according to the American Society for Aesthetic Plastic Surgery. Also on the rise: wrinkle-relaxing neurotoxin injections, fillers, and laser treatments. Collectively, these advancements may be spurring an alarming shift in our attitude toward our looks. Forget no pain, no gain. The new thinking seems to be, why do the work when you can just get work done?
"I've had young women laugh when I suggest that the best thing they can do for their skin is use sunscreen. One said to me, 'I'll just get a face-lift,' " reports Meredith Jones, a professor of sociology at Brunel University in London who studies the social and cultural impact of cosmetic surgery. In fact, about one in four women 25 and older doesn't wear sunscreen, according to a recent study by the CDC.
Are all those women who skip SPF planning to get injections and lasers to deal with the aesthetic downsides of their habits? There's evidence that at least some of them are: Cosmetic-enhancement forum RealSelf notes that doctors see an uptick in laser appointments at the end of summer. "Even though we all know we should wear sunscreen daily, many of us aren't following through," says the site's founder and CEO, Tom Seery.
And when technological advancements encourage women to skimp on proactive beauty and wellness habits, there can be downsides, says Vivian Diller, a New York City–based psychologist who specializes in body image. "It's easy to reach for the quick fix, but it's worth taking time to think how our beauty habits impact our overall health."
Let's start at the top. Don't have time for the exfoliating step in your skincare regimen because you're out late? Some mighty microdermabrasion will blast away that tired top layer of skin. Too giddy to reapply sunscreen at your bachelorette party in Cabo? No problem. You can get spots zapped off by a Fraxel laser. But these cosmetic cure-alls prevent some of us from quitting the bad habits that can lead to issues like dryness and lines, things my friends and I have dubbed "after-party aging."
Robert Anolik, dermatologist with Laser & Skin Surgery Center of New York, agrees that indulging has its beauty consequences: "Alcohol dehydrates the skin, causing even more sagging. Smoking accelerates some of the most frustrating lines we see around the mouth," he says. When a woman comes in with those issues, he can recommend Thermage, a radio-frequency treatment that tightens lax skin. The results can last up to two years, but they don't come cheap (about $2,500 per treatment, according to RealSelf). And a bottomless bank account can't turn back time entirely. In certain cases, disregarding preventive measures can cause irreversible damage. "Technology can reduce the outward signs of too much sun," concedes L.A. dermatologist Jessica Wu. "However, your skin's DNA will remember the UV radiation it's received, which is why sun spots often keep coming back."
That said, there is one interesting upside to getting work done: Those who have it tend to improve their habits afterward. Dermatologist Roy Geronemus, founder of the Laser and Skin Surgery Center of New York, says patients often become hypervigilant about their routines after investing in treatments like Fraxel, which cost about $1,500. "When they realize the value of what they have had done, especially when the results are dramatic, they're more inclined to follow through with maintenance to avoid the consequences of aging," he says.
The ability to contour our curves without diet or exercise actually dates back to the 1920s. A century later, noninvasive body-sculpting options abound. "Everyone wants insta-results," says dermatologist Ava Shamban, who notes Emsculpt is the most popular offering in her two L.A.-based Skin Five clinics. Even personal trainers are seeing a shift in the attitudes of their clientele. "It's this quick-fix culture," says Amy Rosoff Davis, who trains Selena Gomez and Felicity Jones. Some want to take the easy way out, but many are "too busy to do the work."
In May, Cardi B got caught in the crossfire of this ethical conundrum after announcing that she got liposuction. Critics called her "lazy" for not hitting the gym, and the rapper clapped back loud and clear in an Instagram Live video: "My job as an entertainer is a 24-hour job, bro. So no, I don't have time to work out."
Even the experts themselves aren't immune to that line of thinking. After Rosoff Davis visits Shape House in L.A. for its signature "sweat," an infrared treatment that claims to burn up to 1,600 calories an hour, she admits to cheating. "I'll think, Oh, I don't need to work out because I just blasted all those calories," she says.
Ultimately, daily sweat sessions will trump any machine that "exercises" for us because of the ancillary benefits. Thirty minutes of cardio can reduce stress, improve memory, and boost mood. Plus, as Shamban notes, "You may think you can skip the gym, but there is no permanent change without hard work and maintenance." One of Rosoff Davis's clients learned this the hard way. She used cryotherapy, which purportedly burns anywhere from 500 to 800 calories in three minutes, to freeze away her cellulite, but the fat returned because she stopped working out.
The future couldn't be brighter for cosmetic dentistry, which is projected to swell to a $28 billion industry by 2024. If you've ever had stains caused by decades of daily espressos erased in less than an hour with laser teeth-whitening, you understand why. The results are instantaneous and pretty miraculous. But a killer smile doesn't always signify oral health.

"I see patients coming in for laser whitening or veneers who haven't had a checkup or a cleaning in a few years," says Victoria Veytsman, a cosmetic dentist in New York City and L.A. "A full smile makeover won't help tooth decay or gum inflammation." Plus, excessive teeth whitening can erode enamel and eventually cause root damage. All the more reason for moderation when it comes to coffee runs and red-wine nightcaps. In short: Cosmetic dentistry shouldn't be considered a balm for bad habits, but rather a bonus for good ones.
Clearly, cosmetic rejuvenations can take us only so far. Every year, I get a few drops of the cosmetic filler Juvederm in my lips to erase the inevitable lines I see from puffing away on cigarettes in my 20s and early 30s. But there's no remedy for any damage I may have done to my lungs. And I don't foresee Emsculpt becoming my preferred form of muscle toning either. It's not just the $1,000-a-pop price tag that gives me pause. As my glutes gleefully contracted on that L.A. med-spa table, I realized that I hadn't really learned anything or earned anything. There's a sense of pride and ownership that comes with taking good care of yourself, and you can't get that from a fancy machine. I did, however, notice a surprising soreness when I sat down in my car for the drive home—and it felt damn good. Next time, I'll sweat for it.
This story appears in the November 2019 issue of Marie Claire.