La Prairie Skin Caviar Serum Gave Me a Non-Invasive Eye and Brow Lift in Seconds
You've never experienced *immediate* results until you've tried this.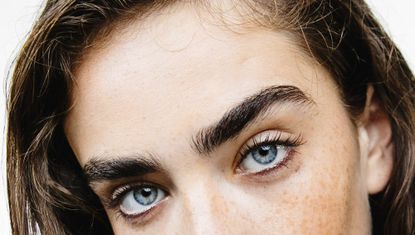 (Image credit: Getty Images)
Marie Claire Newsletter
Celebrity news, beauty, fashion advice, and fascinating features, delivered straight to your inbox!
Thank you for signing up to Marie Claire. You will receive a verification email shortly.
There was a problem. Please refresh the page and try again.
I entered the double doors of the Dolder Grand, one of Switzerland's most star-studded hotels visited by the likes of Mick Jagger and Rihanna, feeling fabulous...and fatigued. I'd slept a total of 4.5 hours in two days, landing in the birthplace of Art Basel to experience some of the finest art collections in the world and celebrate one of La Prairie's latest innovations: Skin Caviar Eye Lift. The luxury skincare brand was honoring the launch by presenting the work of three female Swiss artists, Namsa Leuba, Daniela Droz, and Senta Simond, from the Lausanne University of Art and Design at Art Basel's Collectors Lounge. The exhibition, "Eyes In Focus," evoked stunning interpretations of the female gaze.
Back to my fatigued eyes, which were there to experience it all first-hand. My lack of sleep had a direct correlation to why the skin surrounding them looked depressingly droopy and saggy. I don't typically deal with dark circles or inherently puffy eyes—I've been blessed with bag-less eyes. Still, studies show that sleep deprivation can cause a drastic change in the appearance of your eyes over time resulting in heavy-feeling, hooded lids and premature aging in the eye area. I'd call 4.5 hours sleep deprivation. So as not to let jetlag leave me feeling and looking lethargic, I put La Prairie's latest eye serum to the test. Here's what I learned along the way.
Eyes are the Mirror of the Soul...and Also of Age
I asked Jacqueline Hill, director of strategic innovation and science at La Prairie, why the skin around the eye area is so different than the rest of your face. "You just can't hide it. The eye contour area is the very first to show signs of aging because it's considered one of the most sensitive, delicate, and fragile parts of the human body," Hill said. She went on to explain: "This is due to constant movements. The eye area includes 22 muscles, which are in perpetual motion. We actually blink on average 10,000 times a day."
Because of this "eyes are the mirror of the soul and also of age," she said. And these signs of aging, youngins, can start as early as your mid-20s. Research shows that 72 percent of women are worried about tired-looking eyes. "Not surprisingly, eye surgery is the most performed surgical procedure around the world," Hill continued. "The demand for treatments for the eye contour area is steadily increasing, and there's a need for a non-invasive alternative."
Since 1930, La Prairie has been praised as a prestige brand whose products, which often include really fancy and patented ingredients like gold, platinum, and caviar (casual), act as fountain of youth for the skin. The newest Skin Caviar Eye Lift is no exception. It's a dual-phase serum that combines brand's signature encapsulated beads and the pink gel-cream emulsion in each phase, and it's packed with caviar premiere—La Prairie's iconic caviar extract—to emulate the benefits of an eye lift surgery. These ingredients tackle ailments like crow's feet and puffiness, while lifting and smoothing fine lines, firming the skin to replicate the look of an eye lift without you having to go under the knife.
To See Fast Results, You Need an Eye Product Loaded With Actives
Beauty marketing-speak about "gentle ingredients" may sound more appealing and safe to treat the sensitive skin around your eyes, but they won't produce the same results as active ingredients, which will work twice as harder. "This eye lift is loaded with actives in both phases," Dr. Daniel Stangl, director of innovation for La Prairie Group reiterated to me in an interview. "All of these different active ingredients attack different aspects of the eye. It's important that the actives penetrate into the skin, which heavily depends on the formulation. The art of formulation is what makes this product able to tackle a whole range of benefits for the eye area."
There's an Art to Applying Eye Serums
Stop rubbing in eye creams or serums if you really want to see results. All that's doing is stressing out your poor skin even more—eventually it will cause even more sagging! The dabbing technique is what changes the game. It allows the product to sink in rather than be smeared all over your skin. Here's how to apply this Skin Caviar Eye Lift: Starting at the tail of your brow bone, work your way to the inner corner, gently dabbing the product into your skin using your ring finger to achieve the deepest penetration. (This allows the product to sink in to, rather than be smeared all over, your skin.) Using the same finger, start at the inner corner of your eyelid and trace dots along to the outer corner of the lid, repeating the same previous dabbing gesture.
Brows are so often left out of the eye conversation but they are part of the literal picture. Brows frame the face and can potentially sag just as much or even more so than our eyes. "The eyebrows actually work together with the upper eyelid, lower eye lid, and eye bags," Stangl confirms. "Eyebrows start to sag like everything else on the face because you have a lot of fat tissue there. If we are firming and lifting the eye area, why not extend into the eyebrow area as well to firm and strengthen the skin in all regions around the eye area?"
My Honest Review: This Serum Works in Seconds
A facial awaited my tired eyes upon arrival in Switzerland. As soon as the facialist worked the Skin Caviar Eye Lift into the skin around my eyes, I felt a tensing and tightening. My skin felt firm and slightly tingly. Post-application, my entire eye and brow bone area looked moist and supremely supple. It was like I'd just finished a five-week workout plan...for my eyes. My skin felt pleasurably nimble and gleamed for the gods.

Here I am, tired on the inside and glowing on the outside:
Yes, $480 is a lot of money, but a surgical procedure is much more costly. Plus, there's no bruising or downtime in-between. I've been using this serum for more than eight weeks now and while my schedule has not slowed down, my eye area doesn't show it anymore. In other words, it's a holiday gift to yourself worth splurging on.
For more stories like this, including celebrity news, beauty and fashion advice, savvy political commentary, and fascinating features, sign up for the Marie Claire newsletter.
RELATED STORY
Celebrity news, beauty, fashion advice, and fascinating features, delivered straight to your inbox!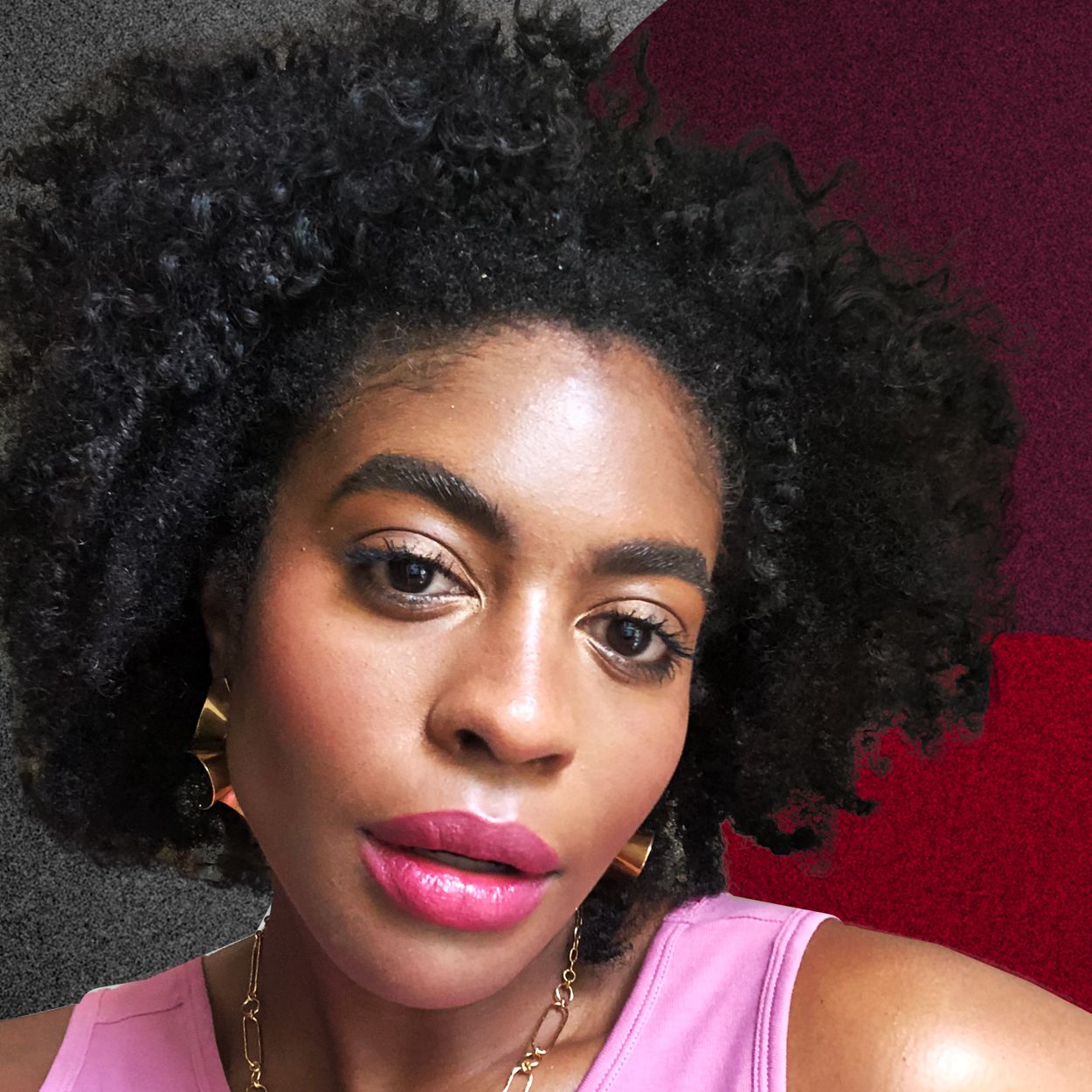 Maya Allen is the former Digital Beauty Editor at MarieClaire.com where she covered makeup, skincare, haircare, wellness, you name it! She has a 15-step skincare routine, owns over 200 red lipsticks, and enjoys testing the latest and greatest in beauty. On most weekends, you can find her at her happy place, which is her makeup vanity. There, she's usually blasting her speakers while singing along to lyrics at the top of her lungs, and making sure her highlighter is on point.