16 Expert Answers for Eyes, Lips, and Skin
Our experiments weigh in on your most pressing beauty questions, from cellulite creams to creasing eyeshadow.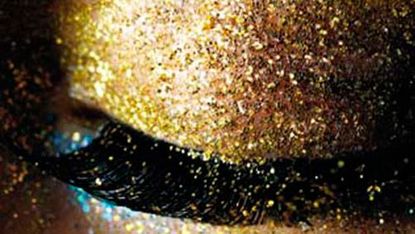 (Image credit: Greg Delves)
Q: IS GLITTER DANGEROUS FOR YOUR EYES?

A: "Glitter can be especially problematic for contact-lens wearers," says Marc Weinstein, an optometrist in New York City. "The little particles can get lodged under lenses and scratch the cornea, which may lead to serious infection." To avoid, put in your contacts before applying glitter, and don't rub your eyes once you've got it on. And always, always remove eye makeup (and all makeup!) before bedtime. Try Lancôme Effacil Cleansing Lotion for Eyes.
Q: ARE CELLULITE CREAMS A SCAM?

A: No studies have ever shown that ingredients in cellulite creams truly help eliminate skin dimpling, says Ariel Ostad, M.D., clinical assistant professor of dermatology at New York University Medical Center. But you may see a small improvement upon application, since massaging a cream into the skin helps increase blood flow to the area, evening skin tone and smoothing lumpiness. However, this effect does not require a special cream (any body lotion will do), and the results are only temporary.
Q: DOES PUTTING HEMORRHOID CREAM ON EYE BAGS REALLY SHRINK THEM?

A: Yes, says Fredric Brandt, M.D., a cosmetic dermatologist with practices in New York City and Miami. The active ingredient in most hemorrhoid creams, benzocaine, causes blood vessels to contract, which reduces puffiness. The downsides? Hemorrhoid cream can be dehydrating, says Mona Sappenfield, an aesthetician and the owner of Mona Spa & Laser Centers, so you may be shrinking your bags, but inducing fine lines and irritation. Also, one can develop an allergy to benzocaine with overuse, so limit your applications to emergencies, says Bruce Katz, M.D., founder and director of the Juva Skin & Laser Center and MediSpa in NYC.
Q: HOW CAN I KEEP MY EYESHADOW FROM CREASING?

A: "By eliminating as much oil as possible from your lids," says celebrity makeup artist Tina Turnbow. To do it, use an eyeshadow base (such as Fresh Freshface Perfecting Eye Primer) or pressed powder before applying color. Turnbow also advises choosing looser, more powdery shadows if creasing is a problem for you, because the binders they contain (ingredients that hold pigments together) are less oily. And stay away from shimmery shades, since they tend to crease more noticeably. Try Bourjois Suivez Mon Regard Multi Shimmer Loose Eye Shadow.
Q: HOW CAN I SAFELY GET RID OF A TATTOO?

A: Lasering, particularly with the Alexandrite and ND-Yag lasers, will get rid of most tattoos, says Dr. Brandt. But one laser cannot remove all colors, so be sure to go to someone with a variety of lasers--and lots of experience. Pastels or brand-new tattoos are typically hardest to remove, and browns may get darker if the pigment contains any iron, so always ask for a patch test first. The process typically takes between four and eight treatments (which can add up to $1000 or more), with a week of downtime in between each, says Dr. Ostad.
Q: IS THERE A SAFE WAY TO POP A ZIT?

A: There is, but it takes time to do it right, explains Fabienne Guichon-Lindholm, an aesthetician and director of communication for the skincare company Decleor. First, hold a warm compress against the area for a few minutes. Next, wrap each pointer finger in facial tissue and place them (not too close together) on either side of the blemish. Then, exerting pressure first down then up, gently work the clog out. Postextraction, use a toner and a mask for oily skin to tighten pores.Try Clean & Clear Clarifying Toner and Decleor Aroma Purete Instant Purifying Mask.
Q: HOW DO I FIND THE RIGHT FOUNDATION?

A: Take heart—it is hard to find a perfect match, says British makeup artist Jemma Kidd. "There are millions of skin tones, and only a finite number of makeup shades." What to do if you can't pinpoint the right one?
Mix two—one slightly lighter and one slightly darker than your skin. Test them on your cheek, which is more indicative of your true coloring than your jawline. And be sure to check the color in natural light or by a window.
If you're oily, look for a mattifying or powder formula, and if you're dry, try a hydrating cream—and stay away from cream-to-powder potions, which tend to sap moisture from skin. For oily skin, try Clinique Perfectly Real Com pact Makeup and Maybelline New York Pure Stay Powder and Foundation; for dry skin, try Jemma Kidd Soft Touch Crème Foundation and Clarins True Comfort Foundation.
Q CAN WAXING OVER A MOLE CAUSE CANCER?

A: The worry expressed by some doctors is that waxing over moles--especially the raised variety, in which precancerous cells may be present--could precipitate a cancerous spread. This is not so, says Jeffrey Dover, M.D., director of Skincare Physicians in Boston. But he still advises against waxing over any irregularly shaped or raised mole ("why even risk irritation?"). And be sure to have the mole evaluated by your primary care physician or a dermatologist.
Q: DOES CUTTING YOUR CUTICLES MAKE THEM GROW BACK FASTER?

A: No, says Ji Baek, owner of New York City's posh Rescue Beauty Lounge. Even so, you really shouldn't cut them (though snipping a hangnail here or there is fine), as they're there to protect your nail bed from germs. Instead, gently push them back daily with a hand towel after showering. And, after you apply moisturizer or eye cream at night, rub the excess onto your cuticles to keep them soft.
Q: DO PHEROMONES IN PERFUME REALLY TURN MEN ON?

A: For now, the answer is no--but that doesn't stop the fragrance companies from trying! (See Pheromone and Pherose perfumes.) "Releaser pheromones" are reputed to be able to attract the opposite sex among some animal species. Humans can and do detect pheromones; however, there is no good evidence that we can actually use them to lure in a mate, says Charles J. Wysocki, a member of the Monell Chemical Senses Center in Philadelphia. Until scientists get to the bottom of the pheromone debate, expect these substances to keep popping up in perfumes.
Q: CAN YOU DEVELOP AN ALLERGY TO COSMECEUTICALS OVER TIME?

A: What you're probably experiencing if you suddenly develop an adverse reaction to an alphahydroxy-acid product, vitamin-C serum, or retinoid(i.e., Retin-A or retinol) after using it for a while is increased sensitivity, not necessarily an allergy, says Jeannette Graf, M.D., a dermatologist in private practice in Great Neck, NY. The reason? Many of these products disrupt your skin's normal way of functioning, which, though it may provide instant benefits, leaves you less able to tolerate environmental aggressors (not to mention sunlight) with continued use. "Irritation is never desirable," says Dr. Graf. "Don't think you need to get worse to get better." If you suffer from redness, itching, or puffiness as a direct result of applying a product, discontinue using it immediately. Contact your dermatologist if the reaction doesn't subside in two days.
Q: WHAT'S THE POINT OF WEARING SUN PROTECTION AS AN ADULT IF 80 PERCENT OF DAMAGE HAPPENS BEFORE AGE 18?

A: Sun damage is a two-hit process, says Dr. Ostad: True, most damage does happen during childhood, but it is sun exposure as an adult that brings the damage to the surface in the form of sunspots, discoloration, wrinkles--and cancer. Limiting your sun exposure (and wearing a fullspectrum sunscreen of at least SPF 30) in adulthood will help to hide, and even reverse, the sun sins of your youth.
Q: CAN BOTOX PREVENT WRINKLES?

A: Yes—but only where there is a muscle contraction (Botox works by freezing muscle contractions), such as beside the eyes, between the eyebrows, or across the forehead. Regular creasing does eventually leave a permanent line, says Dr. Brandt. Botox will do nothing, however, to ward off fine lines across the cheekbones, which can only be "prevented" by using sunscreen, not smoking, and using products that encourage collagen production.
Q: WILL SHAVING MY BIKINI LINE MAKE IT GROW BACK FASTER?

A: Shaving will make hair grow back faster than waxing, says Lidia Tivichi, an aesthetician at the Kimara Ahnert salon in New York City. When you wax, you damage the hair follicle, which retards growth. You're also nabbing hair deep below your skin's surface, which makes it reappear more slowly.
"Providing you don't have hormonal issues that cause hair growth, the longer you wax, the more sparse it will become," Tivichi says. "Eventually, hair will hardly grow back."
Q: IS PERMANENT MAKEUP SAFE?

A: There are few serious health risks, but there are some aesthetic ones, says Dr. Katz. First, much like a tattoo, permanent eye- or lipliner will fade and blur over time, so eyeliner may grow to look more like eyeshadow, says Dr. Katz. You must also beware of laser treatments after getting permanent makeup, says Dr. Brandt. The iron pigment in the makeup can darken if lasers are used on the area--and that effect is irreversible. Moreover, permanent makeup can break up under the skin and "float" around the face, although this may not be obvious until lasering is done and you end up with black spots on your forehead. Proceed with caution.
Q: HOW BAD IS SUGAR FOR MY SKIN?

A: The jury is still out, but recent findings suggest that eating excess sugar can trigger a process called "glycation," which may accelerate skin aging by decreasing its supply of collagen and elastin. Additionally, sweets could contribute to acne flare-ups, says Dr. Katz, since they rev up all the body's natural functions, including oil production. Not willing to curb your sugar intake? Prescriptives has introduced Anti-AGE Advanced Protection Lotion, which is said to slow the glycation process.
Marie Claire email subscribers get intel on fashion and beauty trends, hot-off-the-press celebrity news, and more. Sign up here.