Escentric Molecules 05 Perfume Has Been Bringing Me Comfort in Isolation
It's soothing in more ways than one.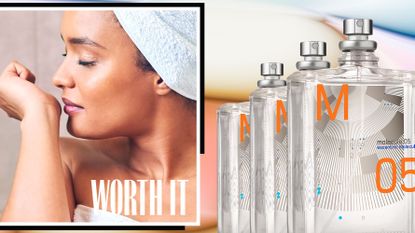 (Image credit: Bridget Burns)
Welcome back to Worth It, a bi-weekly breakdown of the new beauty products I've tested and adored: I'm talking that drain-it-to-the-bottom-and-tell-my-friends-I've-found-The-One kind of love. If it's featured here, consider this permission to splurge. Read on for the product you don't want to live without, and catch up on the latest Worth It breakdown here.
THE PROMISE:
Escentric Molecules is known for its chemistry-influenced, your-skin-but-better-style fragrances that use one note to shift the senses. Its latest, Molecule 05, is no exception: Cashmeran, a molecule created by the International Fragrance Foundation in the late 1970s, is the only one used in the perfume. When worn on its own, its musky, dry wood–driven scent is meant to cocoon the wearer in warmth; whey layered, it can transform another fragrance. It's exactly the kind of androgynous, mysterious scent that I'm always attracted to, but my search for a new fix ended differently this time: Molecule 05 has become the smell I associate with the trying months of the COVID-19 pandemic—and my ability to get through them.
WHY I'M OBSESSED:
If there's one thing I've been seeking while practicing social distancing, it's comfort. And I'm not just talking about elastic waistbands and cacio e pepe. For me, it's about maintaining a beauty routine even though it might not seem conventional or necessary. I still get ready in the morning before work—though the attire is leaning toward 'Isolation Casual,' and my makeup look depends completely on how stressed I am—and fragrance is a vital part of that regimen. Rather than compromise a go-to scent already woven together with memories of more dynamic chapters, I decided to choose something cozy and subtle to associate with my time inside. A perfume with just one note seemed like the perfect recourse.
At first spritz, I get a whiff of fresh laundry, a scent my lizard brain finds instantly soothing. Once it settles, the warmth comes through, and it smells like my skin but woody and sweeter—my own animal musk amplified. I want to burrow inside myself. It feels as if I've draped my senses in a weighted blanket. I realize I've chosen correctly. I'm not hiding from my current state of constant self-reflection behind a nostalgic or persuasive perfume—I'm just re-orienting myself in a situation we all lack control over.
I haven't decided yet if I'll continue wearing Molecule 05 when we all emerge from isolation, as it'll be a reminder of what seems an alternate time. But it adds sweetness to my stagnant days for now, which is something all of us could use more of.
For more stories like this, including celebrity news, beauty and fashion advice, savvy political commentary, and fascinating features, sign up for the Marie Claire newsletter.
MORE ITEMS WE LOVE
Taylore Glynn is the Beauty and Health Editor at Marie Claire, covering skincare, makeup, fragrance, wellness, and more. If you need her, she's probably roasting a chicken, flying solo at the movies, or drinking a bad Negroni at JFK.