24 Hours in Self-Care With NYSE Exec Betty Liu
Ready the ring lights.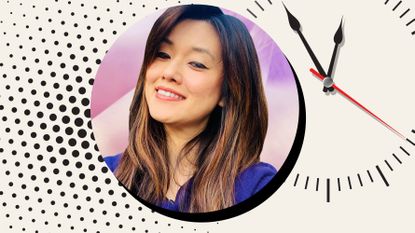 (Image credit: Hearst Owned)
Marie Claire Newsletter
Celebrity news, beauty, fashion advice, and fascinating features, delivered straight to your inbox!
Thank you for signing up to Marie Claire. You will receive a verification email shortly.
There was a problem. Please refresh the page and try again.
The executive vice chairman of the New York Stock Exchange, author and Gold House A100 2020 Honoree wholly believes in the restorative and transformative powers of journaling, squats, hair conditioner—and a good ring light. All in a day of her quarantine life.
Rise and Shine
During the pandemic, I've been able to sleep in a little later so I'm usually up at 6:30 a.m. The first thing I do is stretch on my yoga mat.
Morning Maintenance
I spend 30 minutes getting ready. I'm pretty busy these days so I keep my skincare routine as simple as possible, but I also try not to let it get boring. I am constantly experimenting with different products, but I stick with a routine: I exfoliate, tone, and moisturize daily, apply serum two or three times a week, and do a mask once a week.
Beauty Signature
My thick hair. I just have a ton of it. When I was on TV, people thought I used hair extensions or had a special shampoo to make my hair thick and glossy. I buy whatever I feel like at the drug store and just make sure to load up on the conditioner. I'm blessed with the hair gene. [During the pandemic, I'm just trying to] keep it tame given how long it has grown! Usually I'm straightening the ends and getting some lift with Oribe Dry Texturizing Spray.
Power Start
Coffee and a bagel with light cream cheese and pomegranate seeds.
Zoom Beauty Hack
Good lighting. Early on for video interviews, I bought one of those ring lights influencers use—they're so simple and so effective at giving you some natural light on your face. Also, please put your video camera eye-level. I can't tell you how many Zoom meetings I've been on where I'm staring up people's noses!
Betty Liu's Beauty Basics
Beauty Icon
Audrey Hepburn
Business Icon
Too many to list.
Career Advice
When I transitioned from print to television journalism, I did not negotiate my salary. I was too scared I'd lose the opportunity. When I left the job, my soon-to-be former boss sat me down and told me never to do that again. I was worth more than I realized. That stuck with me and I never made that mistake again.
Hidden Talent
My killer baking skills.
Backup Career
I think every '80s kid wanted to be an astronaut.
Self-Care Move
I'm a huge advocate for mental health and wellness. Absolutely journal as much as you can daily and whenever your energy feels low, write up a list of 10 things you're grateful for. It will make you feel present and relaxed. I'm not thinking about wellness differently [during quarantine], but I am carving out more time for it. It's important to stay positive and expansive during this time when it seems like the world is falling apart.
Fitness Find
Lately, I've been working out in my home gym at night, usually around 8 p.m. I recently bought this squat machine called The DB Method. I had back surgery a few years ago so can't squat well—this machine has been a godsend, really helping me tone my lower body.
Worth It
Massages
Skin Savior
I learned this from my TV makeup artists—anytime you feel a pimple about to form, put some Tend Skin on it and it will go away nearly overnight.
Last Thing Before Bed
I say goodnight to my boys.
Lights Out
11 p.m.

For more stories like this, including celebrity news, beauty and fashion advice, savvy political commentary, and fascinating features, sign up for the Marie Claire newsletter.
RELATED STORY
Celebrity news, beauty, fashion advice, and fascinating features, delivered straight to your inbox!