24 Hours in Self-Care With Rebecca Minkoff
The designer on the merits of Botox and smelling good every day.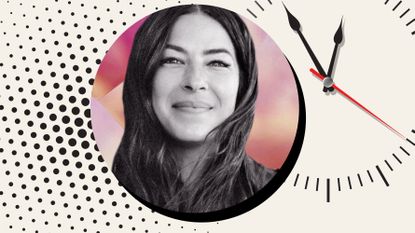 (Image credit: Design by Hanna Varady)
Rebecca Minkoff, the Brooklyn-based fashion designer, businesswoman, and activist has always put ladies first: In her fashion line, through Female Founder Collective, a network of women supporting female-owned businesses which she launched in 2018, and now, with her new namesake perfume, which smells divinely feminine and is housed in a ladylike, refillable bottle. Taking us through her daily routine, Minkoff reveals the keys to her success: coffee, subtle scents, and perseverance.
Morning Maintenance
I love a nine-hour sleep, but typically I get seven. Then, coffee. I enjoy it with heavy cream. I work out every morning for about 45 mins to an hour. I either run or bike and always follow with weights. I am trying to boost my immune system with lots of vitamins. I've also been trying to get as much fresh air and exercise as I can.
Beauty Signatures
My signature look is minimal and clean. For skincare, it's a threesome from Joanna Vargas, Sunday Riley and Wander Beauty—serum, then always a face oil and a cream. My signature scent is my new fragrance! I am beyond proud to launch it because I know how important fragrances can be in making a statement and creating memories. I wanted to provide this for my customer as another memorable celebration. This scent is also special to me because it is subtle enough for any occasion but is amazingly unique, with notes of tobacco, jasmine and coriander.
Zoom Beauty Hack
I apply one false eyelash [cluster] on the ends of my lashes, it makes a huge difference.
Rebecca Minkoff's Beauty Musts
Career Advice
I wanted to be able to create my own designs and make the calls, not having to report to someone telling me what to design. So, I launched my own brand. This is a long journey—not one that you achieve after a few months, or a year or several years. There is always a solution and you have to keep going to stay alive and keep at it.
Worth It
Botox! Keeps me from looking like Keith Richards. Alchemy 43 lets you "bank" your money so it's not so tough to pay for each time.
Chic-But-Cheap
My nail collab with imPRESS! Since we can't get our nails done, you can still have a great set.
P.M. Routine
My nighttime routine consists of taking my vitamins and enjoying my anti-stress drink, Calm. I wash my face, put on cream, brush and floss, and then hit the sack. [The last thing I do before bed is] check my phone. I realize this is bad.
Lights Out
I go to bed at 10:30-11 P.M.
Rebecca Minkoff's Skincare Staples
Tatjana Freund is a Beauty Commerce Writer, covering makeup, skincare, and haircare products and trends. She's a fan of vodka tonics and creepy Wikipedia pages.